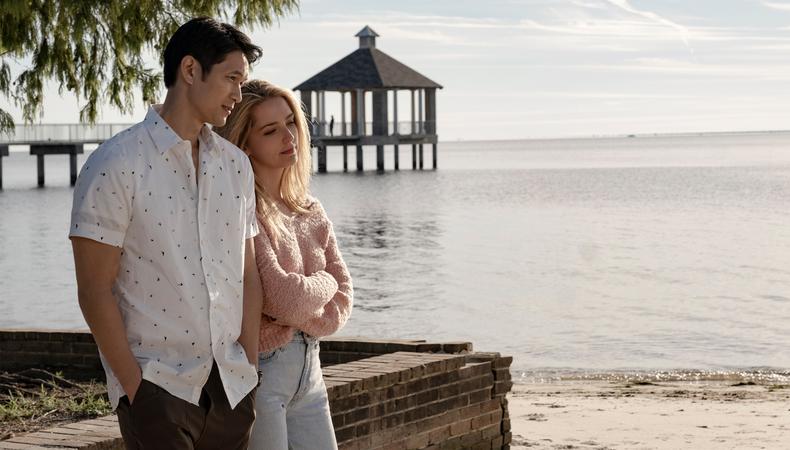 The following interview for Backstage's on-camera series The Slate was compiled in part by Backstage readers just like you! Follow us on Twitter (@Backstage) and Instagram (@backstagecast) to stay in the loop on upcoming interviews and to submit your questions.
Get your tissues ready, because "Glee" and "Shadowhunters" star Harry Shum Jr. will break your heart in his new romantic drama "All My Life." Based on the true story of Jennifer Carter and Solomon "Sol" Chau, a couple who hastily plans a wedding after Sol, played by Shum, is diagnosed with cancer, the film sends the 38-year-old actor on an emotional journey like no other. Sitting with Backstage for a recent Instagram Live interview, he shared his experience on the film and how his diverse background (he grew up in Costa Rica with Chinese parents) informed his development as a performer.
"All My Life" tasked Shum with finding the right emotional balance in his performance.
"This character, Sol, was holding it in as much as possible, because he wanted to stay strong for the people around him. And I think that is sometimes the hardest emotion, because you want to tap into it, but you have to hide it as much as possible."
He clicked instantly with his co-star, Jessica Rothe.
"I will always remember that audition. Any actor would want to have those moments where you just connect with someone and you're like, 'OK, let's keep doing this; hopefully I get the part.' And luckily, we're here right now."
READ: Jessica Rothe Only Wants to Do
Projects That Scare Her
His life experiences inform his approach to new material.
"We always talk about, 'How can I become a better actor?' I was like, 'Well, how can you be a better human?' Because that alone will allow you to be a better actor, because [acting requires] sympathy and to look at things you can't necessarily [find] by just reading an acting book or going to acting class…. I am very fortunate to be able to have crossed paths with so many different types of people, and I think that's the most important part, as a performer. We always talk about being actors and learning technique, which is just as important, but I think [it's] more important to connect with as many people as possible that differ from you and [don't] just have the same mindset and perspective that you do. That has definitely informed me as a performer—to look at material in different ways and try and dismantle it so it becomes something that is very fresh and almost foreign to you, so you can start figuring out ways to play it, or at least set it up, so it allows you to really live in the moment—but also as a curious cat, going around it and trying to find all the different perspectives in it."
Shum's No. 1 piece of advice? Don't rush your growth.
"I think there [are] necessary steps that you need to take to get to a certain place. And as much as you want to be superhuman and jump really high and get to that place really quickly, the journey is really fun. So I would say to my younger self: The journey's going to be really fun but also very difficult. But when you reach a certain height, you look back, and you would want to redo the steps again."
Want to hear more from Shum? Watch our full interview below, and follow us on Instagram: @backstagecast.
This story originally appeared in the Dec. 31 issue of Backstage Magazine. Subscribe here.
Looking for remote work? Backstage has got you covered! Click here for auditions you can do from home!