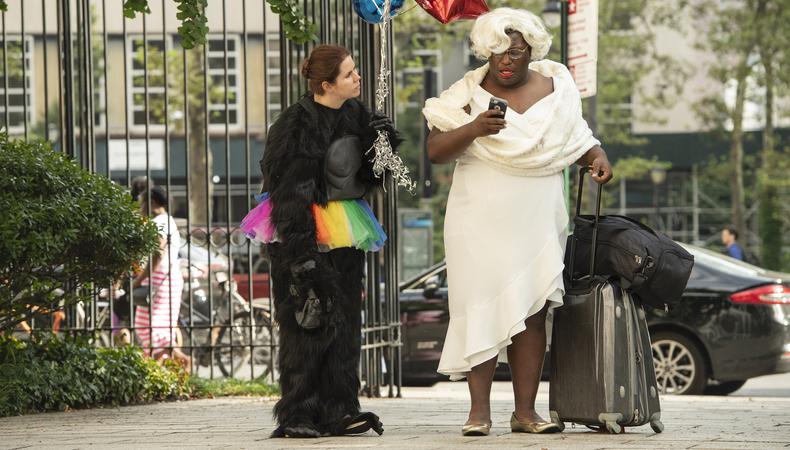 If Cristina Spiridakis is doing her job right, you wouldn't know she had a job at all. That is to say, her work as the costume designer on HBO's "High Maintenance" is as authentically New York as a morning commute on a packed F train or dollar dumplings in Chinatown. But for Spiridakis, who came aboard the series for its fourth season (premiering Feb. 7), the naturalism of her designs is anything but effortless, particularly considering the show's vignette style, in which every episode introduces at least one new character. Here's how she works with creators Ben Sinclair and Katja Blichfeld to achieve looks as specific as every city block, and how what she does is an extension of what the actor does.
How would you describe what a costume designer does?
Before actors open their mouths, the first thing that's going to telegraph who this character is is what they're wearing. The reason I'm so passionate about costume design is that I feel it's a very specific visual way to telegraph things about a person; you can tell so much by their shoes or the types of clothing they wear or the way they carry themselves in the clothing they wear. It's one of the first visuals in a film or TV show to help give the viewer an idea of the story they're about to be a part of.
"High Maintenance" might be the most New York show currently on TV, and that's reflected in its costumes. What is your process for crafting these authentic looks?
This show is a costume designer's dream. It's so character-driven. That's very important to Ben and Katja, and that's what attracted me to the show. All of our episodes take place in different areas of New York, so we'd do extensive research on each neighborhood, go there if we could. We had an album called " 'High Maintenance' on the Street"; we would just take pictures of people on the subway, on the street, anywhere we saw them. And what I love about working with Ben and Katja is we would really discuss our characters once they were cast, because you have to dress somebody to their face. This is the type of show where I want people to watch it and think I don't have a job. They're just watching people wearing their own clothes, because the beauty of this show is that it's slice-of-life. You're just watching New Yorkers, watching people live their lives. We wanted people to wonder, Is there even a costume designer or did these people just show up?
There are recurring characters, but every episode features at least one new character. Does that pose unique challenges?
It is the challenge of the show. I love that they bring people back, and it's fun to pick up those people's stories again whenever they show up, even if it's for a second. But we have a tremendous amount of characters in our episodes, more than any other series I've worked on. At the end of the season, I really stopped and thought about the fact that we had created so many characters, and I really feel strongly that every single [character] is their own person. That's what costume design is. You are creating a person every time. Sometimes we would have upwards of 10 fittings a day—I think the most we did in a day was 16, which will mean something to costume designers. But it was really fun, and we designed the show in a really unconventional way. We'd just go to the area we were shooting in and buy a bunch of things that felt good. We shop very little at conventional retail stores. It's very important to me and to Katja and Ben that everything feels lived in, so 95% of what you see on the show is thrift, consignment—some of it is out of my personal closet. Wherever the thing comes from is where I wanted it to come from. Nothing is brand-new on that show, unless it's meant to look brand-new.
READ: How to Make Your Own Web Series
What are the general ways in which you collaborate with actors?
That's so much fun, speaking to an actor ahead of time and talking about their storyline, their character, how it does or does not overlap with who they are as a person. You don't want the clothes wearing anybody, and the cast on this show is great. So, ahead of time, I'll speak to the actors, and sometimes they'll bring in some things or they'll say, "I have this necklace and it feels so much like this character," and hopefully we get to marry some of what we have and some of what they have, which further adds to the authenticity of the look.
How do you think costumes help actors with character development?
Everybody gets up every day and puts on clothes. I've spoken to actors about this extensively: They get to put on somebody else, and when they put the clothes on, it helps them start to live in that character's body instead of theirs. It's an extension of their acting and their interpretation of the character, and it's my job to help them do that, to help the actor put on these clothes and move into that body and then forget about them. They put it on and they become that person and then it's never a hindrance to them; it's just part of their process. It's magical to watch at the monitors.
How did you break into the field?
I was a fashion major at the Rhode Island School of Design, and when I came out of school, I kind of discovered fashion wasn't for me. I ended up in advertising for a couple of years and I really wasn't into it. I took a costume design course at the New School and I fell in love with it. My teacher was offered a film in Cape Cod and could take a couple students as interns. I told her I wanted to go, and she said, "You have a full-time job" and I said— I didn't really anticipate saying this, it just came out of my mouth—"Well, I'll quit my job." And I did. I was 28 years old and I left a career and a real salary to work for free on a period film in Cape Cod. We did prep in New York and went to the Cape, and I'd say by the end of the second day of shooting, I 100% knew I never wanted to do anything else ever again. It took a little while for me to find it, and it's honestly the craziest thing I've done in my life, but I did it and I've never looked back.
Is there a project you did not work on but the costumes made you wish you had?
I was very young, but the first movie I ever saw that made me want to be a costume designer was "Interview With the Vampire." I know it's so random, and I don't do period, but the colors were amazing, and I just thought, I want to do that. I went to college in the '90s, and I feel like I didn't even know this was a job. Something that came out recently that made me feel that way was "Pen15." The costumes—I was in awe watching the entire series. And if I'm being really honest, the woman who did "High Maintenance" before me, Keri Langerman. I think her work is beautiful, and I had been a fan of her work. I hope when she watches this season she feels like my work is good. I was really proud to join [the show] after her.
What would you tell someone who wants to pursue costume design?
The most important thing to do is start as a production assistant and meet as many costume designers as you can. The experience of being a costume PA—it's very hard work, it's a lot of physical labor—but you get out of it what you put in. I started late, I was 28, and I just wanted to learn absolutely everything I could. I asked to read the scripts, I asked the designers if I could look at their mood boards, I would talk to designers about what motivated their decisions. Film, in general, is either for you or it isn't. It's a very intense career path, but it's so gratifying. The advice I would give to anybody who wants to be a costume designer is start as a PA, put in your time, learn your craft, and work your way up. I am very grateful for the amount of time I took at the beginning of my career to really learn. I worked for phenomenal designers [and tried] to learn as much as I could, so that when I started to make those larger steps in my career, I felt very ready for them.