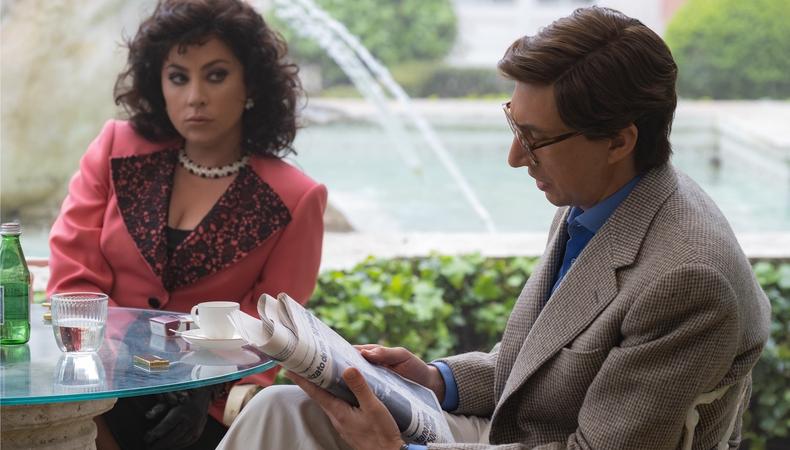 As we prepare for the 28th Screen Actors Guild Awards, Backstage is breaking down this year's film and television ensemble work for your consideration. For more voting guides and roundups, we've got you covered here.
Main cast: Adam Driver, Lady Gaga, Salma Hayek, Jack Huston, Jeremy Irons, Jared Leto, Al Pacino
Casting by: Kate Rhodes James and Teresa Razzauti
Directed by: Ridley Scott
Written by: Roberto Bentivegna (based on the book by Sara Gay Forden)
Distributed by: United Artists Releasing
One of the introductory lines in "House of Gucci" doubles as a descriptor of its award-winning cast members: "It was a name," says Patrizia Gucci, nee Reggiani, "synonymous with wealth, style, power." So high is the pedigree of this film's ensemble and so entertaining are their performances that you'll end up thoroughly starstruck, from the opening moments to the shocking conclusion.
Following up her Oscar-winning "A Star Is Born" success by going in a diametrically opposite direction, Lady Gaga stuns as Patrizia, aka Lady Gucci, aka the Black Widow. Convicted of orchestrating the murder of her ex-husband Maurizio Gucci in 1995, Patrizia makes for a perfectly salacious subject, especially since little is known about her life prior to the well-publicized hit. Gaga gets to inhabit her youth, humanize a woman the global media was eager to villainize, and still embody a juicy character. She channels 1980s Italian extravagance as only a true diva can, pulling off the elusive trick of making every line and gesture, no matter how expressive, look effortless.
She leads an ensemble cast that, in director Ridley Scott's hands, paints a wickedly fabulous version of this chapter in Gucci's history. As Maurizio, the reluctant would-be heir to the company, Adam Driver expands his repertoire once again, finding vulnerability and pathos in a tragic figure. Not only do he and Gaga effectively navigate the couple's dramatic ups and downs over the course of years, but they also highlight their characters' flaws, making it difficult for viewers to pick a side.
Complicating Patrizia's bid for power, and eventually becoming collateral damage, are the other Guccis: a stately Jeremy Irons as Rodolfo, a dastardly, charming Al Pacino as chairman Aldo, and an unrecognizable Jared Leto as aspiring designer Paolo. The latter is caked in prosthetics, plus facial hair and a bald cap; but it's his over-enunciated, over-the-top line deliveries that make the family's black sheep the most memorable character in the film. Leto invites us to laugh at poor Paolo before finally rendering him so pitiable it hurts.
Salma Hayek, meanwhile, receives one of this season's funniest film introductions as Patrizia's friend—and psychic—Pina. Understated yet intense, Hayek walks the line between campy and utterly serious in her scenes with Gaga. The two convey genuine menace while clearly having the time of their lives.
Jack Huston plays his cards close to the vest as Domenico De Sole, the family's confidante-turned-traitor; Camille Cottin shakes up the story as Paola Franchi, Maurizio's childhood friend; and Reeve Carney makes a grand entrance as a young Tom Ford, the designer who revitalized the Gucci brand while dooming the family.
You get the sense that Shakespeare would have admired "House of Gucci"—for the film's meditations on human hubris that make it a tragedy, but also for its ability to weave in comedy. Let this cast's absurd Italian accents wash over you, and you're in for a fun, fabuloso time at the cinema.
Want more? Stay in the loop with everything you need to know this awards season right here!