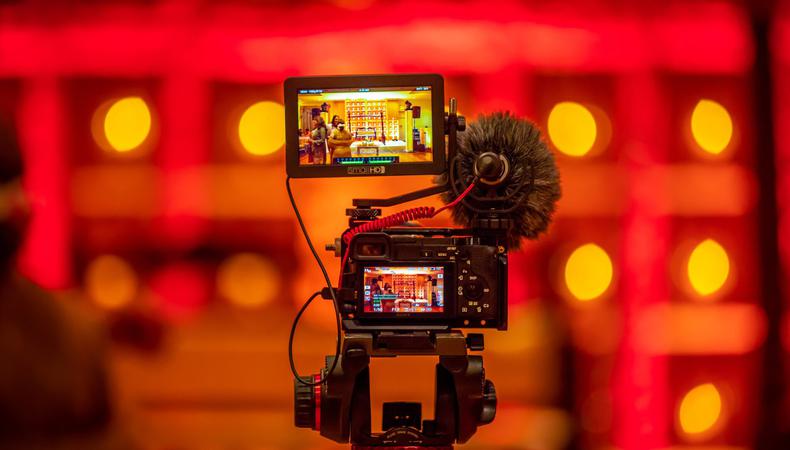 The internet boasts more video than we could ever wrap our brains around, let alone binge watch. In fact, according to the Cisco Visual Networking Index, it would take more than five million years for one person to watch the amount of video projected to cross global IP networks every month in 2021. You read that right: every month. For brands who want those easily distracted eyeballs focused on their branded video content, there's no time to lose.
But in a landscape rapidly changing from COVID-19, the video production territory is trickier to navigate than ever before as companies and brands try to realign their strategies and goals with a socially distanced consumer base. (Take Quibi, the highly anticipated short-form streaming platform that's already exploring a potential sale after launching in April.)
The risks were already there, and now there are more than ever before. That's why many major brands are streamlining and adapting their video production process to make their content pop without wasting money or manpower.
"As we're entering a new era of production and the ground is shifting every day, what hasn't been lost is that urge we have to collaborate," Bernadette Rivero, president of Cortez Brothers, told Backstage. "[A]nd I see new forms of technology as just one more way for us to do what we do best across every stage of production: communicate, innovate, and adapt to bring concepts to life."
Here's how brands are approaching video in today's tumultuous times.
They're getting resourceful.
Even the most efficient brands have B-roll and other creative assets that they haven't utilized—and as video production began to stall for many in March, they're pulling out those assets to repurpose them for content.
"DIY is definitely relevant," Shannon Hendrickson, VP of marketing at ADT, told Ad Exchanger. "Brands need to be nimble and flexible in this environment."
It just goes to show that everything is worth saving—and that an organized content inventory is a happy content inventory.
They're leaning into user-generated content (UGC).
According to Digiday, Facebook's new video advertising business is creating a surge of demand for user-generated content (UGC), which has already been a go-to replacement for the higher-end spots scrapped in wake of the coronavirus.
"Influencer and user-generated content has been growing for years, but 2020's production limitations due to the pandemic have allowed this sort of 'homemade' content to become more of a rule than an exception," Neil Patil, chief commercial officer of Tubular Labs, told Digiday.
UGC gives talent the ability to shoot themselves from home without a professional team—and it's one of the few ways brands can safely field talent for video production under social distancing guidelines.
"In my commercial field, [UGC] adds another layer of authenticity," Sean Elayda, a creative producer who's worked with brands such as Jockey and the gaming brand Scopely, told Backstage. "I do know that we'll start shooting [in-person] again, but I still think that this kind of remote, at-home stuff is still going to be king. Self-content creation is going to be strengthening over time."
They're live streaming.
Live streaming certainly isn't new. However, John Petrocelli, founder and CEO of live streaming firm Bulldog Media and a 20-year industry veteran, told Mashable SE Asia that he's noticed "exponential" growth in the medium since the pandemic.
"As recently as two to three years ago, we were still conducting information sessions, awareness briefings...with marketers and advertisers about the introduction of live streaming," he said. "That has all changed now, and it's expected that any experience of any significance will have a live stream strategy."
Reliance on streaming services like Netflix and ad-blocking technology has been making it difficult for brands to get eyes on their spots, he added: "Live streams can address these issues while delivering the holy grail to marketers: engagement or watch time."
Between just March and April, the live streaming sector saw a 45% boom. Makeup off, no filter, hanging out in the living room with a cat in the background—live streaming has stepped up to the plate to help people to feel connected in a socially distanced world. And its ease of production makes it the perfect tool for brands looking to target stuck-at-home consumers gravitating towards authentic, relatable influencer content, even once people aren't just home as a result of quarantine restrictions.
They're embracing "Lego-bricking."
When it comes to video production, pandemic-related roadblocks have, in some ways, leveled the playing field for smaller companies who can more nimbly navigate the obstacles. Even large agencies have had to rely on tricks of the trade, like stock footage and video companies.
That's why many brands have been cutting out the middleman by using smaller, specialized plug-and-play services for each step of the video production process. In other words, "we can Lego-brick services together," Rachael Yaeger, cofounder of design studio Human, told Backstage.
But it's not exactly a breeze to figure out which companies do what and keep up-to-date on video production technology innovations. That's why Backstage created the Content Creation Stack, which keeps track of it all so brands can produce video efficiently, affordably, and most importantly, stress-free (or at least as close to it as we can get these days).
"Over the past two years, we've seen tremendous growth in postings from brands and creative agencies looking for talent for their content marketing campaigns," Josh Ellstein, CEO of Backstage, said. "Brands are turning to solutions like Backstage to directly hire talent and produce content at scale."