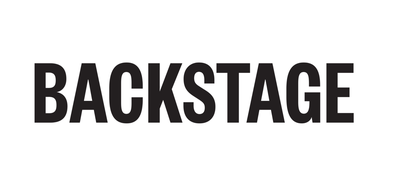 The demand for content is greater than ever. Companies are being asked to produce more content quicker and cheaper than ever before. The good news is that there are great technology companies that have risen to meet this demand. For everything from project management, to script supervision, to postproduction, there are plug-and-play companies ready to help creators, studios, agencies, and brands find the services they need. But finding those companies and keeping track of the latest in production technology is not easy. So Backstage created the Content Creation Stack, where you can find all of these great new services in one convenient place. Accessing these services will let you:
Be efficient. Eliminate the added time and stress of delegating tasks to employees that may not have the resources to produce quality content.
Diversify. Build your content with a wide range of age, race, and gender demographics.
Produce a lot with very little. The stack gives you resources without you needing to come up with new ideas all the time.
Avoid content confusion. Let the stack be your guide from pre-production to distribution.
Save money. Budget just for the expertise needed to complete the project and nothing more.
Let's start with good news. Specifically, "Some Good News." This spring, the John Krasinski-helmed talk show popped up out of nowhere. Its second episode, which featured the entire cast of Hamilton performing show opener "Alexander Hamilton" on Zoom to an adoring fan garnered nearly 13 million views on YouTube. Countless articles featured the show, highlighting its stripped-down aesthetic and easy vibe. Krasinski had been considering launching the show for some time, only finally getting to it when the coronavirus-forced shelter-at-home created the opportunity.
On the face, Some Good News is a simple effort, a classic set up with the actor alone reading good news augmented by simple hand-drawn graphics or conducting online interviews with his friends and fellow stars. But dig a bit deeper and there's a more interesting tale to the content production (and the big money sale to ViacomCBS). While Krasinski headed up Some Good News from his house, he tapped Senior Post and Leroi to do post-production, with Arcade working social media from Calgary, Nashville's Made In Network assisting with distribution, and New Haven-based Giflytics working on GIF analytics. A sixth company called Communo helped him bring everyone together, according to Fast Company.
Welcome to the Content Creation Stack.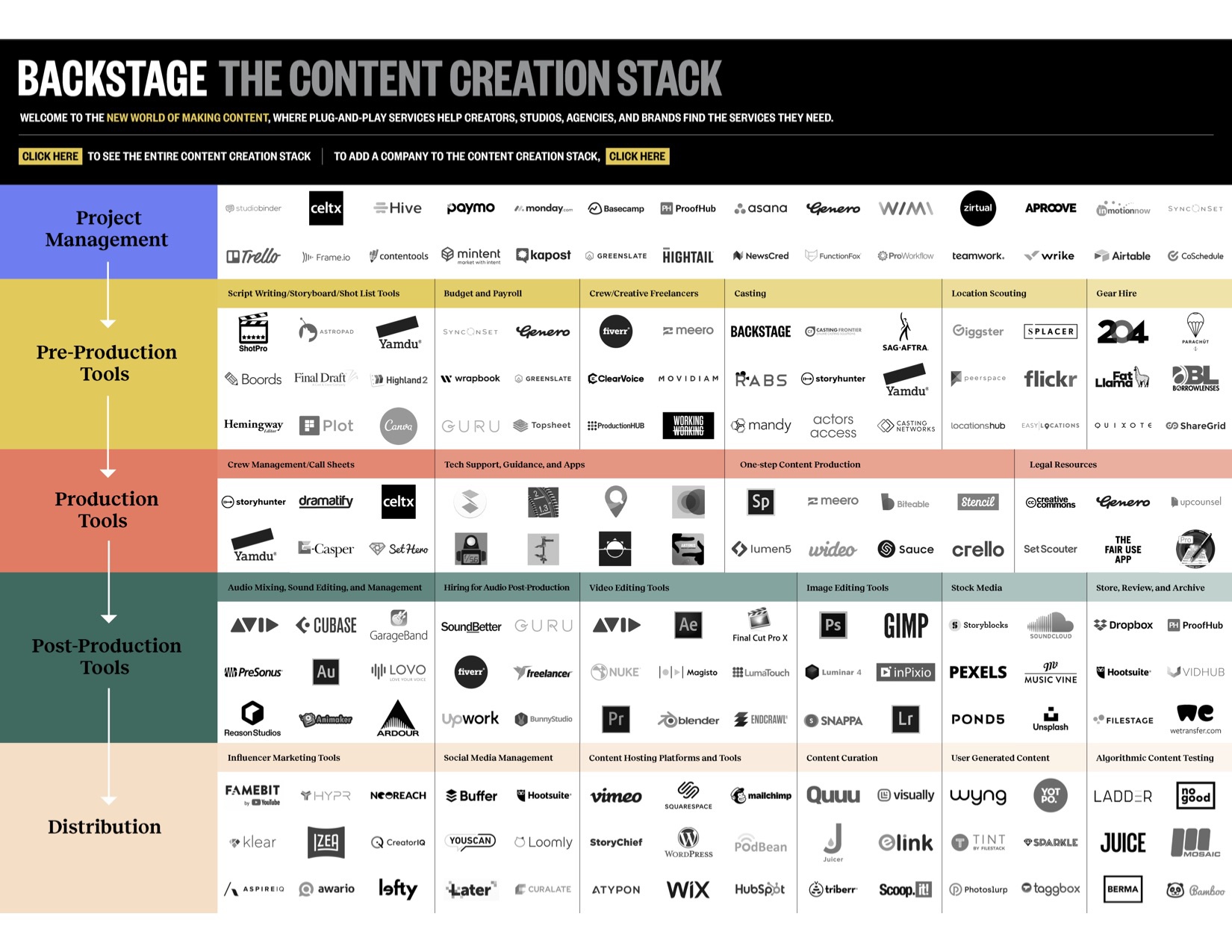 To add a company to the content creation stack, click here.
This is the new world of making things, one where plug-and-play services help creators, companies, studios, agencies, and brands find the services they need. It's about making more, better content that costs less money, trading the traditional pilot model for one where companies create lots of content, then allocate more resources to the bits that gain traction. A production studio no longer needs to employ staffers to fill out the entire content production stack. Instead, a skeleton crew of talented people can focus on their strengths, adding other elements on an as-needed basis with a simple Google search or infographic examination. "We can Lego-brick services together," Rachael Yaeger, cofounder of design studio Human, says, describing how she expands her core team on a project basis.
"Over the past two years, we've seen tremendous growth in postings from brands and creative agencies looking for talent for their content marketing campaigns. Brands are turning to solutions like Backstage to directly hire talent and produce content at scale."
Building Brick by Brick

How does this lego-bricking manifest in practice? Well, tech has changed every phase of production. Throughout the content creation process—project management, pre-production, production, post-production, and distribution—there's a company or, more likely, multiple companies, that specialize in performing exactly the task that's required. Plus, the ability to interact virtually has marked a major change in the production process. "The emphasis of digital collaboration ingrained in the technology behind these tools promotes this shift we are seeing in production altogether, hiring out contractors for specific roles versus an agency giant," producer Megan Soh says. This is a world built on efficiency, where the production process is cheaper, faster, and easier, with a higher output of high-quality content.

Project management is king when it comes to all aspects of production. Collaboration, productivity, and scheduling, all need these tools when it comes to creating content on deadline. A new crop of offerings helps keep trains running on time—and, in a shift from past agency models, in the cloud—so creatives can stick to what they do best: execution. Every detail is on-the-go, on-your-phone, at-your-finger-tips ready. The always-online nature of these types of tools means that it's at the ready of anyone on your team as well, no matter where they are located. This creates the opportunity to seemingly alter space and time by removing the barrier established by people needing to be physically present to participate in the project management and production phase. Updates can happen in real-time, from anywhere. For example, so many teams lean on specialized project management tools like Studiobinder, Yamdu, and Celtx these days because they are more than just collaboration tools: they are used from start-to-finish. Think of them as mission control for your project.
All producers will tell you the real work happens in pre-production. You can't show up on shoot day without a killer pre-production team that has set the groundwork for the shoot. Pre-production has always been and will continue to be a detail-oriented process where smart and efficient planning pays off during the production phase. Adding tech into the mix helped streamline this process, allowing teams to collaborate remotely and solve common pre-production problems before they occur. A service like Final Draft adapted to the times, allowing multiple users to edit scripts in real-time. Scouting locations isn't easy when there isn't a global pandemic raging, and Location Scout will help you find anything you need, whether it's a studio or an old haunted cottage in the woods. Casting? Look no further than Backstage. You don't have to sit in casting calls or flip through physical headshots. The majority of it is done online now.
Gone are the days of huddling in war rooms and pinning sticky notes to a whiteboard. Collaboration and production have moved to the cloud, where all the phases of production can work together. It's more fluid, collaborative, and tools allow teams to maintain past versions of work, should they need to reference it. For example, Adobe Spark is a content management software that incorporates everything you'll need: text, images, and video. A product like Celtx Studio generates dynamic call sheets—scripts, schedule, and production catalog—that update on-the-fly as production schedules change. You won't have to call your photographer on the road—it'll update the call sheet for you.
"As we're entering a new era of production, and the ground is shifting every day, what hasn't been lost is that urge we have to collaborate, and I see new forms of technology (remote viewing tech; mobile backpack hotspots; no-contact studios-in-a-box; etc.) as just one more way for us to do what we do best, across every stage of production: communicate, innovate, and adapt to bring concepts to life," Bernadette Rivero, president of Cortez Brothers, says.
Or think about music. When it comes to original music for your work, you no longer have to knock down the door of an A&R exec at a recording giant's office. You don't even have to leave your office. Soundbetter gives content creation teams access to the world's premier singers, songwriters, studio musicians, and mixing and mastering engineers. You don't have to settle for stock music anymore. You can seamlessly work music and sound into the production process, from the comfort of your editing bay.
You have the content, but where does it go? Distribution is key in getting eyeballs on your work. Of the five production areas, distribution has seen the most disruption because of digital. It moves faster than ever, across a wider and ever-changing range of channels. Fifteen years ago, digital marketing was in its infancy; today, you'll need to consider how to get visibility on Facebook, Twitter, Instagram, Snapchat, etc. etc. etc. Look at how quickly Tik Tok entered the lexicon, becoming a vital channel for some companies. The Content Creation Stack continues to expand as services and apps pop up to handle different aspects of digital distribution, with best practices and content strategies mutating on a monthly basis.
The rise of influencers has had a dramatic impact on distribution. Influencer agencies can handpick any type of influencer that is the right fit for your campaign, and help craft a strategy tailored to your unique needs. If you don't have the budget for a full-time social media guru, Hootsuite is a great social media management tool. Need a full end-to-end media strategy? We're talking events (virtual for now), campaign management, paid social, paid search, and creative services for paid social and paid search. Look no further than Bamboo. Anything your production needs, you can find. It's a content-maker's dream.
The Content Revolution
Here's the truth: Running a business in 2020 requires content. Lots and lots and lots of content. Advertising is a $200 billion business but a company can't blow its entire advertising budget paying an agency six or seven figures to produce a single 30-second television spot or a glossy print advert. The rise of digital advertising created too many other creative needs. Digital advertising is now a $30 billion larger business than television advertising, and it will account for 54 percent of marketing budgets by 2024. Social media and online video are the two fastest-growing channels by revenue growth. As a result, brands need content for social media—Facebook ads, Instagram stories, Snapchat, Tik Tok, and more. They need content for their website. (Without content, a website is just a gray box, after all.) They need more content to combat content fatigue. And all the services needed to deliver the content into the right peoples' feeds, to monitor success of said content, to ensure ROI, with content marketing being used to build brand awareness, create trust, and educate audiences by three-quarters of companies.
The content revolution moves quickly, driven by opportunity. In 2012, Shachar Gilad saw a possibility and acted on it, founding Soundbetter with co-founder Itamar Yunger. Gilad had spent his career in the music world and saw the fragmented and disjointed way that people found each other. "A singer-songwriter might be great at recording, great at singing, great at playing the guitar, but they're not just not great at mixing their music, and mixing is an important part of the process," he says. "Or a DJ-producer might make amazing sounding tracks, but they still need a singer to record on top of them. I decided to try to create a marketplace that would help the two sides discover each other in a way that was more transparent than what existed before."
"As we're entering a new era of production, and the ground is shifting every day, what hasn't been lost is that urge we have to collaborate."
Gilad found a niche. When Spotify purchased Soundbetter in late 2019, the company had 180,000 registered users and was paying out nearly $1 million a month to artists. A major driving force of the business is commercial production, brands and companies desperate to use music to help them stand out in a crowded space. "One of the profiles of clients that we're seeing more and more of is marketing agencies looking for jingles," Gilad says. "Even people come to hire voiceover, occasionally, on SoundBetter. We see people coming looking for backing tracks, for full songs for ads. They actually want them to record vocals and they want, really, a short song. Those jingles end up sounding less like elevator music and more like real tracks."
When Nicole Cadoret launched Listen Lively, a direct-to-consumer hearing aid startup, she knew that the success of the company would hinge upon being able to rebrand a condition that affects an estimated 48 million Americans. "Hearing loss is not an old people problem," she says. When Cadoret and a photographer she hired set about searching for the face to serve as the lead image on the Listen Lively website, they had a very specific image in mind: "When we were looking to cast, we were looking for people who read as in their 40s and 50s. That's how they needed to present." In other words, they needed working actors instead of models, people who were perhaps slightly more attractive than average but not overwhelmingly so. A good looking aunt or uncle, not Cindy Crawford.
How to assemble the cast you want for your brand project.
They turned to Backstage for help finding the perfect talent. The combination of forward-thinking companies like Listen Lively, the growing suite of content-production tools, and the need for companies to produce ever-more content is making a world where services such as Backstage are seeing all new types and sizes of projects. Cadoret found the face of her franchise and returns to Backstage whenever she needs new talent.
"Over the past two years, we've seen tremendous growth in postings from brands and creative agencies looking for talent for their content marketing campaigns. Brands are turning to solutions like Backstage to directly hire talent and produce content at scale," said Josh Ellstein, Backstage's CEO.
Quality and The DTC Aesthetic
This is a time where anyone with a computer and a camera can be a production house. That, however, does not mean that the skill behind the computer and camera set up is equal. "At the end of the day, the platforms can change, the equipment you're using can change, but you still have to have a really strong creator—usually a director—at the helm, who can establish what the look of a piece is going to be, no matter what the content is," Cortez Brothers' Rivero says.
For Kelly Megelky, whose company Filament Productions has made films and content for companies including Trek Bikes, NatGeo, Sony, Universal, and Ironman, part of the piece is talent, having an eye for the shot. Another measure, however, is being able to handle big-budget productions. For him, that means upgrading from Cineraid servers, having a clone server in Austin where his editor works and lives, paying for Transcriptive, shooting and editing in raw on SSD drives, and being able to store 140 terabytes of footage. "Every time I hear someone complain like 'everyone's got a production company now,' I'm always like that's great, actually," he says. "It should just make you work harder and be better."
Robert Valdes, the chief operating officer and former head of production at Fig, agrees: "You get the sort of creator-director or one-stop small production company that does everything soup to nuts, including creative development if you want. The level of craft is increasing slowly, and the ones who are naturally talented are the ones who focus on craft and seem to be rising to the occasion. Ironically, they then get snatched up by big production companies and end up on a director's roster and the unbreaking wheel continues to turn. And everything goes back to normal. I'll be calling them five years from now for a $1 million per day shoot."
And then there's the DTC aspect. Many young companies, and the content they produce, have a similar aesthetic, emerging from the Red Antler and Gin Lanes of the world. That's because it works: brands chasing millennials' dollars with millennial pink and san serif fonts. It's content made by people who are in the target age group, lego-bricking services together to get it done.
"To get that vibe, you don't need to hire a big production house and a big agency," Human's Yaeger says. "If we really understand the vibe, and we get the heart and soul of the project—if it's the right fit, it's an extension of ourselves—it's super easy to be like, 'we know how we would use this product' so we'll just spend a day shooting for that. It's really fun."
She continues: "Another reason for doing scrappy stuff is the responsibility of being able to replicate the aesthetic. They come to us for launching but they are always going to need content. We can create an own-able style for them."
The Content Beast Is Hungry
Here's the truth: brands are desperate for content. "Content fatigue is real," Helena Price Hambrecht, founder of aperitif company Haus, says. "For us, it happens roughly once a month. And that's the industry standard. And that is bonkers." When Haus first launched, Price Hambrecht produced a shoot and took the photos herself. (In her first career, she ran a production company that focused on startups and legacy tech companies in Silicon Valley.) While she got thousands of images that she considers strong enough to use in social ads and elsewhere, they are all in a similar style, which runs into issues, especially if Haus tries to create GIFs, animation, or other motion graphics that perform better on social. "When you incorporate the motion, it's like, 'Oh, it can't just be one shot, it's a new concept,' " Price Hambrecht says. "And it has to look different enough for people to not tune out."
For the vast majority of brands, content needs to be created quicker, lighter, cheaper, and faster. "For a long time, Condé Nast would never spend less than $100,000 on a photoshoot," Backstage's Ellstein says. "That just doesn't have a place in this world anymore. It doesn't make sense. Even the best publications that have the biggest budgets and the largest digital subscriber base can't really justify that anymore. When you're not sure that things are going to be successful, and you take this high volume approach, you have to handicap everything that you're doing, and then you scale and put money behind the things that are working."
As Price Hambrecht thinks about the future of Haus content, she's searching for a partner or a variety of partners who can create multiple different types of content that can be rolled out across the months to prevent content fatigue. She might consider doing one large-ish shoot per year to set the direction and tone—although in the $5,000 range not $100,000 one—then filling in the gaps with small, nimble production houses and high-quality UGC (user-generated content). "If we're trying to get a group of friends looking like they're hanging out drinking Haus, then we're sending a product and five disposable cameras to someone's house, and they can go have their own dinner party and follow some rough creative direction from us, but then just shoot a bunch of stuff. It's hybrid UGC-commission content," she says. "No one can afford a version of that that involves multiple performers, multiple locations. It needs to be something much simpler."
How COVID-19 Fast-tracked the Future
Rivero had always considered using QTake for productions but never found the right reason. Then, in March, traditional productions stopped due to COVID-19, and companies around the country scrambled to adjust to a lack of in-person shoots. When Cortez Brothers got a commission to shoot an ad, Rivero decided to give the Q-Tech remote viewing technology a try. A director she's worked with frequently has a spouse who is a professional actor who they cast for the spot. Rivero oversaw the production from her house, while her producer worked from their home. Representatives from the brand could see what was going on as well, free to make suggestions. "We were actually able to shoot with no contact during the height of the pandemic," she says.
How 1 team has handled remote production during the pandemic.
While eventually, production will return to in-person shooting—in some parts of the country, this is already occurring with safety protocols—the remote viewing technologies will stay as they can dramatically increase opportunity in an industry that struggles to create chances. It will be harder for life to get in the way. "People who are new employees or new to advertising or new to their roles or positions can't always find the time or the chance or are given the opportunity to fly cross-country or halfway across the globe to go to a shoot," Rivero says. "And now, they can be at home or in the office and be on that shoot and participate and watch and train anyway. That's going to do nothing but make our industry stronger in the end. And that's exciting."
Get a look at the complete content creation stack here.