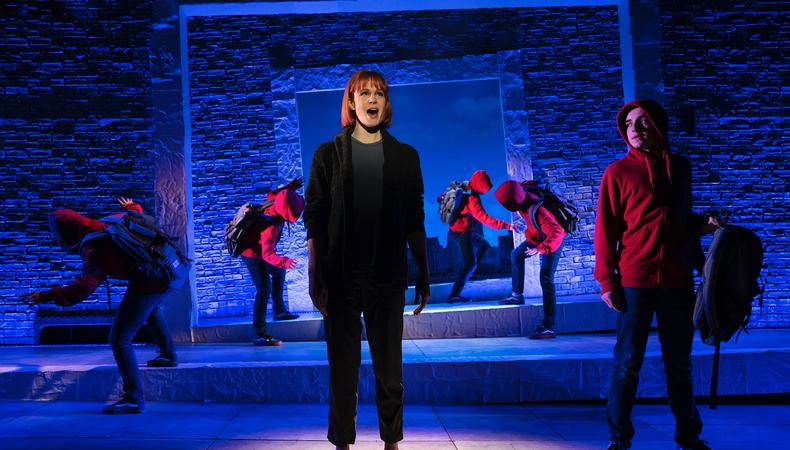 "What's undeniable is the exciting moment when a performer comes into the room for the first time and takes something that's been in your head for months—perhaps years—and you suddenly hear it out loud," says composer Tom Kitt about the development of new musicals. "It's really the thing that I continue to live for, working in the theater."
Kitt knows what he's talking about, having penned the music for Idina Menzel starrer "If/Then" and the Pulitzer Prize–winning "Next to Normal," for which he won two Tony Awards. Neither piece was based on any source material, and the same can be said for "Superhero," his newest venture at Off-Broadway's Second Stage Theater. The feelings it evokes, however, are derived from an American pastime: superhero films.
"When I was 4 years old and I was sitting in the original 'Superman' movie for the first time, I just remember it so clearly and its effect on me," Kitt says. "I wanted to bottle that feeling. We're drawn to those stories because of the human themes that we see in those characters. For people who want to delve into emotions that could be challenging and are true and cathartic, I think this show will speak to them."
Subject matter aside, the musical, which runs through March 24 under the direction of Jason Moore, is a challenge to its creative team, as well. For the first time, Kitt will take on lyrics in addition to music, while book writer John Logan, making his musical theater debut, transitions from playwriting. It's uncharted territory that falls in line with the theatrical discovery "Superhero" offers.
"This is an idea I've been carrying around with me, so I sort of dared myself to write it," Kitt admits. "The thing about an original musical is it's a story that no one knows. People aren't sitting in the audience waiting for the iconic moments they love; they're going on a completely foreign adventure. As a creator, it's very exciting to feel them sitting forward in their seats, tracking the story, and coming out with an experience they perhaps weren't expecting."
Just as Kitt hopes audiences embrace new musicals with an open heart and mind, he encourages actors auditioning for these pieces to take a similarly unhindered approach to the material. "Don't try to put yourself in a box and be something that you think the people behind the table want," he says. "I want to see the essence of someone. I want to see their voice. Why does this character speak to you? What do you feel like you have that's unique, that you can bring to this story? Just know the room is desperate for you to succeed—that the room wants to be wowed and taught something about the material. Even if it doesn't go your way with the part…I've certainly cast people in things down the road."
Collaborating with actors on new material, Kitt explains, is the divine essence of creation, bringing something from an idea to the page to three dimensions and finally into the form in which it can be shared.
READ: How to Become a Musical Theater Actor
"What's great about the [rehearsal] room is there's this free-flowing process of ideas, and certainly when the actors have lived in what the characters are feeling, it teaches me about my material and what feels right," he says. "The issues the characters face in 'Superhero' are things we can all relate to, and I'm proud I put something into the world. Even though there are all these things we fear in the world, we believe in these forces, that anyone in unexpected ways can rise up and inspire you and show you that the world is actually a wonderful place."