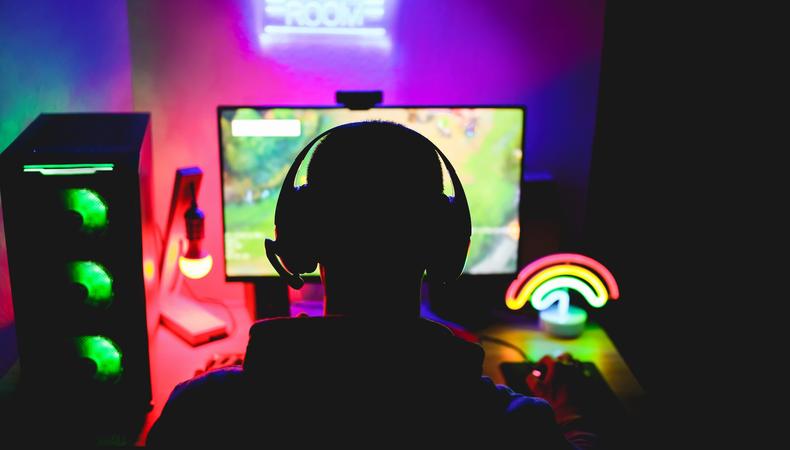 It's been more than a decade since the creators of livestreaming service Justin.tv decided to spin off the site's popular gaming channels into Twitch; the deal was so successful that eventually Justin.tv shut down, moving all its users to Twitch before selling the rest of the company to Amazon. Even as live video broadcasting has been incorporated into almost every social media platform, Twitch has maintained a large audience, with tens of thousands of streamers and millions of viewers.
But is Twitch the best place for you to create? We put together this guide to help you determine whether starting your own streaming channel is the right move.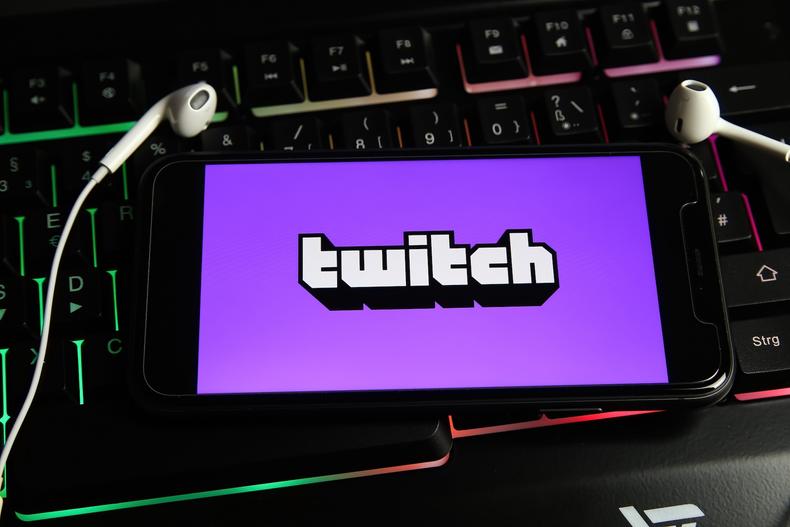 Ralf Liebhold/Shutterstock
This seems obvious, but it's important to head into the streaming world with some knowledge of your goals and who you are as a creator. Here are some things to keep in mind when considering Twitch as a content platform:
Be wary of online abuse
Online abuse is everywhere—on social media, gaming platforms, and message boards. But there's something about the ephemeral nature of Twitch chat that leads trolls to believe they can post free of consequences. "We know that many people on Twitch—particularly women, members of the LGBTQIA+ community, Black, Indigenous, and people of color—unfortunately continue to experience a disproportionate amount of harassment and abuse online, including on our service," the company wrote in a blog post in 2020. While Twitch continues to find new ways to curb such problems, starting a channel in 2022 means you'll likely have to navigate around a subculture of abuse on the platform.
Avoid burnout
The most successful streamers are online so often that fatigue may become an issue for them. "While creators face the same challenges as the rest of the digital generation, stress and burnout occurs more often in this community because of the pressure of expectation from their audiences," Kruti Kanojia, the CEO of Healthy Gamer, told The Guardian in 2021. "They started streaming because of a love of gaming and the community that comes with it, but the hyper-competitive nature of content creation can make creators feel like they can never take a day off…. Everything from burnout to stress and impostor syndrome can make streamers consider quitting."
Attempting to be successful on Twitch is not something that can be done in a couple of hours a week. Figuring out how much energy you can dedicate to this project will help prevent burnout later.
Don't expect a massive payday—at least, not at first
Your journey into livestreaming should be inspired by a genuine passion for building a community and having meaningful social interactions on the web. "When it comes to growing a Twitch channel, monetization should never be the primary goal," Chris Grayson, founder of the livestreaming consultants StreamScheme, told Backstage. "Monetization should only be considered once the equipment is sorted and the content is worthy of a viewer's financial support. It takes time and effort to generate revenue from Twitch streams. Those who are patient and focus on creating worthwhile content will be more successful in the long run."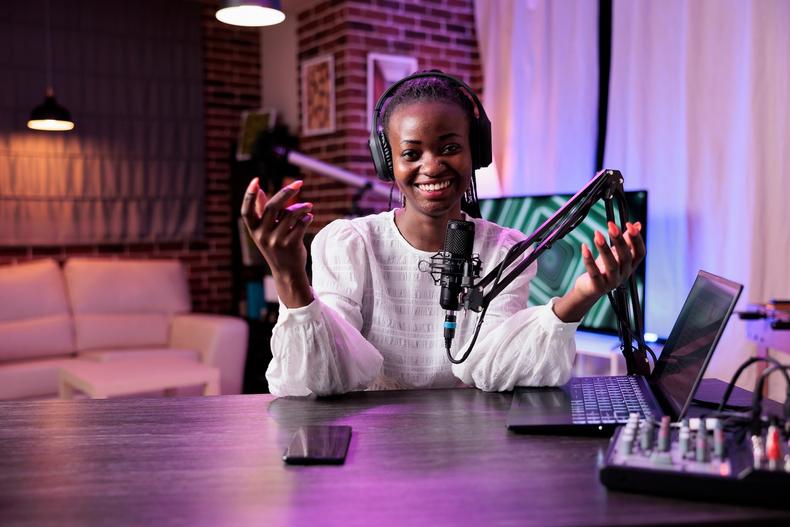 DC Studio/Shutterstock
If you're ready for the adventure, the good news is that the technical bar for entry is low; you may own much of what you need already. As Tom's Guide points out, a strong laptop or desktop is the base of the operation, with the latter likely working a bit better for those who stream PC gaming (there's a smaller chance of overheating).
From there, you'll need:
Streaming software. Twitch has its own free app, Twitch Studio, that can help you set up a stream and talk to the world in moments. As you become more sophisticated and seek out more advanced features, an upgrade to OBS Studio or XSplit will allow you to add customized graphics and layouts to your stream, which also gives your audience a more unique experience.
A webcam. You don't want anyone to click on your stream and find a blurry video. You'll want something with a fixed focus and the ability to shoot at least 1080 pixels at 60 frames per second, which is considered HD resolution. The Elgato Facecam, a good starter cam, runs around $169.
A fast, reliable internet connection. To keep your stream from buffering and maintain HD video quality, Twitch recommends your internet connection run at around 6 mbps.
A gaming headset or separate microphone. A clear-sounding stream doesn't have to break the bank. Check out our guide to finding budget microphones for any home setup.
Lighting. This improves the video quality of your stream.
Does all this sound overwhelming? If you're thinking about being a gaming streamer, you can dip your toes into the pool by broadcasting straight from your gaming console as well. Both the Xbox and the PlayStation allow for Twitch streaming directly from the console itself, meaning that getting started can take just minutes.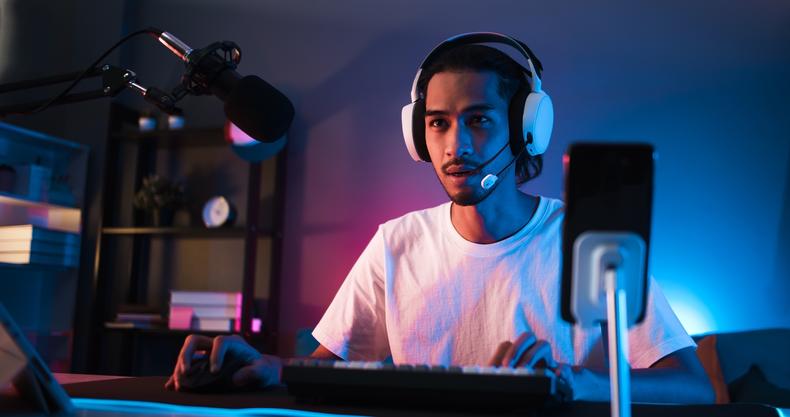 Urbanscape/Shutterstock
Video games
While it isn't the only option, the majority of streamers on Twitch broadcast themselves playing video games. The idea of playing any game you want on the internet sounds simple enough, but growing your channel means thinking about what can help you stand out in a sea of thousands.
"Game selection is absolutely crucial for newer streamers," Grayson said. "Although it might be tempting to jump into 'Fortnite' or 'League of Legends,' the truth is, the more popular games hurt your discoverability on Twitch. In my experience working with hundreds of small to mid-sized content creators, it's far better to stream games that are lower competition. You give yourself a chance to be seen at the top of category pages and build up an audience before moving on to more popular titles."
Performing arts
Like many of the major social media platforms, Twitch can function as a low-stakes place for you to share your artistic talents with the world. Performing artists have found ways of gaining a following on Twitch, either with concerts, performances, or behind-the-scenes access. Justine Griffin, a multi-instrumentalist, is one of the best-known examples; the former project manager at an advertising firm plays her violin and experiments with looping instruments, creating songs from improvisation jams, or riffing on one of her original tracks. The following she's gained there—more than 69,000, as of November 2022—has allowed her to focus on music (and streaming) full time.
RELATED: How to Become an Influencer
Yourself
Want to share your personality and talents with the web without pre-planning content? The "IRL" tab on Twitch includes categories such as "Just Chatting"—which emphasizes talking to your followers instead of having them watch you play games—and "Talk Shows & Podcasts," which is a great place to host interviews. Channels that populate the "IRL" tab can be less taxing and restrictive than channels dedicated solely to performance. And they're popular, too—in November of 2022, the "Just Chatting" tag racked up 59 million hours watched, more than the top two games on the platform, "League of Legends" and "Counter-Strike: Global Offensive."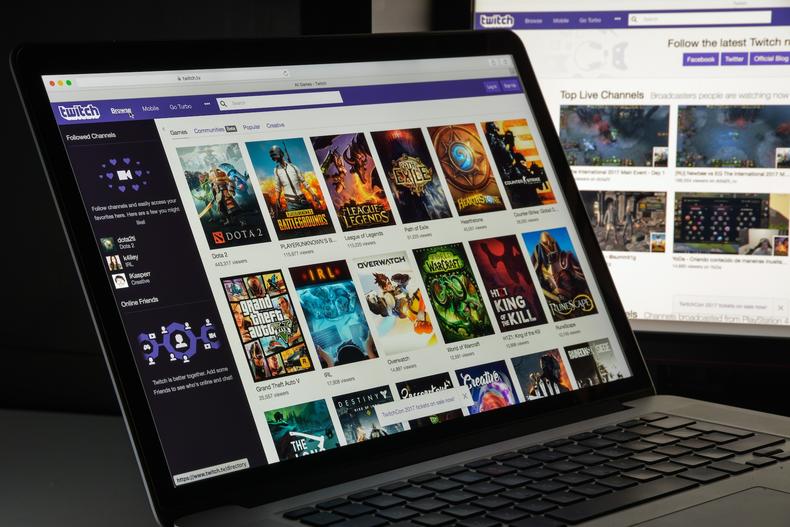 Casimiro PT/Shutterstock
The best time to stream on Twitch depends on a few factors.
Your competition: Going live during "off hours"—the early morning, from midnight to 4 a.m.—can mean having much of the platform to yourself. As a streamer new to the platform, this can boost your chances at getting discovered by users browsing the site.
The game you are streaming: If broadcasting games is your goal, use a tool such as Twitch Tracker. This will tell you the viewership-to-channel ratio of any game. A higher ratio means a better chance at viewership. Next, look at when those numbers peak weekly, daily, and monthly.
Your intended audience: Who do you want to watch your streams? If you're an actor or performer looking to get attention for your craft, try streaming at a time when your art is normally on display. For instance, weeknights may be a good time to live broadcast a concert or an acting performance. Casting directors and booking agents are busy during business hours, so you could have a better chance of having the "right" person in the audience during that primetime window. On the other hand, if your channel relies on interaction—think Q&A streams, for instance—picking the busiest times will help make sure you've got someone to talk to.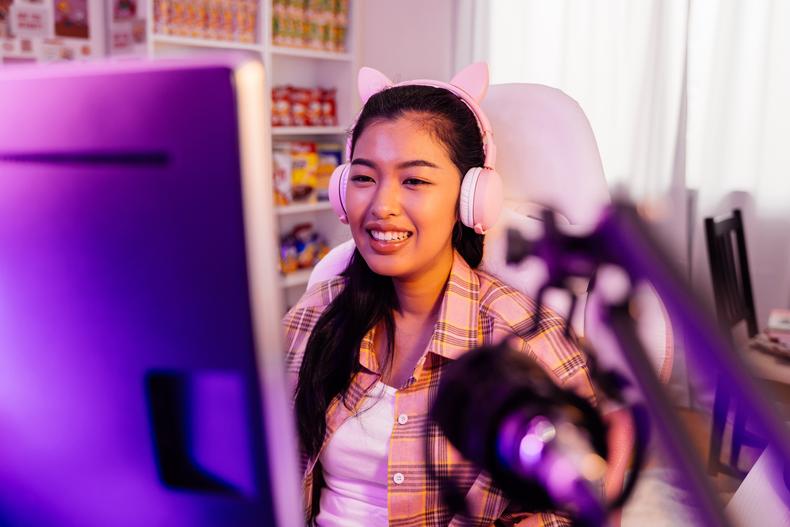 Twinsterphoto/Shutterstock
You've got the channel, you've got the equipment, you've got the schedule, and you've got the content. Now, you need the audience. Content can differ drastically between channels, but the strategies to attract fans are similar.
Consistency
Though streaming has disrupted the traditional television broadcast model, there's something about having set times at which you appear every week that breeds loyalty. You are essentially making yourself "appointment viewing." Create a streaming schedule and stick to it. Unlike other social media outlets, Twitch is built with the live aspect in mind. Make it easy for your fans to find you.
Community
A social media platform is, at its best, a conversation. Along with whatever type of content you create, you're also interacting with viewers, incorporating suggestions, and responding in real time to the chat. The goal is to eventually grow to the size where it's nearly impossible to engage with individual viewers, but in your channel's early days, taking the time to make sure you're listening is important. A study showed that people who subscribe to smaller channels (less than 500 viewers) were strongly motivated by the extra opportunities for social engagement—and those fans can become your loudest evangelists across the internet. Take the time to interact with your audience.
Cross-posting
Use an app such as Hootsuite or Buffer to seamlessly share when you are live to other social media sites such as Instagram or Twitter. If you have any basic video editing skills, cut together clips of your Twitch channel and post those to your other profiles as well.
Connections
Chatting with your fans isn't the only important type of engagement. You can also build your own community by participating in others. Scroll through tags you're interested in, or stop by streams of the same games you play to meet like-minded creatives, who will in turn want to tune into your channel. But remember that visiting other channels solely to promote yourself is one of the quickest ways to annoy your potential subscribers; instead, reach out without self-promotional motives, and you'll be surprised at how effective it can be.