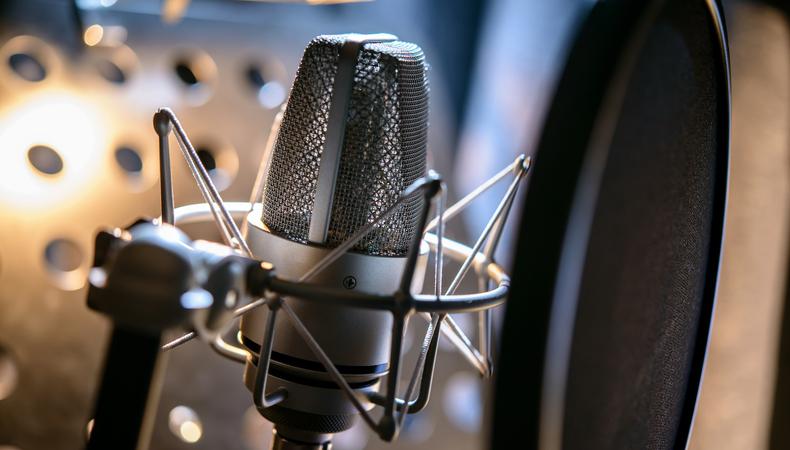 When it comes to selecting the right equipment for your home voiceover studio, it's more important now than ever that you're choosing professional-quality gear. Increasingly, studios and casting offices are requesting home studio-based live sessions and self-tapes from VO talent. It's crucial that voice actors wade through the seemingly endless equipment options—interfaces, preamps, acoustic treatments, XLR cables, DAWs, pop filters, to name a few—to choose the gear that both works best for you and will ensure clean, clear, pro-grade sound.
One of the most important pieces of your setup? The microphone. Nearly all the high-profile casting breakdowns or bookings I've seen receiving these past months request large-diaphragm microphones such as Neumann's u87 or TLM 103, the Sennheiser MKH 416, or the AKG C414. These microphones retail for thousands of dollars, a substantial investment for anyone. But keep in mind: expensive does not always mean better.
How to Choose a Voiceover Microphone
As a voice actor who's recorded hundreds of commercial spots for top brands and dozens of promos for major networks from my closet studio on a budget microphone, I can tell you that more often than not, the quality of a recording is reflective of a room's acoustics and your performance, not the price of your microphone. However, there are physical and technical specifications you can assess to make sure a microphone is sufficient or suitable for professional voiceover:
Diaphragm: A thin piece of material inside a mic that vibrates when struck by sound waves and converts them into electrical current. The main types are dynamic, ribbon, and what is most used in voiceover, condenser.
Frequency response: A microphone's sensitivity to different frequencies, detailed on its frequency chart.
Polar pattern: The directions or angles at which a microphone is sensitive to sound. (C

ardioid, hyper-cardioid, super-cardioid, omnidirectional, bidirectional)

Microphone self-noise: The noise a mic produces from its electronic circuitry; lower than 15 dB is ideal.
Dynamic range: The range between the noise floor and maximum sound pressure level (SPL) that a mic can handle, measured by a mic's SPL range.
These specs can help you narrow down your choices based on your voice, recording environment, and personal preferences, particularly if you're just starting out and don't want to break the bank on a mic.
After hours of research, testing, and asking the professional community, I've compiled a list of amazing voiceover recording mics, all under $300. Happy choosing!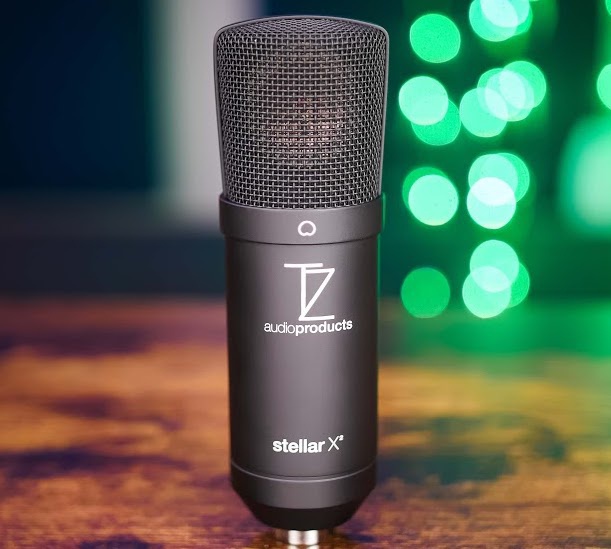 TechZone Audio took the design of the vintage Neumann u67 (the predecessor to what some refer to as the industry standard u87) and redesigned it at a remarkable $200 price point. Thanks to its cardioid polar pattern, this budget-friendly, large-diaphragm condenser mic is perfect for genres like video games/interactive and animation where performances require movement that can move you away from being directly in front of the mic's diaphragm.
The X2's balanced frequency response allows the sound to be clear and neutral, eliminating the harshness that many low-cost condensers produce. A raw output without coloration added to the sound is the ideal way for voice actors to deliver files to clients, to present the most accurate representation of your voice, and allow for clean post-processing if desired.
In my opinion, the Stellar X2's sound is most similar to the Neumann TLM 102, a $700 microphone. The X2 comes with an aluminum flight case, quality spring shock mount, 3/8 to 5/8" adapter, foam wind cover, and leather pouch.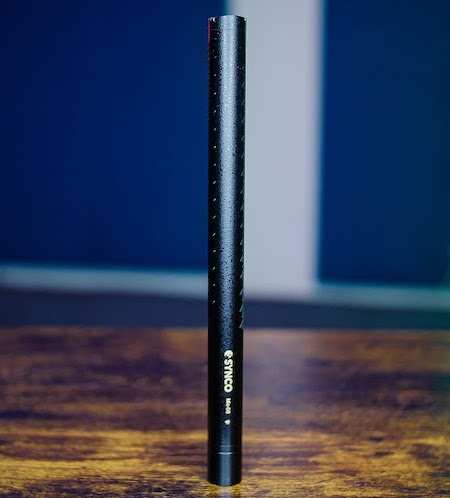 Considered a budget option ($250) to the beloved Sennheiser MKH 416 ($1,000), the Synco D2 is a well-constructed, hyper-cardioid shotgun (even tighter than the 416's super-cardioid pattern) condenser microphone that is very forgiving of a room's ambiance, making it perfect for VO beginner's home studio. This mic has a similar frequency response rate to the 416 (mostly flat with a slight boost to the top end), a low noise floor aided by its extreme directionality, a rich proximity effect, and clearcut through sound, making it excellent for promo, narration, and commercial reads.
Its shotgun shape also makes the Synco D2 a handy microphone for filmmaking with a boom pole and self-tapes since it will still clearly capture your voice when placed out of frame. If I were traveling and needed to record, this is the mic I would take on the road. The Synco D2 comes with a quality traveling case, mic clip, and a short XLR cable.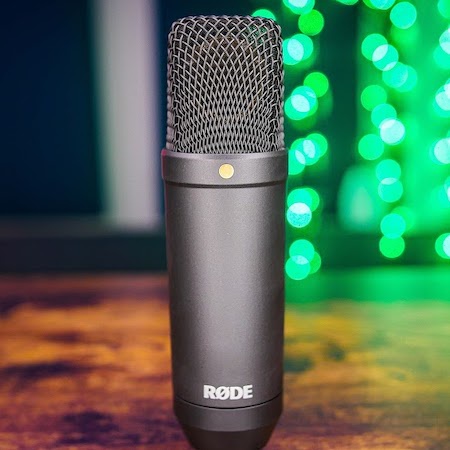 At less than $300, the Rode NT1 is a mainstay in the VO industry thanks to its smooth, neutral sound, a bordering flat frequency chart, its sturdy build that helps it avoid vibrations, and a near-inaudible self-noise of 4.5dBA (one of the lowest around for the price), which makes it exceptional for audiobooks since they typically aren't mixed with a lot of SFX to hide background noise.
With an increased dynamic range and low noise floor, the NT1 is one of the most versatile mics in this price range with the bonus of insanely high-quality accessories that come with it: SM6 shock mount, dual-layer pop filter, dust cover, and a six-foot XLR cable. There's a similar NT1-a version for $250 that features a different frequency response rate that's not as flattering on the lower bass frequencies but offers a significant presence boost on the higher frequencies, making its sound "brighter." Rode is a company known by nearly everyone in the industry and offers an incomparable 10-year warranty.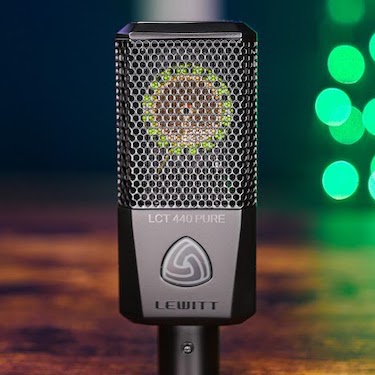 The 440 is a simple, sleek, well-constructed, and efficient cardioid microphone that retails for $269. Perfect for recording voiceover due to its detail and clarity, it's equally great for those looking to record instruments or singing vocals thanks to its max sound pressure level of up to 140 dBSPL, which helps avoid distortion from exceedingly loud sources.
The 440 has a genuinely rich bass response for its proximity effect that never comes out muddy and the slight boost to its high-end frequencies makes the sound bright but still pleasant and pure, accurately confirming its name. The focal point of the 440 is that it's nearly impossible to find a consumer or pro who has a bad thing to say about it. Comparable to the NT1 with its 7dBA noise floor, the 440 similarly comes with a shock mount, 3/8 to 5/8" stand adapter, magnetic pop filter, windshield, and a protective bag.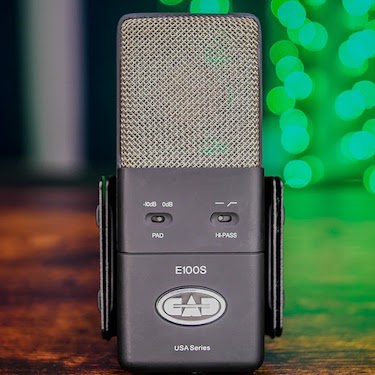 This microphone could easily be the last mic you buy due to its durability, vintage sound, quality of performance, and built-in shock mount. The CAD e100s has everything you could ask for in a VO mic with its max SPL of 150dB with its 10 dB PAD switch engaged and an 80hz high pass filter allowing you to roll off some of the lower bass frequencies if you were looking to make the sound more natural, tone down the proximity effect, or eliminate external noise. There is a slight boost to the high-end frequencies but the resulting sound when performing spoken word is reasonably smooth. The mic sounds particularly amazing on those with a bassy voice, a signature trait for mics from the CAD line. The e100s sports a 3.7dB self-noise (one of the lowest on the market) allowing ultimate adaptability for whatever situation your home studio might be in.

Though this super-cardioid mic typically retails in the $500 range, it has been found on sale for just under $300 on sites like drop.com or pre-owned Reverb, eBay, and various local digital marketplaces.
(All of these mics require +24V or +48Vs of phantom power provided by an audio interface or portable recorder via an XLR cable connection.)
These are just a few of the amazing condenser microphones available around the $300 mark. An alternative not mentioned above are mics with a USB connection, like the Samson G-Track Pro. These are great options for travel due to their plug and play functionality and lower price points. However, they often lack durability, quality, and have limited versatility due to their built-in interfaces. The only way to know for certain if any of these mics are suitable for your voice is to test them yourself or listen to others with a similar vocal quality using them.
Disclosure: This post is brought to you by the Backstage team and/or a Backstage Expert. If you purchase items through these links, we get a small share of the revenue from the sale from our commerce partner.