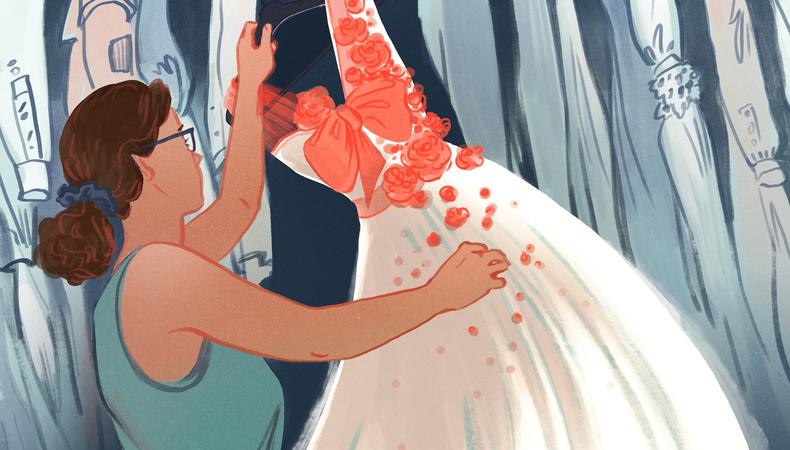 In the last year or so, I've fallen in love with podcasts. From mysteries to those that feature world leaders, policymakers, and actors, there's certainly a lot to choose—and learn—from. Actor-director Dax Shepard has a thoroughly enjoyable podcast called "Armchair Expert," in which he's interviewed everyone from Prince Harry to your favorite performers. In a recent episode, he interviewed actor Julianna Margulies, who was talking about her new book, "Sunshine Girl."
The two got into a conversation about set etiquette, and Margulies declared that she always hangs up her costume at the end of the day so that wardrobe doesn't have to pick up after her. Shepard emphatically agreed and added that not only does he do this, but he also grills the costumer to ask which cast members leave their costumes on the floor!
I reached out to some of my actor friends to gather some more nuggets about set etiquette that are guaranteed to make you a superstar on set—whether you're in an indie short or on a long-running TV series.
"Always know your lines. Always be on time. Know how to hit a mark and give 100%, even if the camera isn't on you." —Rob Lowe, "9-1-1: Lone Star"
"I always remember to say thank you to the drivers. They are always there waiting to take us wherever we need to go, and I think we can be so involved in our lines, world, [and] meeting people who are in the van with you [that] we can forget to say thank you to the ones who are the first ones to set and the last ones to leave for the day. It's important to see people for who they are. At the end of the day, you're not special because you're an actor. It's your job. So respect everyone else and their job. It makes for a better environment." —Camille Guaty, "The Good Doctor"
"Treat everyone on the set with respect. You are neither above nor below them. You're all equal. Remember, everyone behind the camera is trying to make you, the actor, look good. So, recognize this. You are just one cog in a wheel among the other 150 people on set. Always say thank you, always be prepared, and always be grateful you have a job. Always arrive early on set. That way, you'll never be late. Leave your personal problems at home. They don't put up with bad behavior. You'll be replaced. Oh, and be nice to everyone you grow up with!" —Jon Lovitz, "Saturday Night Live"
"As an actor, I always remind myself that I'm also a member of the crew." —Cary Elwes, "Mission: Impossible 7"
"Every set has its own culture and vibe. Some are run like a military offensive, and some are run like a hippie-dippie summer camp. Assuming you're not up first, arrive 30 minutes before your call time, get into wardrobe and hair and makeup ASAP, and then ask the PA or second AD if you can go to the set to just watch. It will be very useful to get a sense of how the director and actors speak to each other, and how the actors speak to one another, before you actually start work." —Amir Talai, "American Dad!"
"Make friends with your ADs. I always get ready, study lines, and meditate up to the moment I'm called on set. I'm cordial but focused on set. I'm not there to party." —Betty Buckley, "Split"
"Never take things just because a PA offers them, like another sandwich or the other six bottles of water when you're only going to drink one. You're just at work, and not particularly hard work compared to the crew surrounding you. Also, always learn as many people's names as possible. Always ask new actors on set to have lunch their first day so they're not eating alone. Use the mints on the camera cart; they are there for a reason. Generally, be especially kind to the hardworking crew. They work 50 times harder than us and make a fraction of [the] pay." —Willie Garson, "Hawaii Five-0"
"If you're not 10 minutes early, you're late. Get your own things from craft service, including lunch—and breakfast, if they're not rushing you through makeup. Just act like a grown-up." —Andrew McCarthy, "The Blacklist"
"Come to the set when you're called. Never make them wait. Be the first one there, and never be the last. In theater, if you're not there by a certain time, your understudy goes on, and you're left standing in the wings." —James Morrison, "Twin Peaks"
"To me, offering veto power is the first rule of collaboration. When asking for something, whether it's a different piece of blocking or a different pace to the scene, I find if I preface the suggestion with 'Is there value in,' there's very little defensiveness. 'Is there value in taking the air out of the scene and being on top of each other?' versus, 'I think it's too slow,' which reflects on the director and other cast. It works well for both directors and actors." —Timothy Busfield, "For Life"
"I have two rules: Don't be an asshole, and show up prepared. You cover those two bases, and everything else falls into place." —James Badge Dale, "Hightown"
"It is incredibly important to take time to learn about each person's job, from director to craft services, and even to shadow them, if possible. [You] will develop a deep respect and appreciation for the team effort it takes to bring film and television to life. No one's job is more important than another. Take away just one of these people, and the whole production will fall apart." —Melissa Gilbert, "Secrets and Lies"
"Get a cast and crew list, and use the internet to find out if you have worked with them before." —Kurtwood Smith, "Patriot"
"I always like to get there a little before my call time to settle in my trailer with my coffee and breakfast and look over my sides to see if there are any script changes. Always make sure, if you have a later call time than crew call, to eat something substantial, as you may have missed that cold breakfast burrito window at 6 a.m. Pick up something on the way. Get to know the names of everyone on hair and makeup and wardrobe right away. You're going to be working closely with them, so it's good to establish a nice rapport and working relationship, especially if it's a long shoot. Even on guest spots that take a week or so, it's always nice to leave a little gift for hair and makeup. They work their asses off, and like the crew, are usually first in and last out. Be conscious of that. You're going to be working with them again on another guest spot on another series down the road. They remember kindness. Be nice to your second AD and set PA. Show up to work prepared. Looking and acting like a pro makes you shine and sets an example." —Spencer Garrett, "Once Upon a Time in Hollywood"
"Besides showing up on time and being prepared with your work, always say thank you to everyone who provides any type of service to you: hair, makeup, sound, etc. And try to remember everyone's name. Study the call sheet, or a fun trick is to look at their nametags on their walkie talkies! Never complain, and be mindful that your mic is always hot, so watch what you say." —Crystal Lee Brown, "Judas and the Black Messiah"
"When I step on set, I try to say good morning to every single crew member." —Amaury Nolasco, "Hightown"
This story originally appeared in the July 15 issue of Backstage Magazine. Subscribe here.
Looking for remote work? Backstage has got you covered! Click here for auditions you can do from home!