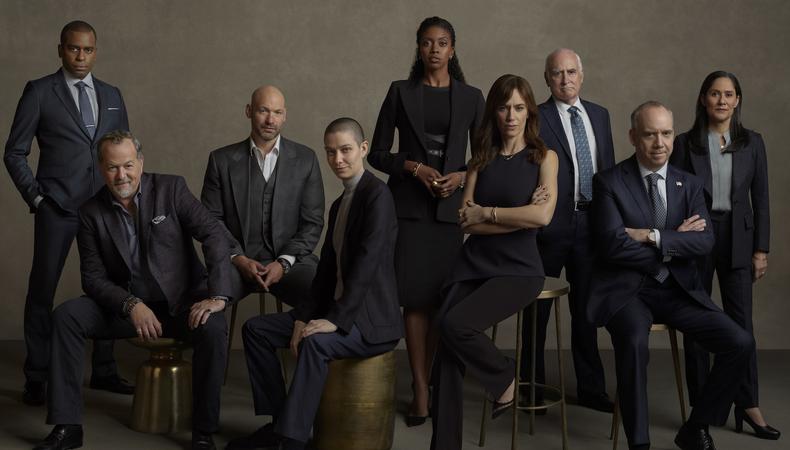 Financial crimes and corruption are a regular feature on America's front pages, so it's no surprise that Showtime's "Billions" has been a hit since its debut in 2016. Inspired by actual headlines, the drama offers viewers a (fictional) peek inside the shady dealings of a hedge fund manager who makes—you guessed it—billions of dollars.
Do you have what it takes to stay one step ahead of the series' star-studded ensemble? Our guide has everything you need to know when it comes to the "Billions" casting process, including details on what you can expect from the upcoming season, current casting notices, and advice from its leading players.
Creators Brian Koppelman, David Levien, and Andrew Ross Sorkin drew inspiration from real events for their series, which explores what goes on behind the scenes at Wall Street's most unscrupulous hedge fund corporations. The first five seasons focus on Chuck Rhoades (Paul Giamatti), the U.S. Attorney for the Southern District of New York, and his mission to hunt down high-profile insider traders. His main target is Axe Capital manager Bobby Axelrod (Damian Lewis), a character inspired by Steve A. Cohen, who founded the now-shuttered S.A.C. Capital Advisors.
At the end of Season 5 (spoilers ahead!), Bobby flees to Switzerland just as Chuck is about to catch him red-handed. Then, Mike Prince (Corey Stoll) swoops in and buys Bobby's holdings, taking over his role in more ways than one. On Season 6, the showrunners peel back Mike's layers to reveal that his good-guy persona isn't all it's cracked up to be; turns out he's perpetrated massive tax fraud by concealing millions in cryptocurrency on secure drives across the country. In a reckoning that ultimately lands Chuck behind bars, we learn that Mike lost $3.5 billion in his face-off with the attorney, a twist that will surely intensify their dynamic in the upcoming season.
Paul Giamatti as Chuck Rhoades

Damian Lewis as Bobby Axelrod

Corey Stoll as Mike Prince

Maggie Siff as Wendy Rhoades

David Costabile as Mike "Wags" Wagner

Condola Rashad as Kate Sacker

Daniel K. Isaac as Ben Kim

Jeffrey DeMunn as Chuck Rhoades, Sr.

Dan Soder as Mafee

Asia Kate Dillon as Taylor Mason

Kelly AuCoin as "Dollar" Bill Stearn

Toby Leonard Moore as Bryan Connerty

Zina Wilde as Helena

Kira Visser as Donna

Malin Akerman as Lara Axelrod

Stephen Kunken as Ari Spyros

Glenn Fleshler as Orrin Bach

Dhruv Maheshwari as Tuk Lal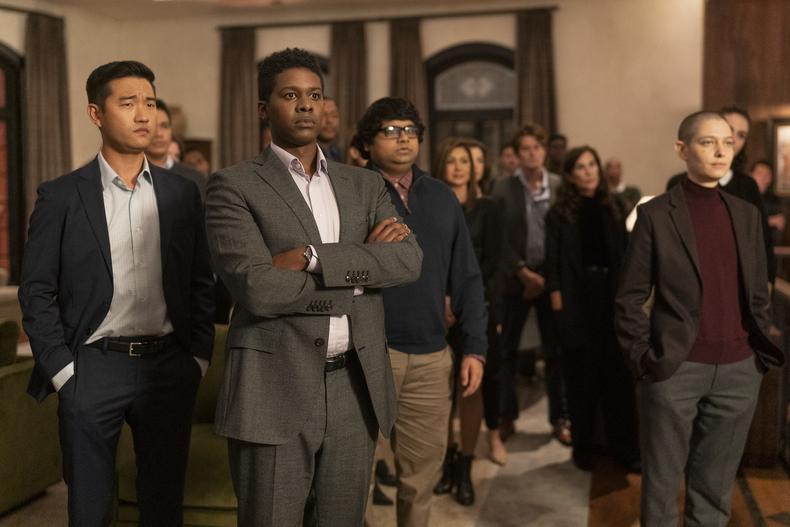 According to casting notices posted on our site, the seventh season is shooting in New York City in mid-November. If you're a local interested in background work on the show, be sure to keep an eye on our extra casting calls for updates.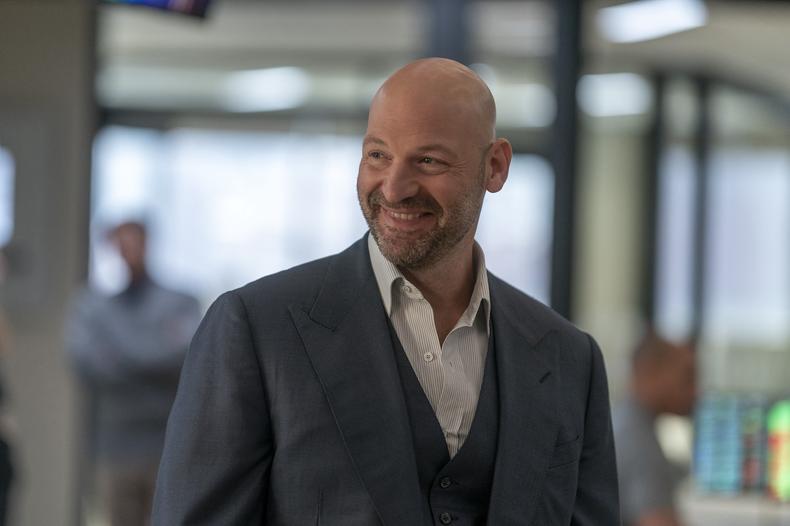 The series has posted multiple notices in our casting call section in preparation for Season 7. Here's what the production is currently looking for:
Young female talent, aged 2–4, to play twin daughters. Pay is $500.

Apply here

.

White male talent, aged 25–45, to work as a stand-in. Pay is TBD.

Apply here

.

Background talent, aged 18–50, to play business and tech employees. Pay is

$187.

Apply here

.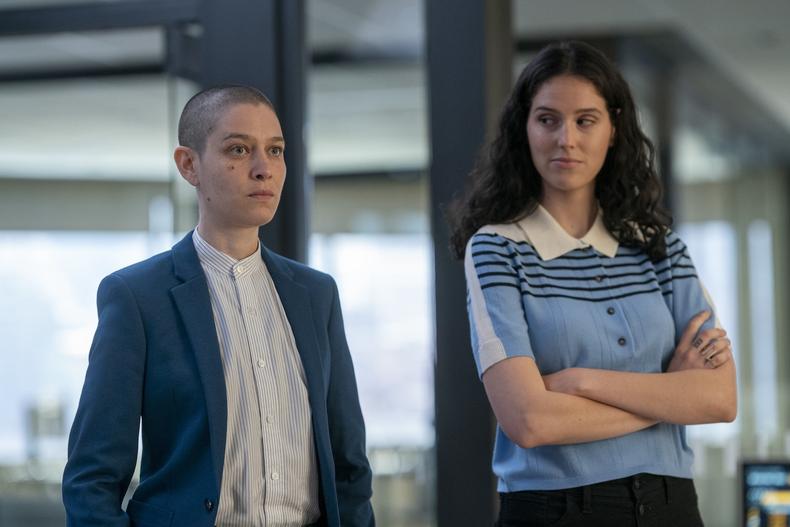 Allison Estrin is the CD for the series. Having previously worked under Kerry Barden, Estrin established her own company, the NYC-based Casting Collective, alongside Henry Russell Bergstein and Matthew Maisto, in 2019.
What does she look for in the audition room? "I would say more than anything, it's watchability," Estrin told Awards Daily. "I really want to continue watching everyone. And even with these small roles, if they really come in and have created a full character, we should be able to have the camera go off and join them in a whole other story. And that's what I think is the most exciting, what draws me in: when someone comes in and just has a fully developed world happening, no matter what size or what role.
"I'm about to start the seventh season of 'Billions,' " she continued. "I find that it's really important that every single role, no matter the size, [is] played by an actor who fully embodies it and has the ability to create [someone who] could possibly end up being a major protagonist in an episode or a season later on—which has happened on 'Billions.' I think that is my general philosophy—that everyone has to really, fully embody everything that they do."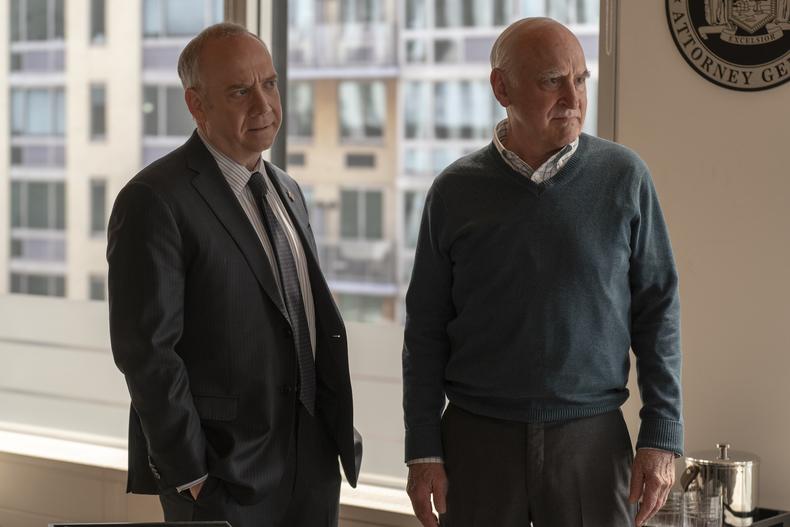 You'll never know until you try.

Emmy winner and Oscar nominee Giamatti told

Daily Actor

that, at the beginning of his career, he accepted every opportunity that came his way. "I think it was a lot of accidents leading to other accidents," he said. "I was always willing to just go, 'OK, sure, I'll do that.' I throw myself into things, trusting that I know what I'm doing. But I don't really know what it is I do. Well, I do. But I don't know how to talk about it. It's always different."

Seek out the truth in all you do.

Condola Rashad, who plays Kate Sacker on "Billions," grew up in the entertainment industry. It's no surprise that she picked up a few tips from her mother, the TONY Award–winning Phylicia Rashad. "I think the biggest thing that I always learn from my mother is: Acting can be about pretending, or it can be about finding the truth," Condola

told us

. "I choose to find the truth in every character. As long as you never go astray from that, you've got it. Acting, while it may not always feel easy, is very simple. It's not complex. It can be hard to do, the same way meditating can be hard to do; but it's very simple."

Create the future you want for yourself.

Before Malin Akerman (Lara Axelrod) ever found herself in front of the camera, she found herself—period. As a teen, a family friend took the future actor to a leadership workshop that taught her how to reclaim her life and embrace her power. "If you look at your life as a white piece of canvas, you can paint whatever you want on it. You don't have to schlep your past with you.

You

can decide what you want in your future. So start painting that painting right now," she told

Glamour

. "Step into your power. Step into your light."