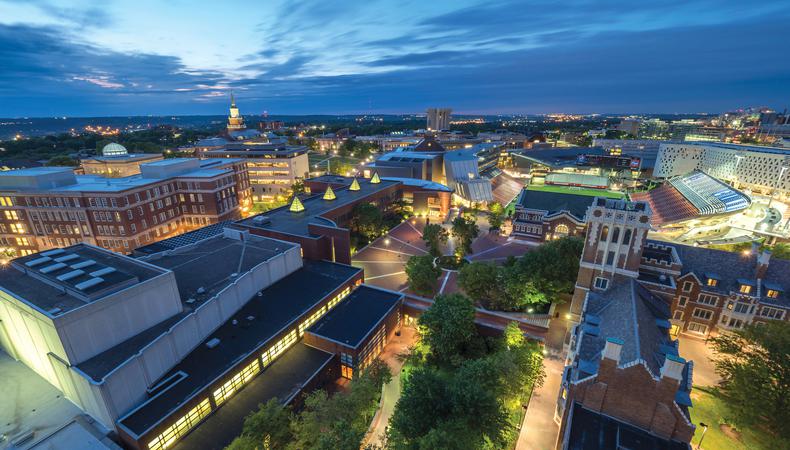 We're profiling the best performing arts programs in the U.S. and beyond with Reaching Higher, our inaugural questionnaire series that dives deep into all things higher education: What should you look for when choosing the right school for you? What do college admissions pros want from their freshman class? What opportunities await students during their studies and post-graduation? Learn everything you need to know right here!
If the bona fides of card-carrying Broadway stars like Shoshana Bean and Karen Olivo are any indication, the performing arts program at University of Cincinnati College-Conservatory of Music (known simply as CCM) gives its students all the tools they need—and then some—to succeed on the stage and screen. Denton Yockey, the division head of Theatre Arts, Production, and Arts Administration (TAPAA) at CCM, sat with Backstage to break down exactly what makes the offerings there so singular, and what prospective students need to keep in mind when applying and auditioning for a coveted slot in the freshman class.
Few schools offer more comprehensive training programs for actors, singers, dancers, directors, designers, technicians, and arts managers than the University of Cincinnati College-Conservatory of Music. Students enrolled in CCM's BFA programs in acting and musical theater receive a wealth of learning opportunities focused on performing onstage as well as some behind-the-scenes work. Performances throughout the school year are fully supported by CCM's department of theater design and production, one of the finest BFA/MFA programs of its kind. Impressive scenery, lighting, projections, lavish costumes, properties, wigs, and makeup offer Broadway-caliber physical production quality. This is thanks to not only the sharing of resources among all the programs housed within our Theatre Arts, Production, and Arts Administration division, but also through interaction with other divisions at CCM, including Electronic Media and the college's internationally renowned music programs.
Our acting and musical theater programs each offer eight semesters of rigorous, intensive training. CCM Musical Theatre provides voice, dance, and acting training. Each year, 15 to 20 students are selected from over 1,000 hopeful auditionee applicants. CCM's musical theater program was the first of its kind in the U.S. and set the standard for musical theater training for all others to follow. The program helps singers, actors, and dancers hone their skills to become top musical theater performers, as evidenced by the multitude of graduates working on Broadway and on national tours as performers and creative artists in every facet of the entertainment industry.
CCM Acting is widely recognized for its quality and its history of training successful young actors, with graduates following careers in theater, film, and television. Students receive broad actor training, including specialized classes in improvisation, voice, movement, and stage combat. Students also train for a full year of acting for the camera, and recently have been given opportunities for CCM-sponsored film and television projects as well. Stage opportunities include both classical and contemporary shows, as well as devised and new works.
CCM is located in the heart of the University of Cincinnati, an impressive urban campus and top research institution. The area around the main campus has been redeveloped in recent years and has many affordable dining options, as well as nearby apartment housing. CCM is a short trip from the city's vibrant arts community that includes Cincinnati Playhouse in the Park, the Aronoff Center for the Arts, Cincinnati Ballet, the Cincinnati Symphony Orchestra, Cincinnati Opera, art and cultural museums, and much more. Many of Cincinnati's arts organizations feature work by local alumni and faculty members, and CCM regularly collaborates with them in special programs and performances.
CCM's world-class facilities provide a highly creative and multidisciplinary artistic environment. The school's campus, which is commonly referred to as the CCM Village, is equipped with state-of-the-art classroom, studio, and performance facilities. The core requirements for both acting and musical theater cover a variety of classes and performances appropriate to the disciplines. CCM keeps a busy on-campus performance schedule, including up to four musicals and four plays produced annually in three performance venues at the college. The acting and musical theater students perform in the same spaces as the college's Philharmonia Orchestra, chamber orchestras, choirs, dance, and opera students. Successful graduates need a minimum of 120 hours in their respective programs.
Recently, CCM's acting and musical theater [programs] both moved to a video prescreen audition, which students must complete before being granted an in-person audition. This levels the playing field so students from all over the world are able to audition for their desired program without expensive travel costs. Audition requirements may be revised annually, so it is important to check the Admissions & Aid section of the ccm.uc.edu website for the latest information.
Both programs are looking for students who understand who they are [and] have a healthy work ethic and a passion for the art form. The acting and musical theater programs are rigorous; students must be dedicated and focused in order to thrive and succeed in school and after graduation.
CCM curated the industry's first senior showcase program of its kind for New York agents and casting directors in 1993. Since then, our musical theater and acting programs have continued to present senior showcases to debut the graduating class for industry professionals and casting agents. The musical theater seniors present their showcase each spring in New York City. The acting seniors present their showcase each spring in New York and Los Angeles.
When the class of 2020's New York and L.A. senior showcases had to be canceled due to the COVID-19 pandemic, CCM quickly pivoted and became the first college program to launch a digital senior showcase experience in April of 2020. The musical theater class of 2020's senior showcase was filmed and made available online for casting directors and agents. Students in CCM Acting's class of 2020 senior showcase also filmed performances and recorded voiceover demos that were packaged into an online showcase for casting directors and agents.
The college plans to build off of last year's successes and again offer online, virtual senior showcases for this year's class of 2021 in acting and musical theater as well.
Students should seek a school that is the right fit for them. They should ask themselves [if] they see themselves excelling in that program's system and with that program's faculty and fellow students. They should investigate their top choices, talk to faculty and current students, and schedule an in-person or virtual visit. Due to the pandemic, CCM is currently hosting virtual visits only, which can be scheduled online.
A career in the performing arts is not easy—it takes a lot of work, passion, and commitment to navigate the highs and lows of the industry. Pursuing an education and a career in the performing arts is not for the faint [of] heart. You must also be able to adapt to challenges and rise from failures.
The University of Cincinnati is offering a mix of online, in-person, and hybrid instruction for students during the pandemic. To facilitate social distancing, many of our theater arts classes in acting and musical theater take a hybrid approach to instruction, meaning that some students are in-person on certain days while others participate online. For example, one professor hosts half of the students in her musical theater dance class in person (while masked and spaced 10 feet apart) while the other half of her students participate online by dancing in their dorm rooms, living rooms, driveways, or even in outside spaces on campus. The musical theater dance classes sometimes even take over the sports stadiums on campus to dance together outside. Students, alumni, and faculty also regularly participate in virtual performances, including a tap dance performance that was featured as part of the Muny's Summer Variety Hour Live! series, as well as alumni performances streamed and shared by Playbill.
CCM Acting also offers a mix of online, hybrid, and in-person classes. One professor recently moved his class to a lawn on campus, while others connect with students over Zoom. Students and faculty are working together on upcoming film and radio play projects, as well as short, socially distanced outdoor performances. Additionally, students, faculty, and alumni have participated in many digital theater projects during the pandemic, including recent projects with the national One-Minute Play Festival and the Monologues of Hope Series with the Cincinnati Playhouse in the Park.
The college is not presenting performances for live, in-person audiences due to the pandemic. However, we are curating a video performance series that features the work of students and faculty for our online audiences. You can watch recent performances by visiting ccm.uc.edu/overview/videos.
Explore CCM to see if it's the right fit for you by visiting ccm.uc.edu. Reach out to the faculty of our acting and musical theater programs to learn more about us, and schedule a virtual visit to see why so many successful alumni have chosen to start their journeys here. Good luck.
This story originally appeared in the Nov. 19 issue of Backstage Magazine. Subscribe here.
Looking for remote work? Backstage has got you covered! Click here for auditions you can do from home!