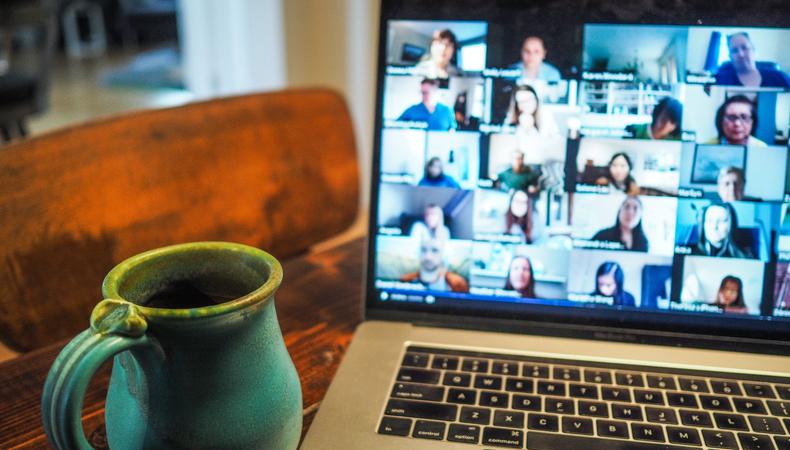 It seems that video conferencing is here to stay. Those in almost every industry, including the arts and production, have found that the flexibility offered by video conferencing has solved some of the most frustrating industry problems created by remote work. Plus, without geographical and network limitations, businesses and clients, employees and bosses, and creators and talent can be connected like never before.
But that freedom doesn't come without its own set of challenges. While most actors are familiar with self-taped auditions, where they can adjust equipment and how they appear on camera in between takes, many people aren't used to being on camera for work, and a video call doesn't quite afford the luxury of ensuring the person on the other end of the meeting only sees you're "best shot." In that way, a day at work or an important meeting becomes more like a live performance. And, of course, the technology itself isn't perfect; at this point in the pandemic, hearing "I think you're muted" is enough to give anyone sweaty palms.
While you can't control everything in this virtual world, a little bit of preparation and practice can have you acting like a video pro, no matter what happens. We've compiled our best advice on how to look and feel great in your next Zoom room, whether it's a board meeting, performance review, table read, audition, or anything else that might come up.
Find your light.
This one is a no brainer—your "audience" needs to see you! The same rules actors must follow for self-tape auditions apply here: avoid being backlit and make sure your face is as brightly lit as possible without being washed out. Natural light, depending on the time of day, can work just fine, however, check before the meeting to make sure it's adequate and organize a backup in case the light changes.
For situations where natural light is unavailable, lighting devices can be a quick and easy fix. Virtual performers aren't the only ones who might find a need for a ring light, and they can be purchased online. For actors who might have lighting equipment that they've used for self-taping, those setups will often do the trick, too.
Dress for the part.
Again, comfort is key. You don't want to be wearing clothes that you don't look and feel your best in. But it's important to know how your outfit reads on camera. Generally speaking, stripes, patterns, and bold designs aren't the best choice. They can be distracting and pull focus from your personality and performance.
Opt for bright, solid colors. Black and white fabrics aren't to be avoided necessarily, but check yourself on camera before you commit. Also, be aware of jewelry; flashy pieces can be a distraction, and a loose item, like a bracelet, can make more noise than it's worth. Again, the objective is to look like you. Unless your meeting is a specific type of audition or a table read where a costume or pre-determined type of outfit is required, stick with what you know when getting dressed. Plus, even if they're only going to be seeing your shoulders and up, dress from head to toe. Auditions aren't the only scenarios where your whole body might be seen, even if the scenario is having to get up unexpectedly to answer the door or tend to a pet. Not only that, dressing as if you're actually in the room will make you feel more connected to the moment, not like your commute was from 20 feet away.
Do your hair and makeup, but don't overdo it.
A general rule of thumb, even while everything is different than it normally is, is to act like you normally would for this type of meeting that's only virtual because of the circumstances. This means if you would typically wear makeup, then do so for a video call as well. Little tweaks might be necessary to come through on camera—another layer of mascara, a brighter lip color, or a swipe of blush—but don't cake your face like you're about to step on stage. The camera is just a few inches away!
The same goes for hair. You never want to try something brand new when you're stepping into a professional environment of any kind; you can't predict how it will show up on camera. Go with tried and true so you don't get distracted by errant strands or the way your hair isn't laying quite right. What looks amazing in the mirror might not translate to your relatively low-tech computer camera. Keep it simple. Looking your best doesn't require you to go out of your comfort zone!
Pick a spot, and stick with it.
You want to find a place in your space that is not only comfortable but also free from distractions. A private room, where you can close the door and avoid interruptions from pets, family members, and roommates is ideal, but when working with space limitations, notify those sharing your space that you'll be on an important call and ask whatever privacy they can afford. It's essential that you feel as relaxed as possible before logging on.
Wall decorations, books, photographs and personal items are entirely appropriate. One of the benefits of Zoom is that, especially if you're in a creative field, people like casting directors, producers, and directors can get a sense of your personality and style. However, use sound judgment and remove anything that may be distracting or offensive. The goal of the Zoom call is for you to shine; don't potentially upstage yourself with that photo of your cat, no matter how adorable it may be.
Practice with friends.
On-camera awareness is essential when it comes to looking and feeling your best on Zoom. Hop on a call with some friends and practice what you're going to say. Get familiar with how you look while you're listening, speaking, and thinking.
Eye contact is key, too. Unless you're directed to look elsewhere, look into the camera to make the others on the call feel as if you're talking to them. It may feel awkward at first, but looking right at the camera will have you come off as more engaging, confident, and personable. It will be tempting to look at yourself or the person you're speaking with once on the call, but after some practice, it will feel easier, and eventually become second nature. Think about watching a newscaster who is conferencing in from home—it wouldn't look right if that person wasn't looking into the camera.
Mind the tech specs.
Whenever possible, use your computer's built-in camera on a stable desk or tabletop. Position the camera so that your head and shoulders fit nicely into the top third of the frame. It's important to make sure your camera is working properly, with good, clear video quality. If your laptop doesn't run at 1080p, you can use an external camera, or download software to use your smartphone for a better picture. If you're using a laptop with a built-in camera, make a note of the most flattering angle for your computer screen to stand so you're not tempted to fidget with it once the call begins.
Of course, it's just as important to be seen as it is to be heard. Check your computer microphone and make sure it is in working order. You may need to invest in an external mic, which can be purchased online. And when the time is right, make sure to unmute yourself! All other times, double check that you're muted!
Be yourself!
The most important thing when jumping on Zoom, or any video call, is to allow yourself the space to be you. You can experiment with different positions in the chair, you can have the best lighting rig around, but no amount of equipment or camera technique can replace your unique personality.
It's important to remember that Zoom is just another tool that allows you to show collaborators who you are, and what you can do. Once you get the fundamentals down, don't forget to have fun and connect with the people in the "room" with you.
Ready to get started with Backstage? Become a subscriber here!