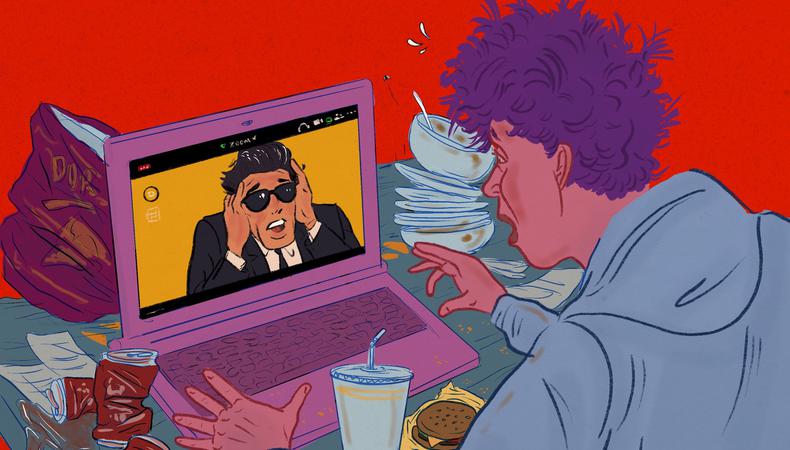 My first year as an assistant was the year black-and-white headshots became history and color photos became the new normal. I remember how everyone resisted the change. Why? Because that's human nature. People get used to a way of doing things, and when that gets disrupted, they freak out.
Nine years ago, I had a client test for a new TV show that wasn't going to air on TV—it was going to stream. That threw me for a loop, especially since Netflix was the production company, and I only knew them as a service that mailed DVDs to your home. But, hey, David Fincher was attached, so we had to take the project seriously.
I call those moments "pivot points." The last big one was the shift to actors putting themselves on tape instead of auditioning in person. And just like color photos and streaming TV, self-taping has become a large part of the business.
The new pivot point is the virtual meeting, held on Zoom or a similar service. To be clear, I'm not talking about auditions; I'm talking about a meeting where you're speaking with a group of people who are thinking about hiring you. Those people will usually consist of a casting director, some producers, and the director.
"Some meetings will be in person; others will continue to be online. As a professional actor, you have to be ready for both."
At this point, they've seen your work and want to get a better sense of you. It's critical that you come across as your best self. There are several proven ways to do this. There are also a lot of ways to screw it up.
Let's start with your choice of clothes. The meeting is about you, so don't wear anything that pulls focus. That means busy prints and repeating patterns are out. Instead, go with bright, solid colors. Avoid black or white fabrics, because they'll wash you out like the desert sun. And if you have an addiction to jewelry, you might want to cut back on that for the meeting. I did a virtual panel recently in which the manager was wearing a stack of bracelets. Whenever she moved, they made a ton of noise. It was very distracting.
Next, you should practice with your friends to figure out the angle and lighting that flatters you most. Sure, people will cut you slack on these things, but why rely on that? It makes more sense to give them your best shot, figuratively and literally.
Backgrounds are important, too. Pick a spot that isn't distracting. A framed poster in the background will pull focus; a neutral wall won't. And don't even think about using a background replacement that makes it look like you're in Hawaii.
Now, let's talk about audio. Some of the microphones that are built into laptops and webcams sound atrocious. No one will mind if you wear a headset if that makes it easier for everyone to hear each other. On an additional technical level, you have to master these services beyond just audio. That means learning to control the settings on the app itself. It's so lame when an actor kicks off a meeting by saying, "Can you see me?" or, "Can you hear me?"
In the future, you will attend many, many meetings. Some meetings will be in person; others will continue to be online. As a professional actor, you have to be ready for both.
This story originally appeared in the Jan. 7 issue of Backstage Magazine. Subscribe here.
Looking for remote work? Backstage has got you covered! Click here for auditions you can do from home!