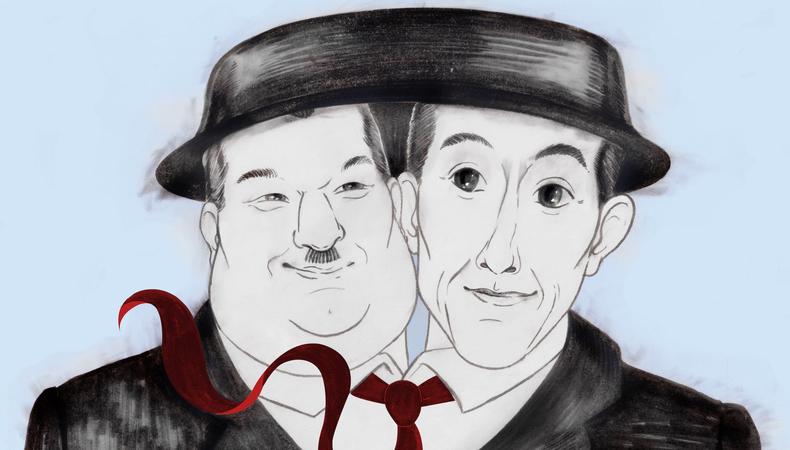 In the 1930s, Laurel and Hardy were a larger-than-life slapstick comedy duo whose work and life are now recounted in director Jon S. Baird and screenwriter Jeff Pope's "Stan & Ollie." The film intimately explores Stan Laurel and Oliver Hardy's personal relationship toward the end of their careers. (Their final feature together, "Atoll K," premiered in 1951.) In order to find the perfect pair to reimagine these iconic performers on the big screen, casting director Andy Pryor set out on a search that would eventually land him on two actors similarly lauded for their body of work today: Steve Coogan as Laurel and John C. Reilly as Hardy.
How did you re-create the iconic duo in "Stan & Ollie"?
I became involved early on in the process when they were trying to get it off the ground. Casting the two main characters was completely key to the film being made. We had discussed Steve Coogan very early on, because Jeff Pope, who wrote the film, had worked with him before [in "Philomena."] We were very keen for Oliver to be played by an American, and we arrived quickly at the idea of John C. Reilly. He's a great actor, but he also has great comic timing. We didn't actually realize when we approached him that he was a big fan of Laurel and Hardy.
What type of research went into the process prior to casting?
I was very familiar with the real Laurel and Hardy. When I was growing up in the 1970s and '80s, British TV showed those movies all the time. They were very much a part of the landscape of our movie upbringing. They're really iconic figures, and it's always very challenging to cast those kinds of roles because everybody has this responsibility to honor those great talents. We all knew that we needed great actors and great comic actors, and that's not always so easy to find.
What made casting this film different from other projects you've worked on?
I think it's that responsibility of it being about real people. Laurel and Hardy are an act that so many people have loved and so many people are fans of, and you have to tell a story that stands on its own. It's the kind of movie that, even if you didn't know much about the real people, you can still appreciate what it and those men are about and what their relationships were. With something that's entirely fictional, I'd probably have more [freedom] to think laterally, so there are limitations, to a degree. With a film like this, they're limitations of strength because it had to feel right for all of the parts, even the very small ones. The fabric of the world needed to ring true and be entertaining and moving.
READ: How 'Doctor Who' CD Andy Pryor Finds New Talent
What advice do you have for actors?
Get as much experience as you can. It's a difficult job; there's a lot of waiting around, and I think actors can feel disempowered if they're not working. You've got to be pretty resilient and you've got to be pretty thick-skinned to make a career in acting. I think one of the best ways around that is to get as much experience as you can so that you have the skills and the tools to be able to make your career. It also gives you more opportunity for your work to be seen rather than sitting and waiting for the phone to ring.
How did you cast Laurel and Hardy's wives, who became crucial to the tone of the film?
They are, to a great degree, based on reality. We have photographs and we have the research—but very little footage of them. I think we had a little more license to work with them than we did with Stan and Ollie. It's a testament to the script that they aren't just token women—that they're characters in their own right and they carry their own journey in the story. They have to be impactful onscreen, so we needed to think of strong actors for those roles. Shirley Henderson plays Lucille Hardy and Nina Arianda plays Ida Kitaeva Laurel, and again, they needed to have comedy talent to pull that off. The line that Rufus Jones says in the movie, "You're two double acts for the price of one," is really what we were looking for. The audience needs to kind of fall in love with those two women. They're tough; being married to such big stars probably would mean they are able to hold their own and be strong within their marriages. We needed two women who were really upfront and really would ping out at the audience.
What's something an actor can do in an audition that makes them memorable, even if they don't get the part?
The actors that stick in my mind are the ones who are prepared, focused, and who come in with a take on a role. Even if that take isn't one that a director or a casting director would agree with, it's always good to have an opinion about the person you're playing and then be prepared to be flexible about that rather than going in and expecting it to happen spontaneously. That comes back to preparation and really thinking through where the character comes from.
What shouldn't an actor do when auditioning for you?
Stopping in the middle of a scene, unless you're in real trouble with your lines, is never a good idea. You're stepping out of the scene when usually we'll give them a chance to try again. It's a casting director's job, as much as possible, to put an actor at ease. We want actors to be as relaxed as they can be when they come into an audition. I think actors feel that perhaps we're sitting there thinking, Go on, impress me. Of course we want to be impressed, but actually, we want to empower them to do their best work. I prefer it when actors see us as their allies rather than as the gatekeepers.