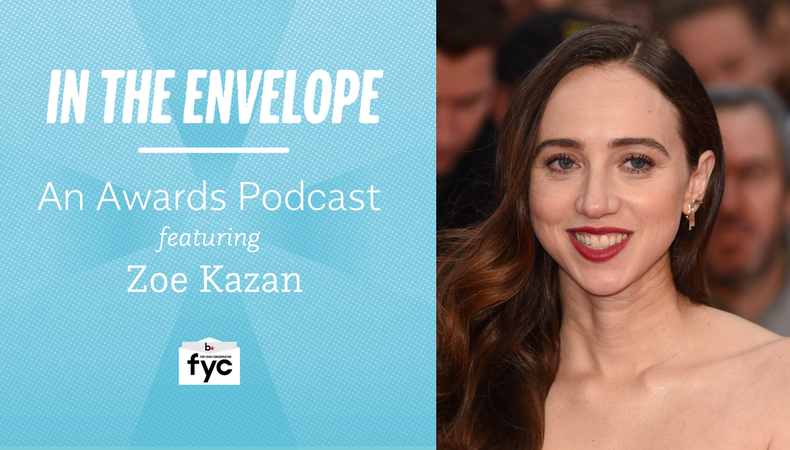 "In the Envelope: An Awards Podcast" features intimate interviews with award-winning actors and other creatives. Join host and Awards Editor Jack Smart for a front row seat to the industry's most exciting awards races, and valuable acting and career advice from contenders!
You may know Zoe Kazan from the feature film she wrote and starred in, "Ruby Sparks," or perhaps for her work on and Off-Broadway, both as playwright ("Absalom," "We Live Here," "After the Blast") and star ("Come Back, Little Sheba," "The Seagull," "A Behanding in Spokane"). She's also proven to be a chameleon on screen, appearing in "Revolutionary Road," "It's Complicated," "Meek's Cutoff," "What If," the miniseries "Olive Kitteridge" (which earned her a Primetime Emmy nomination), "The Deuce," and earning a SAG ensemble nod in last year's Oscar-nominated "The Big Sick" opposite Kumail Nanjiani.
In 2018 Kazan added to her writing and producing résumé the IFC Film drama "Wildlife," directed by her partner Paul Dano and starring Jake Gyllenhaal and Carey Mulligan. Adapted in collaboration with Dano from Richard Ford's novel of the same name, the film was a labor of love that challenged the Yale University–trained Kazan. She also demonstrated her acting chops once again in the Coen brothers' Netflix western, "The Ballad of Buster Scruggs," appearing in one of the film's six chapters as the Oregon Trail–crossing Alice Longabaugh.
What makes Kazan an especially wonderful addition to the "In the Envelope" guest list is her never-before-heard advice—from both sides of the audition room table—as well as intimate insights into her writing and acting processes. Penning plays while figuring out how to establish herself as an early-career performer, for example, enabled various creative outlets and a firmer sense of control. And once Kazan had auditioned actors herself, she better understood the realities of the film and theater industries: "Nine times out of 10," she says, "you can tell the instant a person walks into the room that they're wrong for the role."
Artists and actors who use Backstage won't want to miss Kazan's exclusive interview. Subscribe to "In the Envelope" for more!
Listen now on: