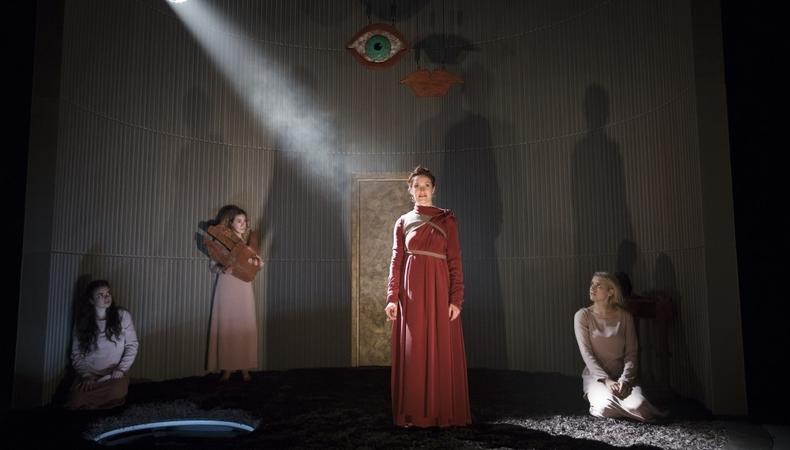 Most musicals don't designate a Medieval exorcist as their heroine—but most musicals aren't written by Grace McLean. "In the Green," running Off-Broadway at Lincoln Center Theater through Aug. 4, is a trance-like 90-minute experience about the life of Hildegard von Bingen, an artist (among other titles) who was locked in a cell with her mentor for years as a girl. The concept alone emphasizes the storytelling singularity of McLean, a standout of "Natasha, Pierre & the Great Comet of 1812," who is now acting in a creation of her own for the first time. She shares the ways in which her writer's sensibility has informed her acting, what she's learned as an auditioner being on the other side of the table, and how other fledgling creatives can find their own flavor of weird.
This subject matter is not typical musical theater fodder. What was your impetus for telling this story?
I had been really interested in Hildegard as a historical figure for a long time. I first found out about her when I was in college and I was studying medieval art and her art was just so ahead of its time. It was very individual and feminine and in her own voice. For a while, I was just researching her and writing things that were responses to her and eventually I wanted to explore this origin story, because it's true that she was locked in a cell for 30 years with this other woman, then she came out in her forties and went on to live an amazing, explosively creative life. I'm interested in the kind of people who are near the stars and who get kind of forgotten and I wanted to honor her, explore her, and tell her story.
How much of the final product audiences see now is a product of your collaboration with director Lee Sunday Evans?
Lee has been incredible to work with. I brought the show to the Lincoln Center [Theater] in 2016 and then I met Lee and she has been a really great essentializer and a great dramaturg. We have just had hours and hours of conversation about how to whittle this down to the most essential [form]. Even though the story is told in sort of an allegorical way, [we figured out], What are the most essential elements that are needed to process, that are still sort of fantastical?
Many people got to know you from "Great Comet." What's different about performing in something you wrote yourself?
It is an incredible learning process. The empathy I've gained for all those people on that creative side of the table is great. It's really hard doing both things. Most of the day I have my writer hat on and I'm thinking, How do I change this thing? How can I write for the [actors'] strengths? What can be rewritten? Then I have to put all of that away at a certain point and be like, "I have to be prepared to perform the show because that is a whole journey in itself." The preview process is really interesting because I'm out there [as a performer] but I'm listening to everything and I'm trying to take notes and also I have to think, "Don't take notes, just breathe and be a machine." I'm also trying to remember the things I want to tell the rest of my team so that we can have a conversation about them. Sometimes it's, "This moment feels uncomfortable. Is it because it's written wrong, is it because I'm acting it wrong, or is it because it's supposed to be uncomfortable?"
READ: How to Become a Musical Theater Actor
What was it like being on the other side of the table when it came to casting the show?
It was so illuminating and relaxing to be on the other side and to see how that process works. It's a really interesting alchemy of preparation and also just energetic jive. It was very clear who had done the work and who hadn't. What I've taken away from that as an actor when I go into auditions now is that doing the work and preparing is essential, of course, but also, you're going to jive with [the team] or not, and you can't know that beforehand. The people in the room, they're sitting in there all day and they're smelling each other and they all know how each other feels and they can sense when someone walks in the room if they are going to fit into the puzzle. It's not something you can necessarily prepare for and it's not something that is your fault, whether you get the job or not. There is this one little unspoken element that is unconscious and that's a really wonderful thing to remember as an actor: I'm going to do what I do. It's either going to work or it's not and that's out of my hands. It's really been allowing me to take some pressure off, let things go, and just be myself.
Were you compelled to write for yourself in part so you wouldn't have to audition?
Oh my god, yes. I mean, of course, I was writing this for me, but also I was writing it because I feel like I tend to be seen or cast in a certain type and it's a mother, mentor, maybe a witch, maybe she's kind of angry. And, you know what? If women are angry, there's probably a reason, and I wanted to make a show that put that feeling front and center, to really let that kind of character have their voice.
The de facto advice for performers these days is "Write your own stuff." Easier said than done—but you've done it. Any advice for others to do it, too?
Find your own weird and lean into it. If you want to make something that you think is going to please other people, I don't think it's going to work. I studied medieval art because I liked it, not because I thought it was practical or because I knew anything about what I was going to do with it. I knew I liked that and wanted to know things about that and years later, that has clearly influenced the kind of story that I wanted to tell. It's important to recognize the flavors that you like and to learn as much as you can about them because they will inform you about yourself and what you create and how you create it.