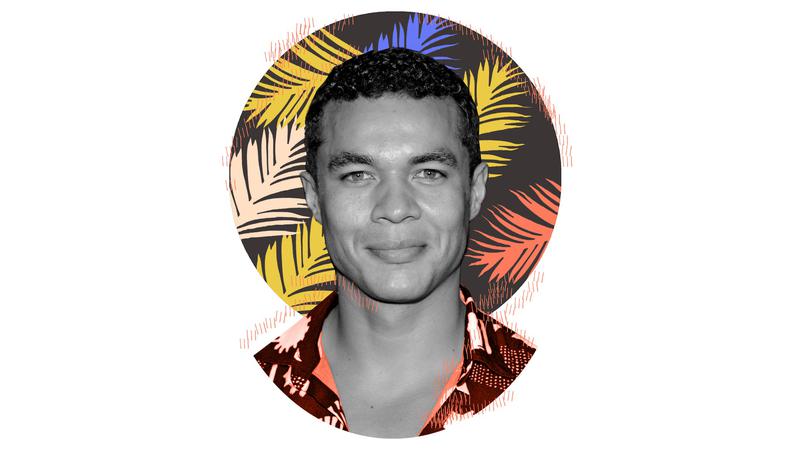 With roles spanning screen, stage, and street (Sesame Street, that is), Ismael Cruz Córdova has tackled a wide spectrum of characters, from a boxer with a dark past on "Ray Donovan" to a queen's confidante in "Mary Queen of Scots." Now appearing alongside Nicole Kidman and Hugh Grant on the HBO limited series "The Undoing," Córdova shares how his Puerto Rican upbringing impacts his outlook on acting and his penchant for going all the way in auditions.
"I wanted to re-enfranchise. The visual and performing arts felt like the perfect medium to shine a light on us and an incredibly empowering tool for me."
What was the moment you decided you wanted to be an actor?
In terms of inspiration, I grew up in a poor, disenfranchised community, a poor family, uneducated formally—there's a lot of wisdom, just not formal education. With regards to class and race, I could only see the system that was putting us down. I wanted to do something about it. I found acting when I was 14 years old; I got a scholarship at a private school for swimming, I saw this drama club situation, and wasn't targeted because I wanted to be an actor, I wanted a voice. I was looking for ways in which I could bring visibility to my people, those in my community, and myself. I wanted to re-enfranchise. The visual and performing arts felt like the perfect medium to shine a light on us and an incredibly empowering tool for me. It just had an undercurrent of social mobility, of social justice, of empowerment, of activism, of rescue and expression. So, that's how I got into acting—it wasn't that I saw this on film, or liked to act, or another actor. I saw how it transformed a little boy from a very poor place and gave him a platform to actually engage with the world and denounce many things and change many things.
What advice do you have for actors who feel similarly disenfranchised and without a voice?
They have to keep at it. [The] obstacles are so many. [Acting] means something different to me, and the way to achieve it was also different for me. The doors are still not open for me in the same way. My performance is still not measured in the same way. I think they have to keep at it; it's a lifelong journey that requires a constant, consistent, unwavering amount of strength and dedication. We have to be the shining light for ourselves. Of course, rely on those who want to help you. Look for help and appreciate the mentorship opportunities that come your way. You can't do it alone, but you definitely have to be your No. 1 fan.
What advice would you give your younger self?
I can't give my younger self advice because I look to my younger self to give me advice. The strength and reliance that I recognized I had in such an unjaded way is something I derive inspiration from right now, because now I'm sometimes jaded, and now I'm sometimes tired. When I was younger, I had one desire and I did not stray. I knew in my heart where I wanted to go, and I put all my strength and my desire and my focus to achieving that. It wasn't a destination, it was a cause. It was a calling.
On that journey, did you ever feel like you hit a "big break" moment?
I did a movie with Ang Lee ["Billy Lynn's Long Halftime Walk"] and I was so excited. I worked with one of my all-time favorite directors, a living legend. [Then] I had this opportunity in "Ray Donovan" and it gave me a first time to introduce myself fully. That's when I thought, "This is it. If it isn't, we're going back to college." And it turned out to be it. Many opportunities have derived from that. It's still something people refer back to.
What is your worst audition horror story?
[Laughs] I come from Puerto Rico, and we're extremely warm people. We genuinely ask, "How are you doing? How's the family?" It's not so much small talk; we really engage in that way. It isn't really like that [in auditions], especially when you're doing cattle calls. You go in and [directors ask] "Hey, how are you," but they don't expect you to engage. I remember I engaged in this one. I was so excited to be there and I got this cold response. A month or so later, I got pulled back into an audition and another actor joined in that I knew and asked how it was. [I said,] "Coldest friggin' place, they're kind of rude, they won't give you any feedback. If you get half a smile, call it a victory." I didn't care to look back at the people who were behind me. [Laughs] Those were the three casting directors that were in the room with me, they were also going to auditions that day. I didn't get that part. This industry is small. It looks incredibly large, but it is small. It was a very big lesson: just keep your mouth shut. I don't mean in a servile way—keep your head down and do your thing. If you don't have anything nice to say, don't say it. I ended up developing a great relationship with those people and they cast me in beautiful things. It was a foot-in-your-mouth kind of thing. They were definitely cold—I'm not going to backpedal on that!
"You start realizing you are a component that they're looking for to complete a puzzle. You become empowered."
Do you have any memories with Backstage?
I love this publication. It means so much, especially, I think, for New York actors. I did my first auditions from the auditions section. I'm very happy that other actors are going to read this. You have to stay focused and know about what you have, what you bring, what you are. You have to keep that fire alive for yourself. I consistently work now and I still go to set and I can't depend on what the producers or the director say. I have to know what it means to me; I have to keep that fire alive. I have to keep disciplined because it means something personal to me. Don't look for outside affirmation. Trust your gut, yourself, your spirit, and your journey.
I have to shout out one of my favorite casting directors who gave me a shot early on: Marci Phillips, from ABC in New York. She lifts your spirit. You feel very human, very cared for, very valuable. She's one of those lights in the industry that's always had my back.
What's the wildest thing you've ever done to get a role?
I'm known for that! [Laughs] I definitely have written some statement of interest letters, if you will, that are more like five-, six-, seven-page op-eds to make a case for what I would bring, the connection to the character. I have shown up in character to an audition. I showed up for this one role, a guy from the backwoods, and I showed up completely dirty—my hands, my hair, I didn't shower that morning. In the audition, he hadn't slept, it was a monologue after a long night. In that I lost all sense of cordiality; the director wanted to start a conversation with me and I put a finger up, [to say,] let's not talk, let's just start the audition. I started my monologue and I got the role. I continued to do that for "Mary Queen of Scots," I showed up to my meeting with Josie Rourke dressed in period [costume]. For "Ray Donovan," I sent these pictures of me like a boxer. For "Lord of the Rings," I almost traveled to the director's office. I kept hounding my managers to be like, "Where is he? What part of the world is he in?" I did full hair and makeup and costume for one of the meetings. It was exactly what they didn't want, I now know. [Laughs]
I say go for it. You need to take a risk. If I don't have a reader and if I don't have any time to get a reader, I'll turn my scenes into monologues. I've rewritten certain parts of scenes—and I'll say it, I'll give a disclaimer. It's a lab. The whole thing is a lab. It's to show the best parts of yourself for that role. This is not the final thing. What they're trying to look for is that juice, that captivating moment. A mistake that we make, it would be that we're powerless in this process and we're expected to be powerless. You start realizing you are a component that they're looking for to complete a puzzle. You become empowered. They want that. I'm sure you've heard many casting directors say, "We want them to be good, we want them to get the role." Of course I'm not going to do that on set, but if it's going to work for me to captivate you, I'll do it. If I believe in a role, up until the very last I will be campaigning for it in any way possible that is legal.
What performance should every actor see and why?
There's a scene in "Doubt" with Viola Davis, the famous monologue she does with Meryl Streep, and she's going at it. She's truly there, and there's all this snot coming out of her nose and she broke down. It's a prime example of when an actor goes for the truth and honesty and not the aesthetics. That is one of the most powerful moments I've ever seen on film. Another one is Penélope Cruz in "Volver," a monologue that she talks to her husband and her daughter after coming from working, and it's, again, truth. Yalitza Aparicio in "Roma." There's a moment when she's lying down and looking up. There's a simplicity, an openness, a vulnerability—the camera's right there with her and she's living fully in that moment and allowing all of us to experience that. It can be seen from the outside as a very simple moment, but as an actor, to just allow ourselves to be seen as people, period, to be there, to exist, to be watched, it's an extremely difficult thing. It's such a deep moment, artistically. Which is kind of the same as the last one: Scarlett Johansson in "Lost in Translation," as she's sitting there and the camera is moving into her and she's still and allowing herself to be intimate in a public setting.
Looking for remote work? Backstage has got you covered! Click here for auditions you can do from home!