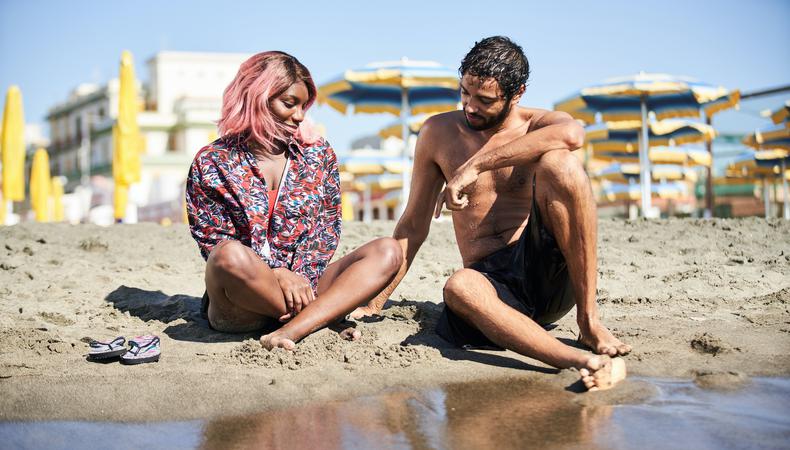 Michaela Coel's "I May Destroy You" struck a nerve with audiences, in part because of its hyper-realistic, challenging sex scenes (which depicted instances of assault). Fortunately, actors on the HBO miniseries had intimacy coordinator Ita O'Brien as an advocate every step of the way. O'Brien, a leader in the field who has also choreographed for series including "Normal People" and "Sex Education," spoke with Backstage about collaborating with Coel and how she protects performers' psychological wellbeing.
"For intimate content, there is a risk assessment that needs to be taken just like a dance or a fight."
Since it's still a relatively new position, can you explain the role of the intimacy coordinator?
An intimacy coordinator is a practitioner who brings a professional process and structure to the scenes with intimacy—just like a stunt coordinator brings a process and skills when choreographing a fight, or a choreographer does with a dance—that serves the storytelling, serves the scene, serves the director's vision.
Why do you think this is still an emerging line of work rather than the industry standard?
In my contemplation of this, it's twofold: One, if you want to have a tango, it's clear that nobody walks off the street being able to do a tango. You know you need to teach those skills. If you want to put swords in someone's hands, you know you need a practitioner to teach those skills. But the inference is that we're human beings, and we sleep, we eat, [and] we have sex, so everybody knows how to have sex. Why do we need a specialist, a practitioner, to teach us how to do intimate content? What is completely overlooked is, first off, people are embarrassed to talk openly, professionally, in detail about intimate content. And when there isn't a professional structure in place, there is no forum to have that pathway, just as you would if there was a dance or a fight in the script, to journey through to create something professional.
The other side of it is that, just like a tango, [if it isn't taught,] someone might fall over and break their ankle because it's really hard. For intimate content, there is a risk assessment that needs to be taken, just like [for] a dance or a fight. The risk can be physical—people can injure themselves—but it's also that the [risk for] injury is emotional and psychological if it's not done well. If someone is touched or manhandled in a way that's not right for them, as much as a physical injury, there's an emotional and psychological injury, from feeling awkward to feeling harassed to actually feeling downright abused.
Because the implication has been that psychological injury to the actor is less critical than them getting injured physically.
And I think it's in our society as a whole. If someone's broken an ankle, we know they go in a cast and have some time not walking. But that idea of taking care of our mental health is something that is harder as a society to really hold up as something you need to take care of and put safeguards in place for as much as [for] your physical self. Emotional and psychological injury is far more long-lasting than breaking an ankle. It truly has the impact of ruining not just someone's career, but their life. When I've run my workshops, I always start by asking, "When has intimacy been done well? And when has it been challenging?" And actually, the two most traumatized people in that open circle ever have been two middle-aged men; one who had experienced a situation in the theater, and one in film. They had had really awful experiences, and it was still affecting them. How they were speaking about those incidents—they were basically being re-triggered as they were sharing their stories.
Much has been said about the authenticity of the intimate scenes on "I May Destroy You." What steps did you take to make that happen?
What I find really interesting is the productions that have really hit—have been [the] most widely acclaimed in the industry—are the ones that have listened to what I'm offering, as far as the structure and the process. And that's absolutely what happened with "I May Destroy You." I always say, "Look, the best thing is that I don't just share this and work with the director and the actors, but I share it across the board with the whole of the production." And that's exactly what happened. I came in, I did the presentation, [and] we had everybody there: wardrobe; first, second, [and] third ADs; sound operators; [and] makeup. I shared the process and the guidelines, and on that day was the first rehearsal with Michaela and one of the [other] actors.
READ: SAG-AFTRA Announces Industry
Protocols for Intimacy
How do rehearsals for these intimate scenes work?
It always works so much better when the rehearsal is done in good time. We do the actor-director rehearsal, interrogating things, with Michaela there as the writer. There were times when there was only a certain amount of detail in what was written, and then [Michaela would] go, "Oh, but it's this and this." And I say, "Great! That's what we're gonna capture. Why isn't that written?" It means that all of us, the actors and me, we're really serving her vision—putting all of that detail into creating that intimate content. The actors have an opportunity to experience agreement and consent. They're going, "OK, great. We've spoken about what we want, now let's get up on our feet. Where are you OK to be touched? Where are you, most importantly, not OK to be touched?" I always say that we're inviting the "positive no." We invite your boundaries, we invite your no, so that we can all work freely with your yes. That's what Michaela and I have spoken about, so the actor is really able to bring their all—bring all of their beautiful skill to the intimate content, creating those beautiful scenes.
How do you take an intimate scene from the script and get it up on its legs?
The first thing we do as the intimacy coordinators is, once we've got a script, we identify all the intimate content. We create a form that identifies everything: a hand hold, a kiss. And then, we [assess]: "These two actors are so used to each other; we don't need to be present just for this kiss." But perhaps it might just be a kiss, but with a main cast member and a person who's just there for the day; and we go, "Actually, that's a kiss, but that absolutely needs support." So, we create that. For each and every scene, first of all, we're serving the director's vision and we're having conversations with them. "What do you want? What do you see for this scene?" Once I've gone through the director, I always make sure the director speaks with the actors, so that the actors are first hearing what's wanted from the scene from the director, and then we'll set about our work. I'll check in with the actors, find out what they're comfortable with, then check in with wardrobe, and then organize rehearsals. Then, obviously, it's being on set on the day and supporting the actors and the production through the filming of the scenes.
Because the show has both, is there a difference between choreographing consensual intimacy compared to choreographing scenes depicting assault?
All of us come from different walks of life, all of us have a different relationship to our nakedness, all of us have had a different journey. The statistics are that by the time a woman gets to 18, 60% will have been harassed or abused in some way. We don't need to know those stories, but we do need to put in place safeguards. We don't need to know who might be triggered by this particular content, but somebody might be, so that's the extra layer that you're putting in place. When it's fundamentally a loving scene, of course we're taking care physically, emotionally, and psychologically. But when there's abusive content, the extra layer I'm putting in place as the intimacy coordinator is really anchoring the physical choreography so that the physical structure's absolutely known. Particularly if there is a pinning down or violent content, I'm supporting choreography.
For example, in the moment in "I May Destroy You" where it goes from consensual sex into abusive sex: that moment where his hand was reached out—it was like stage combat. I'm not a stunt coordinator in any way, but it was just making sure that Paapa [Essiedu, who plays Kwame,] was pressing into [his scene partner], so the person who's being done to is in control of the energy. It's making sure the structure is absolutely clear, and then having that acknowledgement, not just with the actors I'm working with, but with the whole of the production. I cowork with an artist wellbeing practitioner, a lady called Lou Platt; whenever I've worked on a production where there's been challenging or abusive subject matter, I've invited her on so that she's there as support. And I'm very clear, as the intimacy coordinator, that this is my skill. I am not a counselor, but I can recognize someone needing that support, and I will recommend that, which happened on "I May Destroy You."
This story originally appeared in the Feb. 18 issue of Backstage Magazine. Subscribe here.
Looking for remote work? Backstage has got you covered! Click here for auditions you can do from home!