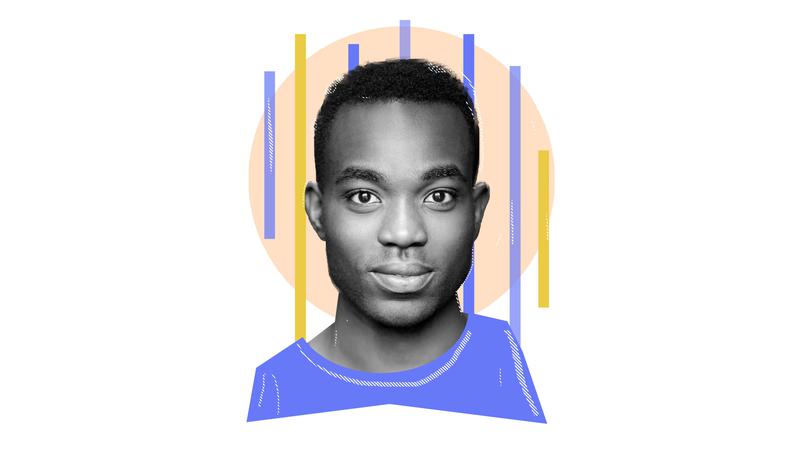 It's still early in Paapa Essiedu's career, yet he's already tackled some of the most complex roles on stage and screen, from his award-winning turn as Hamlet with the Royal Shakespeare Company, to being at the heart of HBO and Sky series Gangs of London, and now the provocative new BBC and HBO series I May Destroy You – described by the Guardian as the "best drama of the year." Essiedu plays Kwame, a gay man whose story explores the line between sexual liberation and exploitation in a show that unpicks Millennial hookup culture with creator Michaela Coel's trademark mix of humour and heartbreak. We chatted to Essiedu about the challenges of the role, what theatre must do post-COVID, and why he strives to be an ego-less actor.
What were the challenges of this role for you?
For Kwame, my focus was to create someone three dimensional and authentic, and not regress into any sort of stereotypes or tropes. I wanted to create a man that was recognisable but also unique and real. Even in the four episodes that kick off the series, you see so many aspects of Kwame's personality that are contrasting. So, I wanted to make a vessel at the centre of him that could join those things up in a believable way.
How do you typically prepare for a role?
I like to go through scripts as forensically as I can, getting all the information about my character and his relationship to other characters, his context within the world of the project. And using all that to build a kind of scaffolding or foundation from which I can fill the rest in. For screen roles, you don't always have the full picture – often, you might only have one episode to read. But with I May Destroy You, we were lucky to have all the episodes before we started shooting. I had a good idea of where Kwame was heading and it helped me modulate his journey with that in mind.
What's the best thing you've learned from working with another performer?
Michaela Coel is my mate but the thing I love about her – the thing that inspires me – is how relentlessly herself she is, which is a difficult thing to be in this industry. Especially when she's written a show that's going out on the BBC and HBO, and has to deal with all sorts of people, like script editors, producers, execs, designers, directors – people who obviously collaborate to make the final product but also make slight shifts and changes or whatever. Michaela's got the courage to be uncompromisingly herself in a way that allows the final product to be pure. I think that's something that a lot of creatives can learn: if you've got a real sense of yourself and a sense of your artistry, it allows you to be confident in the decisions you make.
What's the best lesson you learned from training?
There was an emphasis on the ensemble at drama school, and I think that's something that is important for your whole career: to figure out ways to leave your ego out of your art. Being an actor can feel like quite an individual journey – you're thinking about how to stand out or how to "be good" – and that leads to tension, anxiety, and stress. But if you can find a way to allow yourself to think without ego, especially when you're actually acting; to focus on the story or the scene and think about yourself as part of something bigger – I think that can release your creativity and allow you to create genuinely spontaneous work.
What advice would you give your younger self?
Chill the fuck out. Leaving school, I was so stressed. I didn't have confidence in my ability and there was a lot of mystery about becoming a professional actor, like who's going to be in charge of your career, how to get people to like you and all that. I would love to have been able to be relaxed and more outwardly focused as opposed to always looking in.
What was your worst audition?
I've got so many. I auditioned for this commercial and the brief was to play an "international RnB superstar." But there was no script, so you just have to turn up and be that. The night before – at like 11:59pm – they sent a song I had to sing. I'm not a singer. At this point Ne-Yo was a big thing, so I went dressed as him with a trilby hat, waistcoat and jeans and the whitest trainers. So, I turn up to the audition, they play the song, I'm on camera trying to lip sync to a song I've never even heard before and don't know the lyrics to. And then the woman is like: "Now get the audience to scream for you." And remember – I'm doing this to an empty chair. And she's: "Yeah, now to the people in the back – get them going!" And it was just the most cringe-worthy, horrendous, exposing and traumatising experience you can imagine. And obviously I didn't get the part. You get super existential after those ones. It's just like, what is my life?
What screen performance should every actor see?
Ooh – Jharrel Jerome in When They See Us, the Netflix show about the Central Park Five. The show itself is amazing, but his performance is so nuanced, heart-wrenching, and just noble. I think everyone should watch that because it's a masterclass. And so much of it is just him by himself. He's performing in solitary isolation, which is amazing. Also, this might not be the most highbrow of dramas, but Ozark. There's a performance in Episode 9 of Season 3 by an actor called Tom Pelphrey which is like a study of bipolar disorder. He creates that with such lightness of touch – there's so much truth, honesty and realness, I was blown away by it.