"I think I'm probably more ambitious than I've ever let on," Jamie Dornan says. "I probably own that more now."
Sitting down for morning tea in lower Manhattan ahead of a flight to Los Angeles, the actor is in the midst of an international press tour for his acclaimed performance opposite Caitríona Balfe, Ciarán Hinds, and Judi Dench in Kenneth Branagh's "Belfast." But our conversation first touches on when he left his home in the suburbs of that titular Northern Irish city, dropped out of university after a year of studying marketing, and moved to London in 2002.
"I would've imagined I wasn't ambitious at all then," he reflects, "but as you look back at all the stuff I did, the risks I took were rooted in ambition and a desire to make shit happen."
There was no road map to pursuing the professional arts for a rugby-playing Irish teen who moonlighted in "amateur dramatics" at his aunt's local theater company. "The thing to do was to go to university, go get a fucking proper degree, and get a serious job," Dornan says. But he recalls feeling "despondent" in his environment at school. "I don't think I learned any skills while I was there for a year—I drank a lot, though," he quips. Still, he values that time because it redirected his interests back to a less orthodox vocation.
"It sort of unearthed this idea in me that I wanted to do something that was 'other,' " he says. "I recognize that there was maybe an element of lunacy in my decision, but I must've backed myself to be able to get somewhere with it."
To hear Dornan explain it, he's always rejected a "narrow-visioned idea of life," instead seeking "something a little more off from that middle lane."
"I've never wanted to be bored," he says. "Security is a great thing to find, but I've been lucky that I found security in something that shouldn't be that safe. For me to take those risks, I had to do it away from Belfast."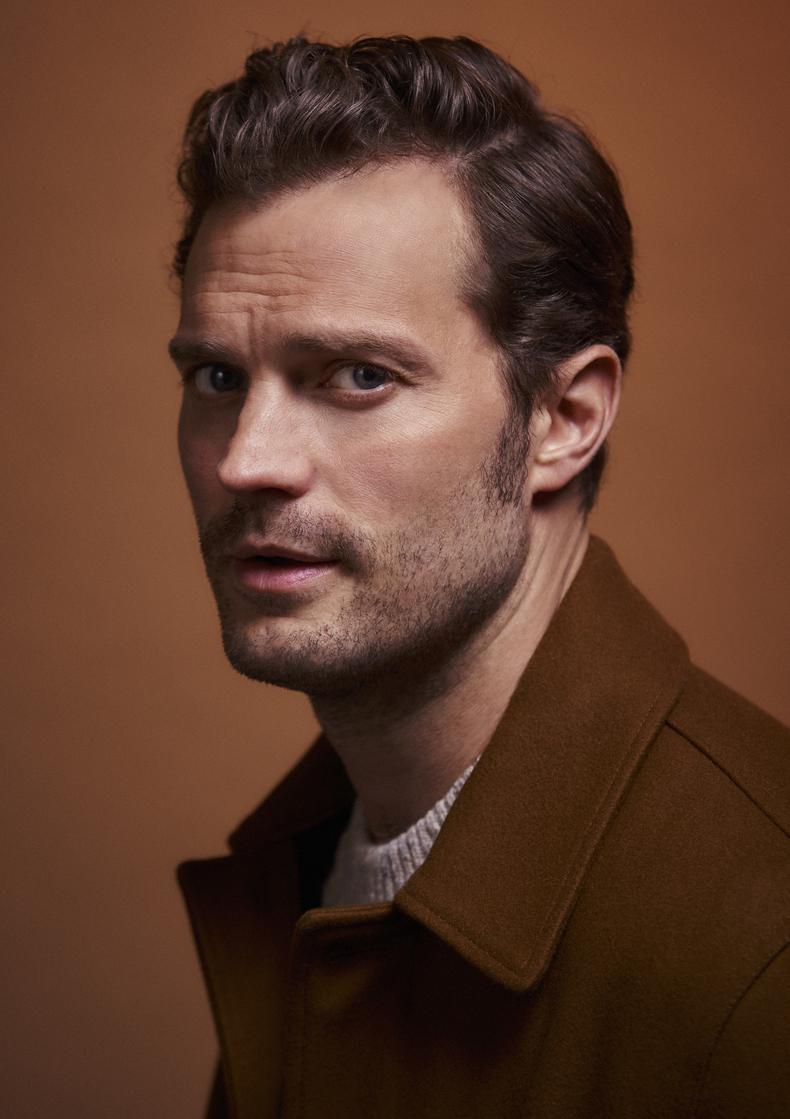 How funny, then, that Branagh's autobiographical film, which is centered on that very city, has brought him back home. Dornan stars in the black-and-white historical drama as Pa, a man working between London and Belfast while striving to provide for and protect his young son (Jude Hill) and wife (Balfe) during the violent riots of the Troubles. He's a well-intentioned, family-first character who's stretched too thin during impossibly trying times. Pulling from his own childhood during this turbulent period, Branagh has called "Belfast" his most personal film to date. It's also Dornan's.
"No matter where I travel or live, I'm a Belfast boy, as was my father, as was his father, as was his father before him, as was his father before him," Dornan says. "I come from a long lineage of men from Belfast, so I recognize what that is, what their values are, and what they're made of in terms of their resilience, their humor, their passion, and their commitment to family. All of these things that have been pillars of my upbringing were there on the page with Pa."
"Belfast" is doing more than earning Dornan the best notices of his career, among them a nomination for a Critics' Choice Award. Inviting him to lean into his leading-man looks while tapping into his own experience as a working father, the film re-centers Dornan as an actor with emotional depths some may have not believed he possessed.
It's been nearly 20 years since the actor moved to London. The journey began with him taking a job at a pub before making major inroads as a male model within just six months. While that path was "never his intention" and he acknowledges battling stigmas surrounding the model-turned-actor route, the following years saw him posing for Abercrombie & Fitch, Armani, and Dior Homme before developing a lucrative, yearslong relationship with Calvin Klein. It was always meant to be a steppingstone to something else, but "those steppingstones were submerged," Dornan reflects. They only revealed themselves to him after years of hard work. He wonders aloud if he'd have met the people who helped him build a bridge between modeling and acting "had I not got to a certain stage of modeling where it was being very good to me and I was in the right rooms. But that's what happened."
Dornan's first film role came with 2006's "Marie Antoinette," in which he played Count Axel Fersen. He followed it up with a pair of shorts and an independent feature in 2009. But playing Sheriff Graham Humbert (aka the Huntsman) on ABC's "Once Upon a Time" two years later set the stage for him to do more regular screen work in the decade to come. He turned in a BAFTA-nominated performance as a serial killer opposite Gillian Anderson on BBC Two and RTÉ One's "The Fall"; then came his starring role as Christian Grey in the billion-dollar "Fifty Shades" film trilogy.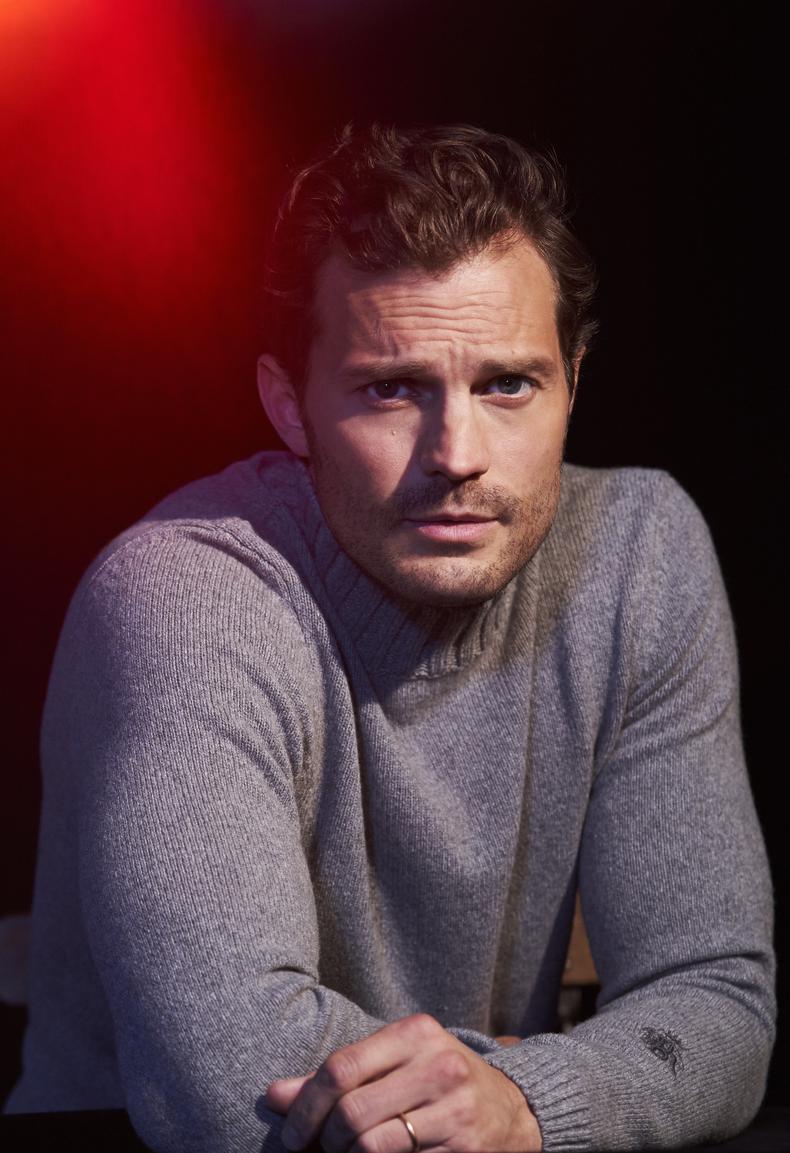 Despite its commercial success (and star-making results), Dornan remembers his time playing that franchise's male protagonist as a particularly complicated one.
"It's a very strange and quite hard pill to swallow, knowing when you're making movies [where] the strong likelihood is the fans will respond really positively and the critics won't," he says. "I would've bet the lives of my entire family that the likes of the Guardian in the U.K., the Times in the U.K., and the New York Times were going to hate those films—and they did!" Still, he admits it was "incredible to experience that—the madness that went with that journey."
Even given the racy source material, he approached the character of Christian with the same thoughtfulness and precision as he did Paul Spector on "The Fall" and other more "respected" roles of note: projects like "A Private War," "Wild Mountain Thyme," and, yes, this year's cult comedy "Barb and Star Go to Vista Del Mar." "I couldn't sit here and call myself a professional if I didn't do that," he says simply.
Offering a peek into his acting process, Dornan advises: "Read the script over and over and over and over and over and over, until you almost don't like it, so it's so settled into you that, actually, it's the last thing you're thinking about," he says. "That's something I really try to do and I really struggle with, because it's a hard process. Particularly with three young kids at home, it's hard to find time when you're prepping a movie to just disappear and read a script repetitively."
Next come the more technical aspects of the craft, such as an accent or a physical tic. Playing famed real-life photojournalist Paul Conroy in "A Private War" was a particular challenge for Dornan, as he was training himself to embody a man who was right there on set as a consultant. Even his minor role in Sofia Coppola's "Marie Antoinette" had him reading up on the 18th-century French monarchy.
"So much of it is trying to gain all the knowledge, all the research, and immerse yourself in the time if it's set in a different time period. What were men in that time thinking? Whatever vocation they were doing, what did that involve? What was the day-to-day?" As many actors have before him, he absorbs all of that information only to forget it. "The last thing you want to be thinking about is: What was that I read about that time…? You've done all the work, so it's living in there. And then you can just hopefully fucking stand there and tell the truth on the day."
Dornan shies away from popular tricks of the trade like keeping a diary or listening to music, for fear that they might have the opposite effect and bring him out of the moment. "You've just listened to something that takes you somewhere that's very personal to you—sure, you're crying, it looks great, but you're not listening to what I'm saying," he posits. "You're just thinking about your dog that died."
The prep work only takes him so far, though; sometimes, he finds himself needing to fill the gaps. "I think I'm always trying to leave an element of myself in there," he says.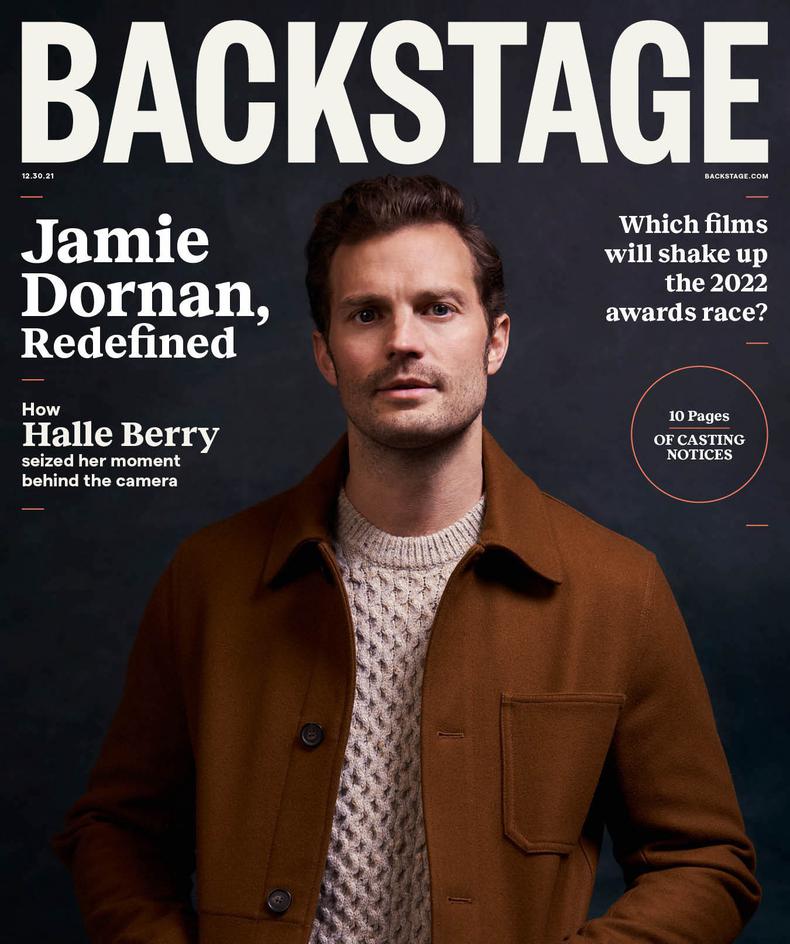 Starring as the homicidal Paul in "The Fall," for instance, had him essentially playing two characters. Dornan used the family-man persona Paul embodied at home with his wife and kids as an opportunity to highlight the parts of himself that he values as a husband and father.
The actor reflects that no project has lined up with this approach quite so perfectly as "Belfast." Branagh invited Dornan and the rest of the cast to bring their own lives and perspectives to the table.
"There's a lot of stuff that I could naturally bring to this character that I haven't been able to naturally bring before," Dornan says of playing Pa. Branagh encouraged this approach even without knowing it was already part of the actor's process. "He was like, 'I know you're playing a person—my father—but it needs to be your own thing, and I want you to have your own instincts and bring your own ideas to it,' " he recalls. "So that, coupled with everything I recognized in the character, led to total freedom. I've never felt so free on a set before, so trusted in what I was allowed to do."
Now, even further aligning himself with Pa, he's just eager to get back home to play dad. Dornan admits that his "Belfast" duties mark only the second time in eight years of being a parent that he's been away from his wife and children for more than two weeks. Thinking of Pa, he says, "Whether I want to be able to relate to this or not, I relate to having to be away sometimes. I know what that is; I know the guilt that brings and the effect that has on you."
So if he's looking for a silver lining, at least his experiences can all go back into the work. The only question is where his ambitions might lead him next.
This story originally appeared in the Dec. 30 issue of Backstage Magazine. Subscribe here.
Looking for remote work? Backstage has got you covered! Click here for auditions you can do from home!
Photographed by Chad Griffith on 11/16 in NYC