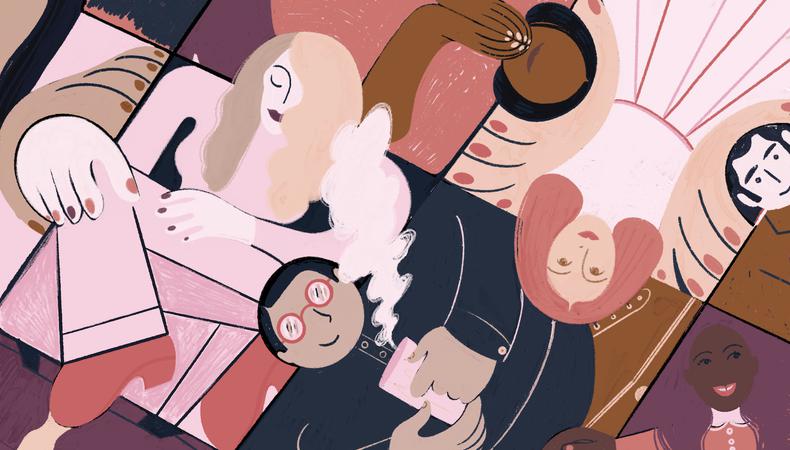 Think about a disaster scene on "Grey's Anatomy" or a busy West Covina, California, street on "Crazy Ex-Girlfriend." Now think about what those scenes might look like if only the main actors were onscreen. A large-scale emergency with no one panicking in the background or a busy street corner with no passerby pedestrians would look unnatural to a viewer—that's where "atmosphere," or background, actors come in. Jeff Olan has been casting background in Los Angeles for more than 25 years to bring authenticity to the screen. He's worked on "Grey's Anatomy" since the beginning, along with a long list of other TV shows, films, commercials, and music videos. Olan shares with Backstage how he works and what you should know before you step onto set.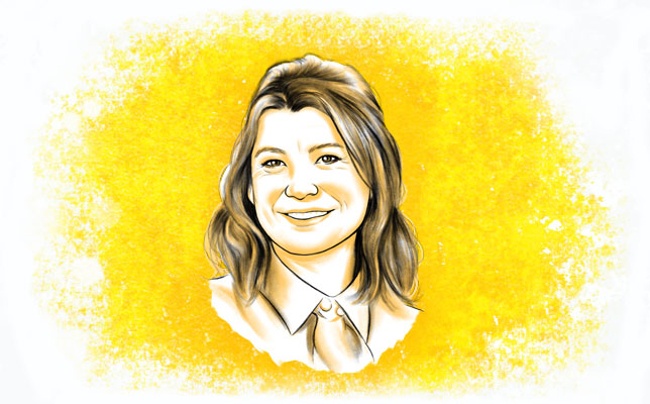 8 Questions With…Ellen Pompeo
How would you describe what you do to someone who is unfamiliar with your work?
My team places nonspeaking actors on sets, referred to as atmosphere, extras, or, nowadays, background actors. These are roles like the waiter serving Robert De Niro his dinner in a restaurant scene.
How is what you do different from what a principal CD does?
Principal casting directors are seeking speaking actors, so they probably come up with more professionals who are taking multiple acting classes or have studied for years. Background actors also study, but are at different levels, and some are not yet prepared to audition for the principal casting directors. They do not need to audition for us—just come to our office, and we place them on sets due to their overall look for what we are seeking. We are all still looking for the best person for the gig, but doing background work, the actors can be everyday people without experience to experienced talent that is just not ready yet to move onto the next level.
How to make a living as a background actor.
How do you work with the principal CD on your projects?
We seldom work with the principal casting directors, although they might come to us asking if we have a specific look that they cannot come up with. We have our own pools of talent and in my talent database, I could have someone they are seeking.
Who else are you working with behind the scenes to do your job?
We work closely with the director, assistant directors, wardrobe department, and production office.
What do you see as your role in the larger company of film production? How do you fit into the crew?
Background has never been high on the list of production needs, and neither are background casting directors. Yet everyone will admit [that] without us, no movie or television show can be made. We are a huge part of the film production. In a show such as "Grey's Anatomy," which we've cast exclusively over 16 seasons, we might have more people on set working on one particular day than even crew members. Our background actors are very important to every scene that requires any kind of public or group setting.
What is the process for casting background actors?
We usually go to a production meeting or perhaps just a meeting with the director or assistants and we read the script so we know what is happening. We discuss scenes with them and then either cast outright if production really trusts us or we show photos for each role until we get the right look that the director is requesting.
Once you decide you'd like to cast an actor, what's the process for that actor leading up to their time on set?
When we decide to cast an actor, we first lock them in and make sure they are going to be good for the day or days. We then might have them make time for a fitting. Other than that, we might tell them not to shave their beard, which the director liked, or perhaps to not cut or change their hairstyle. Usually we book anywhere from a few weeks in advance to just a day.
Background work: is it for you?
What's the nature of your work on "Grey's Anatomy"?
Being involved with "Grey's" since the beginning, we have placed thousands of talented actors, stand-ins, photo doubles, and other specific and nondescript types. Production trusts our casting eye to making sure every scene is just as good as the prior with the talent we place.
How are you involved once it's shoot day?
Once shoot day comes, the actors have their information, so we just keep our fingers crossed that they will show up on time with everything we have discussed with them intact. We hope they show up with the same look, great wardrobe if they bring their own, and most of all a great attitude. Professionalism is key to any actor wanting to move forward in a good way. All of us involved in placing that actor will remember the good from the not-so-good.
Where and how do you find talent, especially when you need something very specific or you're looking to add to your files?
I have thousands of various people in our database, one of the largest in Hollywood. We cast from babies to the elderly—every walk of life. If we don't have someone specific, we will go out to the street to find them or put out word and have them contact us.
What advice do you have for L.A. actors (or nonactors) who are hoping to get into background work?
If you want to try doing it, try it! It is not for everyone, but if you don't try and you want to, you'll never know. If you live in the L.A. area or other areas around the country that have a lot of productions, give it a go. We look forward to meeting you on our scheduled registration days. Other agencies out there have registration, too. We post it on our website when we are seeing folks again.
These are the pros and cons of background work.
How can background work benefit an aspiring actor's career?
So many ways. You could sit around and wait for the phone to ring, which may never happen. Or you can do background work. Background work gets you on sets where you can watch the principal actors and learn from them, and you can learn from watching the directors. You can get used to long hours; you'll meet others on set who can recommend photographers, acting schools, or even agents. You give yourself more opportunities to meet production people, from producers to assistant directors who may ask for you on another project. You might even be upgraded to a speaking role by doing background work.
What can an aspiring actor learn from a background role?
There's so much for a background actor to learn if they are paying attention. Take a movie like "Pulp Fiction," which I cast the background actors on, and the director, Quentin Tarantino, wanted to make sure that all background actors were just as important as principal actors. If the background actor listens carefully and watches, there is so much they can learn about how to move up to the next level. It's great schooling and you get paid to do it. How bad can that be?