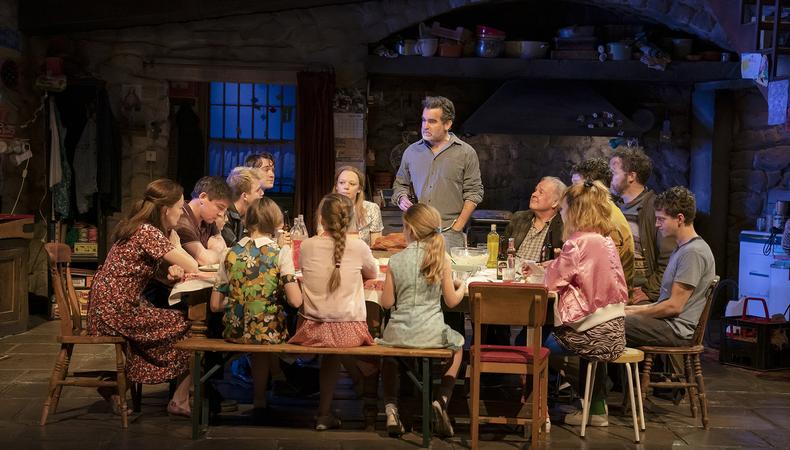 "When people go to see a play, I don't think they care whether the characters live or die," says Jez Butterworth. "I think they care whether their dignity is at stake.... That's what we show up to see. Not sword fights or whether someone gets poisoned at the end."
Although there's violence—first subconscious, then palpable—in Butterworth's Tony-nominated hit "The Ferryman," his credo rings true. We as an audience are invested in the dignity of the Carney family, their deepest desires and darkest secrets, unfolding over the course of their annual harvest day in 1981 Northern Ireland. What makes our hearts pound in the play's final, thrilling moments isn't the action itself; it's how tragic circumstances affect and resonate with characters we've observed in great detail, characters whose inner lives we've come to know.
Directed by Sam Mendes first in London and now at the Bernard B. Jacobs Theatre, the drama's Broadway production features 17 adults plus 10 actors covering, four children, and four real-life babies in rotation, totaling 35 performers (plus live geese and rabbits). It begs an obvious question for the playwright: Why write over 20 characters? "It wasn't my plan at all," admits Butterworth, who describes his ideas for plays as having wills of their own. "When it comes to the time of actually [writing a play], I just hang on for dear life. I had no idea there were so many children in that family until they all started coming down the stairs."
In his other sprawling epic, "Jerusalem," and his three-hander "The River" (as well as films including "Fair Game," "Edge of Tomorrow," and James Bond flick "Spectre"), Butterworth applied the same work of fleshing out each of his emerging characters distinctly. That's in part because of his respect for, and awe of, great actors.
"Whether there's three characters in a play or whether there's 20 characters, each one's got to be played by a different actor," he says. "And that actor is going to have to go to work every day. When it gets to the matinee and it's 13 weeks in and they're exhausted, they'd better wake up and say, 'Well, I'm exhausted and I've had enough, but I'm really looking forward to that scene where, dot dot dot.' If the actors are looking forward to their day at work, it probably means their character has a journey through the play that is meaningful. And that journey through the play will translate itself to the audience."
WATCH: 'Start Sooner' + More Advice 2019 Tony Nominees Would Tell Their Younger Selves
One of the most thrilling aspects of the writing process for Butterworth is that characters' journeys develop or veer in directions he never initially expects. Just as he didn't know there were so many characters in "The Ferryman" until they were all demanding to exist, so too does the action begin to dictate itself when characters start withholding information—from each other, or from Butterworth himself. "That moment where you get a fold, a discovery, suddenly someone says something that you as the writer didn't know they knew, then the exact same effect will happen to the audience."
The word "plot," after all, can mean both the events of a story and a malicious plan made in secret. "It's a plot against you!" exclaims Butterworth. "The characters are plotting against one another and then the play is plotting against the audience." The events and characters in a piece of theater like "The Ferryman" are conspiring to emotionally manipulate an audience; it's almost as though Butterworth has nothing to do with pulling the rug out from under our feet.
So when it comes to writing plays, maybe the best strategy is to allow a story to chase you down and demand to be born onto the stage. "I run in the opposite direction," says Butterworth of his ideas. "Sometimes for years, sometimes for decades. I'll try as hard as I can not to do it. And it means the ones that track me down and are relentless are the only ones, really, that are worth writing."
To listen to the full interview with Jez Butterworth, check out "In the Envelope: An Awards Podcast" from Backstage!
Want to hear more from the best creators in film, TV, and theater? Get it right here!