When he was in the fifth grade, Jharrel Jerome became president of the United States for an afternoon. He had entered a contest in his elementary school in the Bronx that asked the question: If you were president, what would your inauguration speech be?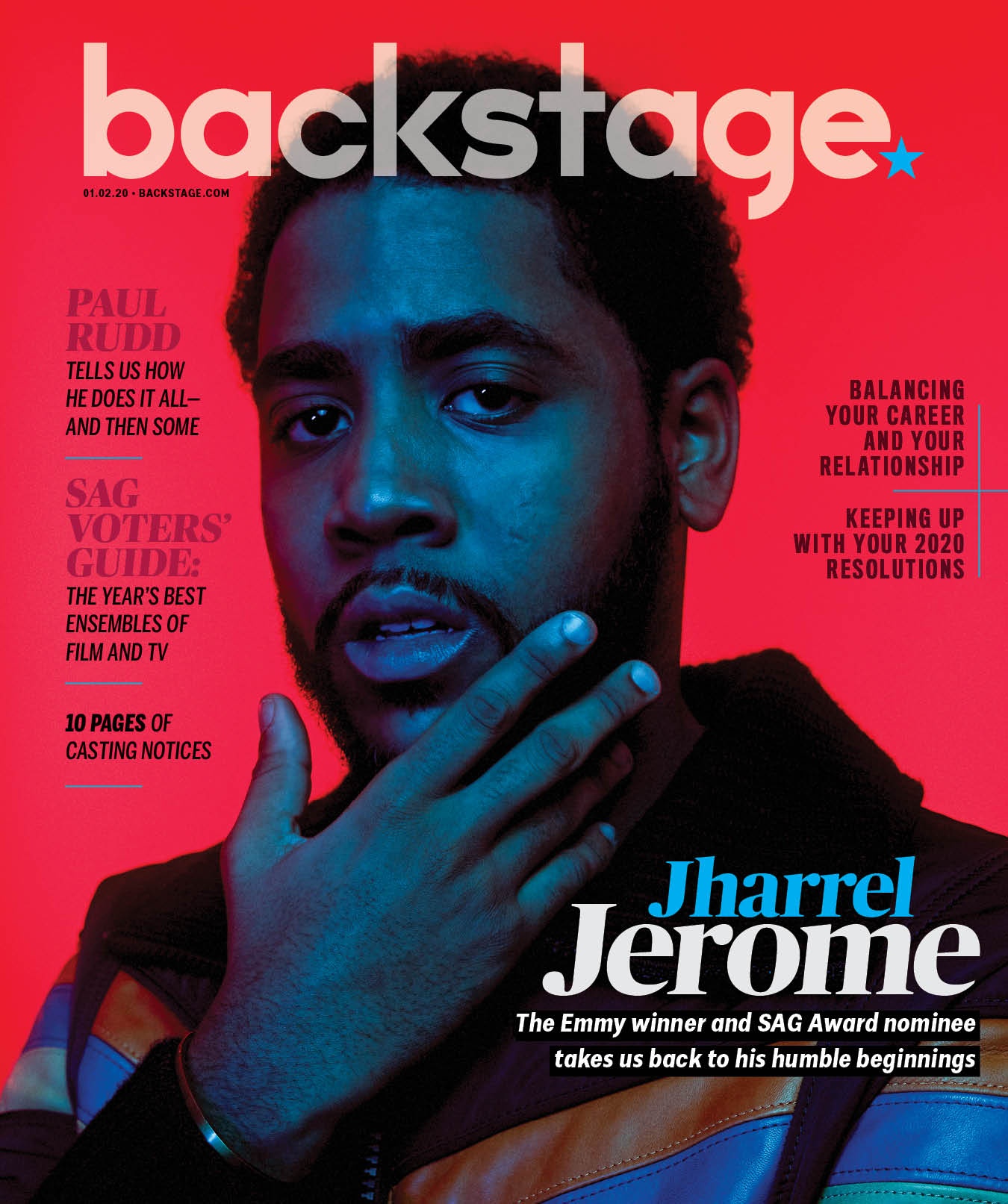 Up against classmates as old as eighth grade, young Jerome put on a suit, took to the stage for the first time in his life, and delivered a rousing speech that left the audience cheering.
He won first place.
"Even though in my head I didn't tap into a character or learn the tactic or learn the beat of what a president does, I was still trying to embody a president," he says. "I think that was little Jharrel just wishing he could be somebody else for even five minutes."
It was his mother who encouraged him to apply to a performing arts school. After noticing he had a knack for clowning, pretending to be other people, and freestyling (more on that later), she accompanied him to the New York Public Library for the Performing Arts at Lincoln Center in search of monologues he could use for his audition. Untrained in Shakespeare and other authors in the (white) canon, they settled on a little green book of "monologues for boys and girls." He picked a comedy about a kid who confronts his bully, and a drama in which a young man speaks to the mother of his best friend at his best friend's funeral. "I came from dark stuff," he says.
The descendant of Dominican immigrants, Jerome says he's often used his experiences growing up in the Bronx—putting on a tough demeanor just to ride the train, for example—in his screen work. "I came from a lot of scares," he says, sitting in a downtown bar in Manhattan. "Just being who we are and where we're from, you see ugly things, unfortunately. And I think acting is just translating that ugly onto the screen."
The 22-year-old actor's gift for transforming darkness into soulfulness was evident early on for two of Hollywood's top directors: Barry Jenkins ("Moonlight") and Ava DuVernay, who saw in him the capacity to take on heavy, real-life issues for her recent Netflix miniseries "When They See Us." Jerome's skill is on full display as Korey Wise, who at age 16 was wrongfully convicted in 1989's infamous Central Park jogger case after police officers falsely linked him to the rape of a 28-year-old white woman, despite his not being on the original list of suspects.
Wise spent 12 years in prison for crimes he did not commit. He maintained his innocence until he was exonerated in 2002 at age 30, and now dedicates his life to advocating for criminal justice reform.
Jerome plays Wise over the timespan from his conviction to his release, the only actor on the series to play his character from adolescence into adulthood. With subtle makeup, facial gestures, and an impressive ability to transform his body using mannerisms, posture, and a lived-in sense of rawness, the actor, who was 21 when he shot the series, transforms into a 30-year-old man carrying the weight of the world. Over the series' four episodes, he delivers a firsthand look at the loss of innocence black and brown men endure at the hands of an American justice system rigged against them. Jerome won the Emmy for outstanding lead actor in a limited series or movie for his performance.
READ: Ava DuVernay's Go-to CD Reveals Her Best Advice for Actors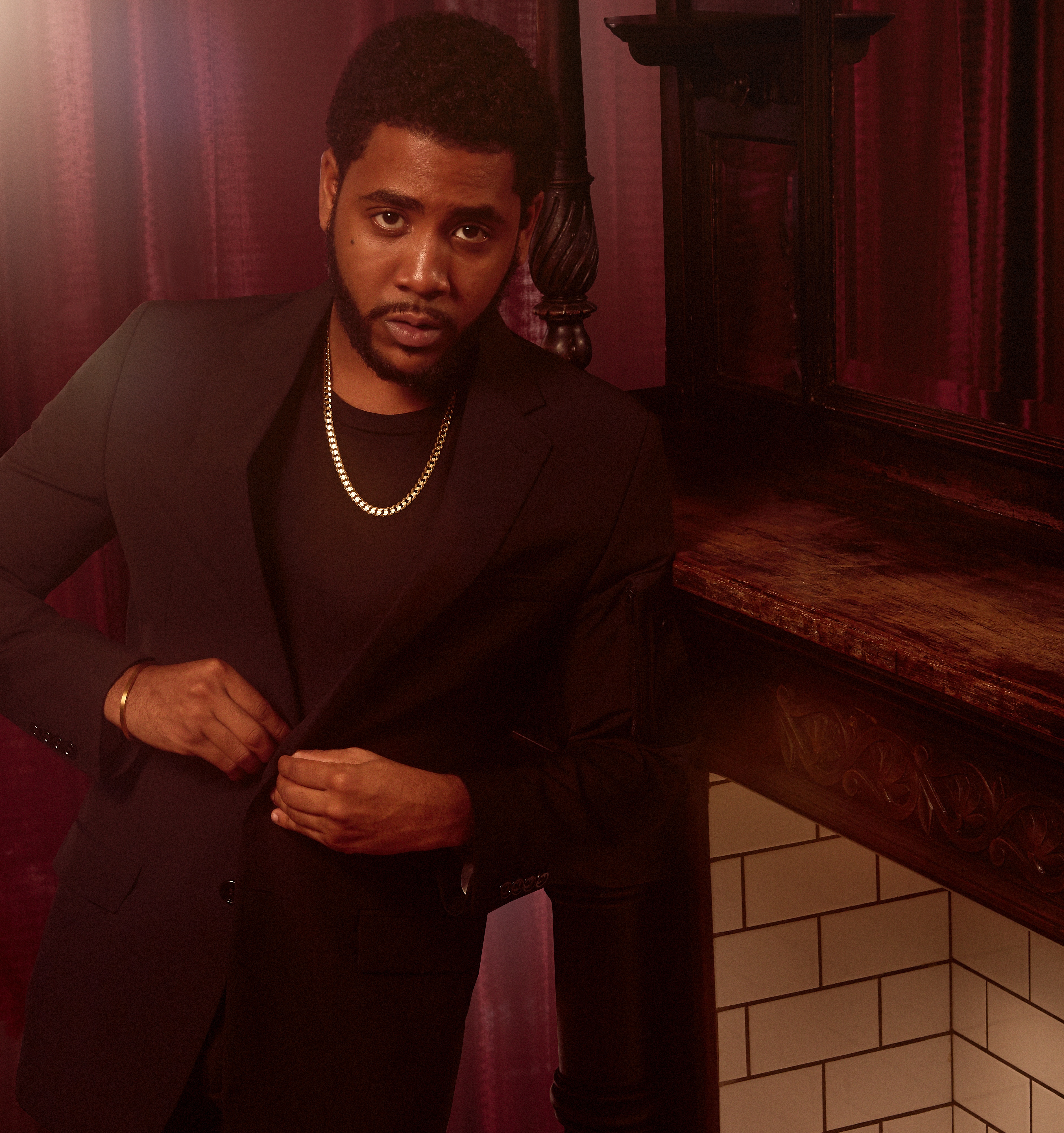 Playing Wise was the most difficult thing he's ever done in his life, confirms Jerome. "I hadn't been through any of that," he explains, "I have never been to prison. I've never been assaulted in that way at all. I had been punched in the face, but I think that my life experiences allowed me to become the natural-born actor that people are saying I am."
While his innate talent is undeniable, many have failed to acknowledge how his four years at Fiorello H. LaGuardia High School of Music & Art and Performing Arts (the training ground for the likes of Awkwafina, Timothée Chalamet, and Wesley Snipes) set him up for success. The program included what he describes as the basics and the complications that come from it.
"I did everything from up-close self-work all the way to Shakespeare," he says. He played the title character in "Othello"; on another occasion, he played Morgan Freeman's character, Hoke Colburn, from "Driving Miss Daisy." "I wish everyone saw that," he says.
"We did a lot of work that challenged us as students," he continues, "and then while we were being challenged, we were studying: What does it mean to have a beat change? What does it mean to think about your circumstances prior to the scene? What's your objective, what's your goal, and what's the tactic you're gonna use?"
At LaGuardia, acting became "cool" for Jerome. He compares the experience to starting off as an amateur painter, learning concepts and words about his art form he didn't previously know existed. "That's where my passion formed," he remembers.
That Jerome uses a painting analogy is appropriate given the delicate strokes with which he created Wise on "When They See Us," as well as his breakout role as the teenage version of "Moonlight" character Kevin, the object of the lead character Chiron's desire in Jenkins' Oscar winner.
"Kevin wasn't who he said he was," explains Jerome. "He was almost in a worse place than Chiron, who is very conflicted, but Kevin is a mess in his mind." The possibility of entering the mess excited Jerome, who views acting as an opportunity to witness life through the eyes of others. "One scene I'm talking about girls and the next scene I'm looking at a guy like, Wow, he's so beautiful," he says with a smile.
Jerome, who self-identifies as Afro-Latino, luckily grew up watching performances by men who looked like him; alongside Freeman and Denzel Washington, he mentions Jamie Foxx, whose role in "Django Unchained" left an indelible mark. "I loved Jamie Foxx's performance so much that I came out of the theater and I just was like, 'I'm Django. The D is silent.' "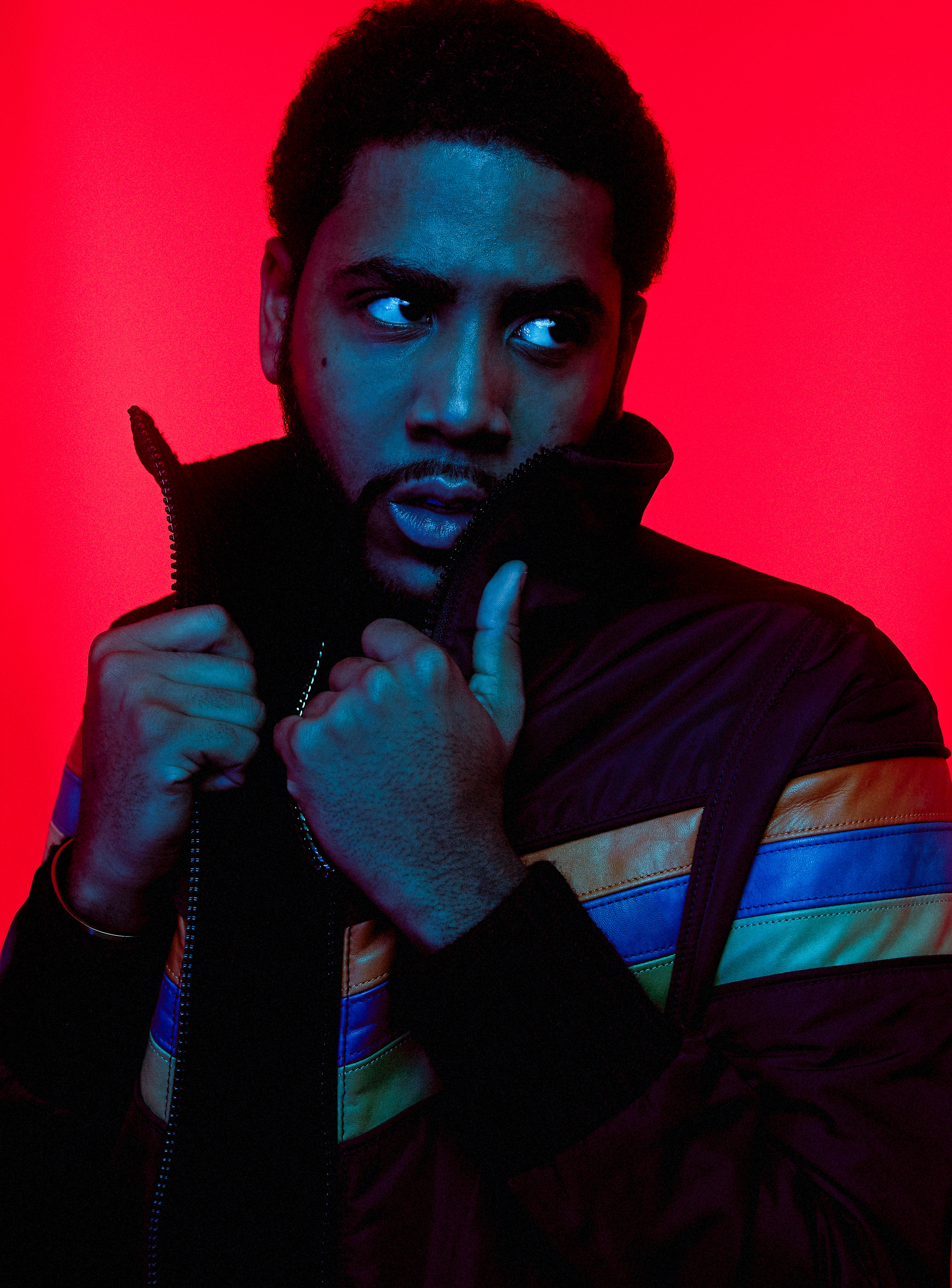 Always finding ways to imbue himself with a character—and vice versa—he appropriated the famous quote and turned it into "I'm Jharrel. The H is silent." He pretended to be in the Quentin Tarantino film the entire day.
Jerome was among the few people of color in his class at LaGuardia, and one of an even smaller pool who had come from the Bronx. Suddenly he found himself surrounded by "kids who had been on Broadway," and who had been training their entire lives to become performers. Here he was wearing sweatpants and hoodies while surrounded by kids in miniature adult attire. When he started wearing khakis and vests to school, his mother asked him, "What are you doing? What are you wearing?" When he told her it was the LaGuardia style, she replied, "That's not your style."
Yet, Jerome has always found a way to put his stamp on whatever he touches, especially when it comes to his acting. When he received the script for "When They See Us," he went through and wrote lines next to his dialogue according to what he thought Wise would say or think.
"Ava didn't ask me to do this," he remembers. "So, when you see me telling my Deloris, my mom [played by Niecy Nash] something, even though the line says this, I said a whole other line in my head right before," he comments. "That's where you see the emotion in my face. Instead of me being like, 'Mom, I'm here for you,' I wanted to say, 'Mom, they touched me yesterday and I don't know what to do, can you just please help me?' " He adds, "But I've got to hold that in because it's not in the script and although that's what the character wants to say, instead I'm going to deliver this other line.
"The script is there, but I want to act like I've never said it before or I've never done it before," he explains. (This brings to mind the exposed emotion in the last episode of "When They See Us," or the gentleness of the beach scene in "Moonlight.")
"Even though we might be on take 10 or 11, I'm allowing myself to think about all the emotions and not just what the script says," he says. "I think we all want to say [one thing], but we say something else to protect them or us. And we never know what we want to say, either." He comments on the process of doing this interview: "You're playing the role of a journalist and I'm playing the role of someone answering your questions," he says.
When he touches on being in the public eye, it's impossible not to ask how it has affected his process. "I had an idea of what fame was in my head before [I had] fame. I think we all do. It felt a lot easier in my head. I felt like life would be a lot easier," he says. He went from being another neighborhood kid to wondering what jeans he should wear to pick up a bacon, egg, and cheese sandwich from the bodega in case someone photographs him.
While he's having to make different choices daily in response to his newfound fame, he's made a point to keep certain elements unchanged. After winning his Emmy in September, instead of spending the night partying, he took his mom and managers to In-N-Out Burger before retiring to his hotel room. "I drank some Champagne and went to sleep," he says, adding, "I think it's because of the type of person I am. I don't bask in the fame and I don't bask in the limelight."
Making the choice to continue living in New York City helps him remain grounded. He points to the Jennifer Lopez T-shirt I'm wearing: "Just like Jenny!" he says.
Freestyling has also kept him connected to the person who has brought him this far: namely, himself. "So, you throw a word at me, I'll take the word and I'll rhyme off of it and I try to switch it up and flip it and do whatever," he tells me. "I've done that since I was 10, so when I got to school [and] I'm learning acting and they teach me about improv, it came naturally because it's like rapping." It's a stealth talent he's yet to use in his film and television work.
But the opportunity is likely closer than before. On the night of the Emmys, Jerome was approached by Broadway wordsmith Lin-Manuel Miranda, who wanted to take a picture with him and congratulate him for his work. "I'm like, dude, we met years ago," he said to Miranda. Jerome had played Usnavi, the hero of Miranda's first major musical "In the Heights," at LaGuardia; Miranda had come to see the performance. (Miranda later found footage of Jerome performing and tweeted it.)
Down the line, Miranda could help Jerome fulfill one of his dreams: playing the title character in "Hamilton," either onstage or in the likely film adaptation. Jerome says he loves Hamilton, but would also love to play the show's star rapper, Marquis de Lafayette. "I love it 'cause he spits fast and I love his energy, but I would love to work with [Lin] one day on something," he says.
Now that his immeasurable talent is evident for all to see, his wish may come true.
This story originally appeared in the Jan. 2 issue of Backstage Magazine. Subscribe here.
Photographed by Emily Assiran on Nov. 13th at Fig 19 in NYC.