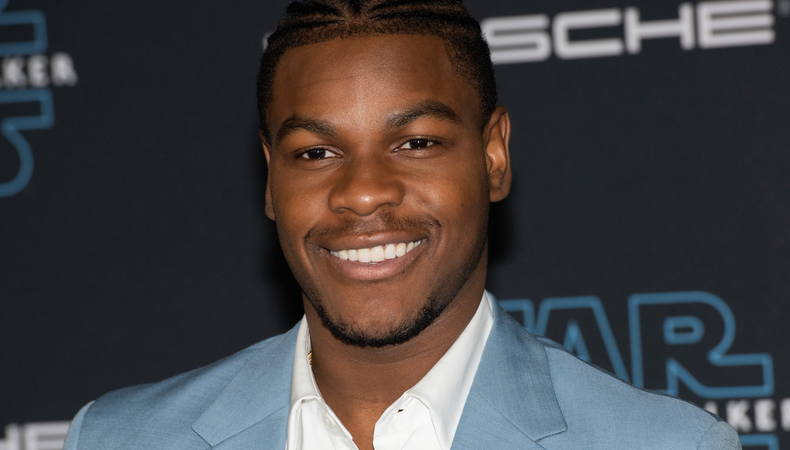 "In the Envelope: The Actor's Podcast" features in-depth conversations with today's most noteworthy actors and creators. Join host and Awards Editor Jack Smart for this guide on how to live the creative life from those who are doing it every day.
Starstruck since the moment he portrayed a leopard in a primary school play, John Boyega was always meant to be an actor. "It's the genuine love that I feel, like meeting the love of your life," he says of his craft. "I feel most comfortable doing this and expressing myself and being seen as an artist."
That self-assuredness has been evident on screen and off. Born in South London and training in multiple theater programs and schools there, Boyega has maintained his childlike sense of wonder throughout a meteoric rise on first U.K. stages then Hollywood: breaking into the industry as an alien-fighting teen in Joe Cornish's sci-fi romp "Attack the Block," and launching to superstardom as stormtrooper-turned-rebel Finn in the "Star Wars" trilogy of "The Force Awakens," "The Last Jedi," and last year's "The Rise of Skywalker."
Boyega, of course, grew up watching and adoring those adventures in a galaxy far, far away. "I have been a member of the audience for so long and a passionate member of film," he says, "that I refuse to let that go."
His enthusiasm is more than just infectious; it's a way of life, a philosophy for navigating the entertainment industry—emphasis on entertainment. As Boyega frequently reminds his colleagues at Upperroom Entertainment Limited, the production company he formed in 2016: "This ain't no cancer research. You are not politicians. You are artists. You are here to tell stories influenced by the realities and motions of what we live."
In addition to starring in "Imperial Dreams," "Detroit," and "Pacific Rim: Uprising," and producing the latter, Boyega is leveraging his platform as an activist. His passionate support of the Black Lives Matter movement in June 2020 echoed a chorus of voices calling for justice and resistance. (During an impromptu speech at a protest, he spoke out against racist police violence, exclaiming, "I don't know if I'm going to have a career after this, but fuck that." Jordan Peele, Mark Hamill, and fellow members of the industry assured him he would.)
But Boyega's work in "Red, White and Blue," one of the films in Steve McQueen's "Small Axe" anthology series airing on BBC One and Amazon Prime Video, was filmed prior to the pandemic and political unrest of 2020. Playing real-life British cop Leroy Logan, who ended a scientific career to join the police force in the 1980s, Boyega does his subtlest, most transformative work to date opposite Steve Toussaint, Joy Richardson, Antonia Thomas, and others.
One of the ideal goals for an actor, he says, is to fail to recognize oneself on the screen. "I watch ['Small Axe'] and go, 'I don't know who that man is'.... Sometimes you can get into a habit of pre-planning how you're going to portray a role. But then working with a director like Steve McQueen, who forces you not to play but to be, it's several different things in your performances that you can't remember performing."
For Boyega, there are always similarities between himself and his characters to bring to the fore. "But ideally we're both two completely different human beings," he says. "Leroy Logan is a very clean man, perhaps to a point where things just can't be out of line. And in certain scenes where the director says, 'You're just putting that shirt in that bag,' I know as an actor, 'Wait, I am Leroy.' John's just going to put the shirt in! Leroy is going to fold up each piece."
Asked for his best advice for aspiring artists, Boyega admits there's no one-size-fits-all solution; his path, for example, involved dropping out of the University of Greenwich upon seeing Johnny Depp film a "Pirates of the Caribbean" scene on campus. "It's important to understand the type of industry you're joining, the opportunity that is available, and the different ways in which you can enter and be a part of something." Studying every aspect of the behind-the-camera process, he adds, is invaluable.
"Train hard, be a fan of what you love, study other people who have struggled the same way you have," he concludes. "It's all about just calibrating and trying to find what specifically motivates you. Your freedom in that is knowing that there are no rules that could limit you as a creative." To hear more of Boyega's philosophy, tune into "In the Envelope" at any of the links below.
This episode also features an update from Hannah Williams, Backstage U.K. casting specialist, as well as more recommendations from casting insider Christine McKenna-Tirella: a BBC drama, lifestyle video shoot, and U.K. TV commercial are now casting.
Listen now on:
Looking for remote work? Backstage has got you covered! Click here for auditions you can do from home!