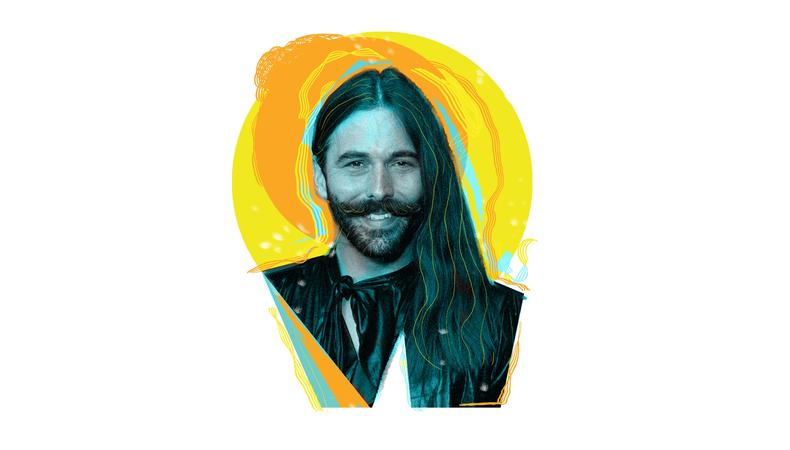 Growing up in Quincy, Illinois, Jonathan Van Ness wanted nothing more than to not be in Quincy, Illinois. So like many before him, he made his way west to Los Angeles to pursue...hair. Despite his recent meteoric rise to fame on Netflix's "Queer Eye," an Emmy nomination for Funny or Die's "Gay of Thrones," and a top-rated podcast ("Getting Curious With Jonathan Van Ness"), Van Ness' life as a performer and host was not planned.
"I was an accidental journalist-slash-actor-slash-performer-slash-comedian," he says. His advice to those who want to follow in his footsteps? "Maybe don't realize you want to be a performer."
You have a super successful podcast, web series, and Netflix show. You're a triple threat. And you can ice skate and do backflips. How?
Was it [the] merciless bullying? I'm just kidding, it wasn't bullying! It was...I honestly don't know. I think that I have relentlessly chased down things that bring me joy. Actually, it's too easy to say "bring me joy." I've relentlessly chased down things that I'm passionate about. No matter what.
You've faced a lot of "no" in your career. How do you keep going to get to the point where you are now?
I had something to fall back on that I loved, and that was doing hair. I love to do hair. I love people, I love connecting with people. [So] every day that I've ever been outside of my hometown, I've woken up happy that I've escaped. And there are palm trees in L.A., so I got to drive around palm trees and go to a salon every day and do hair. That was really super fucking fun for me. All the other stuff was actually [scarier than the no's] and it continues to be. Be in love with your survival job!
READ: How to Get Cast on a Reality Show
So a "survival job" should be about more than just paying the bills?
[It should] really get you out of bed in the morning. I was going to bed writing down [color] formulas and I'd be like, "Next time, I'm gonna put in a little bit more of A73 because I know the brown and that stroke 7 is just really going to neutralize this unwanted warmth, and then that gold is just gonna really give me that natural subtle warmth I've been looking for." I will wake up at night like, "Fuck I took her fringe too short, she hates me. Why would I do that fringe so short?" I love doing hair. Maybe being a hair and skin person is kind of fierce! It just gives you a lot of life experience.
On Netflix, you're a part of a group of five. How do you share space with your ensemble?
I think a lot of it's being intuitive and knowing, [which] I actually struggle with that. For me, it's been more about the whole Tyra Banks expression of pulling back a little and making sure I'm not stepping over people. I really try to be more interested in setting up others to help them shine because it's so natural for me to kind of barge in, so I'm trying to get better at my assist and knowing when to fade out.
You just have to listen and be observant, and that's been hard for me because doing hair all the time is kind of about your opinion, what you think this person should do after you listen to them.
But also, I think we got cast really well because I love them and we all get along really well and we've been together for a lot of hours and it's been, like, two-and-half years. We really get along well. I think [casting] chose wisely. Our showrunner tells us this story that when we all came in for that first day of chemistry testing, which was I guess day two of three in that first week, she pulled all five of our pictures and was like, "This is going to be your Fab Five," and there was 40 or 50 people. Isn't that interesting? And she was right! She's so talented.
READ: How to Audition for Netflix
Do you have an audition horror story?
Yeah, going in and asking for "the slides." I was like, "Oh, um, can I have the slides please?" And everyone was just really quiet. The character I was auditioning for had three pages of lines, but there was a fourth page that just said "cupcakes." I didn't understand, so I opened to that page and thought it was my first line so I was like, "Cupcakes!"
Everyone was just laughing and like, "No!" Also, I couldn't find the audition room in that place either, so I walked into the executive producer's office without knocking. I just walked in and he was on a phone call and I was like, "I'm looking for the like audition. Can I have the slides?"
Are there any jobs you're glad you didn't get?
I got offered a job from someone who's an executive producer for that Cheddar network—I loved her and she knew me from "Gay of Thrones"—and she was like, "Hey, we need someone to fill in for three weeks, it's kind of like a long-term audition." I was like, "Oh my gosh! Maybe that's my foot in the door for New York." She asked: "Have you ever done teleprompter work before?" And I was like, "Yes! In my sleep! Duh!"
On the first day, I was squinting, leaning forward in the seat. My face and neck and eyes were fully moving with every line. It was like eating corn on the cob, really exaggerated—that's how much my neck was moving. If I had gotten that job, I wouldn't have auditioned for "Queer Eye."
Do you remember your first headshot?
I think the closest thing to my first headshots would be my senior pictures because I never really did actual headshots until "Queer Eye." Honey, when I think of a headshot moment, I just think of an "America's Next Top Model" challenge. I'm just going and giving you face. I did my senior pictures and my dad was like, "What are these?" I was with my cheer megaphone, hiding behind a tree, giving you like, lay-on-my-side-with-tulle in braces. "America's Next Top Model" Season 1 had just come out and I was obsessed, I couldn't help it. I wanted to have a python around my neck and purple eyeshadow.