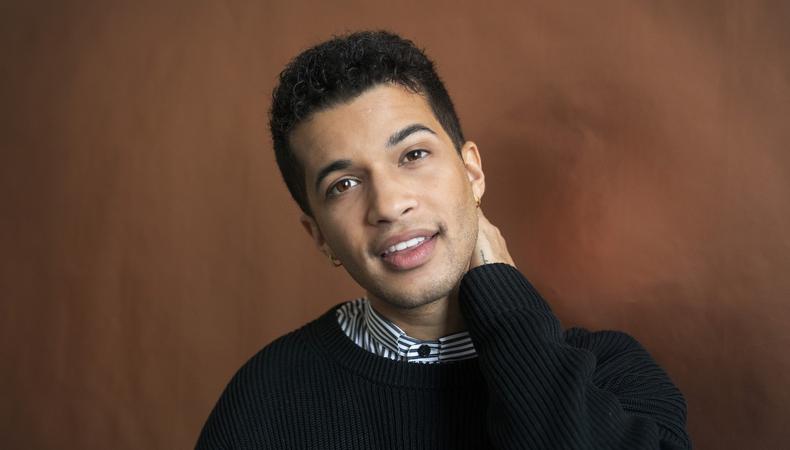 The following Backstage Live was compiled by Backstage readers just like you! Follow us on Twitter (@Backstage) and Instagram (@backstagecast) to stay in the loop on upcoming interviews and to submit questions live on camera.
Does the well of Jordan Fisher's talent know no end? The 25-year-old multihyphenate is taking the industry by storm both onstage and onscreen—previously on "Dancing With the Stars," "Rent: Live," and in "Hamilton." This month has him back on Broadway, stepping into the titular role of "Dear Evan Hansen" while also joining Lana Condor and Noah Centineo in "To All the Boys: P.S. I Still Love You," the sequel to Netflix's rom-com phenomenon "To All the Boys I've Loved Before." Fisher recently sat down with Backstage to talk about preparing for his Broadway return, auditioning advice, and facing the cold realities of the acting world.
Dropping into well-established projects is a lot of fun for Fisher.
"These projects are both very much existing, well-oiled machines. Obviously when the first 'To All the Boys' came out, everybody freaked out about it and loved it. Then there was this talk initially of, 'OK, is there going to be a second film, and if so, who's going to be John Ambrose?' There was this question of what that's going to be like, what's that going to feel like. And I look nothing like the way [John] is written. He's supposed to be a tall, Robert Redford white dude. And I am very much not that. But I genuinely think that Jenny Han, who wrote the book, wrote in John Ambrose the kindest, sweetest, warmest, most suave, sophisticated guy. It was a lot of fun to play with."
READ: How to Get Cast in 'Dear Evan Hansen'
"Dear Evan Hansen" posed an all-new challenge.
"It's a very easy role to learn—that's a joke. It is the hardest thing I've ever done in my almost 16 years of doing this professionally. It remains a challenge every day, to be perfectly honest with you; this kind of bottomless well of emotion that you have to dig deep [for] every time you step on that stage. It's a very fast-moving train that just doesn't stop. And so fun, too. I'm not gonna lie, for any modern musical lover, it's all the shower jams, man: 'Waving Through a Window,' 'For Forever,' 'Words Fail,' 'Good for You.' They're all so good, and they all feel so good to do. It's a beautiful show."
Nurturing his own mental health prepared Fisher to play Evan.
"To be very transparent, I went through a pretty crippling battle of depression for the first time in my life last year. Had to get therapy. It is the single best thing that I've done for myself. I fully recommend [therapy], even if you are in a really great place in life, even if you feel like you are of sound mind and body and spirit, it is good to have. The same way that we go to the gym, the same way that we try to eat and nourish ourselves the right way and get proper sleep—you need to take care of yourself. I'd been working a long time at this point, and everybody has a journey, everybody has a story, and through all of these ways, we become the people that we are and continue to learn [about] ourselves. There are things that you kind of put in couch cushions that you don't even realize you're tucking away, 'cause you're like, 'Eh, I'll deal with that later,' and you just keep moving forward. And then, eventually, it can crash on you. I have to say that I'm grateful for that. I'm grateful for the down that I had. Even in a season in my life where I thought that everything was going very great until all of a sudden it just wasn't. And I didn't know how to fix it, and I was just like, 'Ah! Therapy. Yoga.' That was a large part of my prep work."
Auditioning is very different from doing the real thing.
"I like to say that there are two methods of practice between the audition room and what happens on set—these are two very different things. What you do in an audition room is not what you typically do on a set or in a rehearsal space or on a stage. When you walk in an audition room, the mentality you need to have, [whether] you're the first person or the 300th person that they've seen that day…they want you to be great. So hold on to that. No one in the room is your enemy. Everybody is on your side, everybody is wanting you to be the best. Go in, be friendly, be kind, be warm, take control of that audition space. That is your party for that period of time. Typically, if there's a director in the room and they give you a note, shoot for that note. Do not let it be comfortable for you. Really shoot for it, because ultimately what they're doing in the room is just seeing if you can take direction. Seeing how quickly it is you can adapt to whatever it is that they're getting. It doesn't have to be perfect, it doesn't have to be right on the money. Don't make minor adjustments to build the thing the director is looking for; really shoot for that thing so that they know that you are valuable. And take control of the audition process. I've actually gone into an audition process, walked in, met with the casting director, the producer, did the scenes…I took some direction and some notes. They said, 'Thank you very much,' [I] went back out to my car, got in it and sat there for a second, and decided I was not happy with the work that I did. I went back inside and I said, 'I don't love the work that I did, and I will feel better personally if we could just do it again if you have time. Are you cool?' And they were like, 'Absolutely, that would be really great,' and I booked the job."
READ: How Ben Platt Landed His First Tony
Rejection separates "the sheep from the lions."
"I had a two-year period where I didn't work—just continue to hold on to what it is you love about the work, and find new things to love about the work. Do not let any dry seasons or any rejection you start to face beat you down and send you back to where you came from. The industry is fickle; all of a sudden, people are looking for new things and different things, and things that they weren't looking for two years ago. That can either beat you down and send you back to where you came from, or it boosts you. And that's what it was for me. I did not start working immediately. My career has been a slow burn, and I'm so grateful for that. I'm 25, I'll be 26 in April; I'm learning myself still, to this day, but definitely know much more about myself than I did when I was 20, 15, or 10, when I began my career. Those noes just made me want it more. I'm very competitive with myself more than anything. It's necessary, because oftentimes you do great work but just aren't the fit. And that's OK. You can't let the noes kill you."
This story originally appeared in the Feb. 13 issue of Backstage Magazine. Subscribe here.