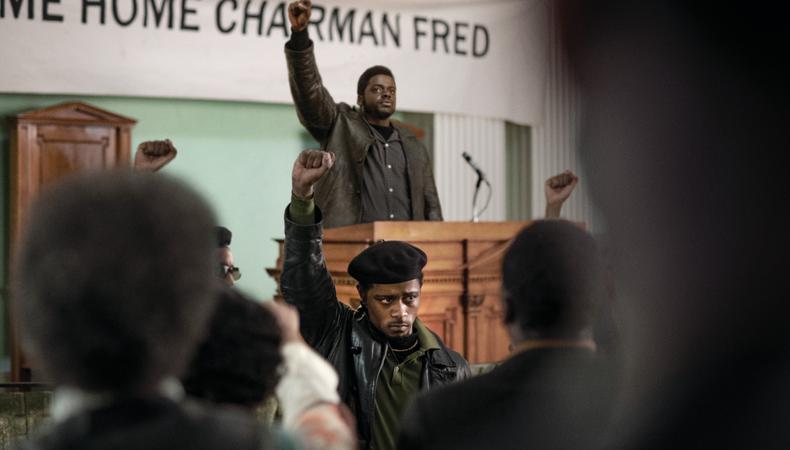 As we look back at 2020, we at Backstage have pinpointed the year's best big- and small-screen ensemble work for your SAG Awards consideration and beyond. For more voting guides and roundups, we've got you covered here.
Main cast: Darrell Britt-Gibson, Dominique Fishback, Jermaine Fowler, Lil Rel Howery, Daniel Kaluuya, Jesse Plemons, Ashton Sanders, Martin Sheen, Algee Smith, Lakeith Stanfield, Dominique Thorne
Casting by: Alexa L. Fogel
Directed by: Shaka King
Written by: Will Berson and Shaka King
Distributed by: Warner Bros.
The best actors resist being pigeonholed, running instead toward opportunities that stretch their artistic boundaries and lay waste to any preconceived notions we hold of them based on prior credits. The surprising nature of their casting renders such a performance all the better.
That's what makes the two central actors in Warner Bros.' "Judas and the Black Messiah" so watchable in everything they do. Neither the SAG Award–winning, Oscar-nominated Daniel Kaluuya nor fellow "Get Out" star and SAG nominee Lakeith Stanfield have ever delivered the same performance twice, and in no film is that more apparent than director and co-writer Shaka King's retelling of the life, work, and death of Fred Hampton (Kaluuya), chairman of the Black Panther Party's Illinois chapter, and his betrayal by FBI informant William O'Neal (Stanfield).
Stanfield once told Backstage that his "whole existence is about doing whatever I want, and the moment I'm not allowed to do that, I get really antsy." This personal and professional M.O. has led him from one instinct-based, raw-nerve screen performance to the next, including his scene-stealing gig on "Atlanta"; Boots Riley's mind-boggling "Sorry to Bother You"; and even "The Photograph," last year's romantic drama opposite Issa Rae. He brings that natural likability and empathy to O'Neal, the film's titular villain, playing the real-life petty criminal-turned-informant as someone who's desperate and in over his head. Even if you're not rooting for his actions, you can't help but understand where he's coming from as the film inches closer to the 1969 Chicago police raid that led to Hampton's death. O'Neal is guilty of an utterly unthinkable betrayal; yet in Stanfield's hands, he's still complex and empathetic, as much a victim of systemic oppression as any other Black American at the time.
As Hampton, Kaluuya is all brawn and charisma, a natural leader—he leaves little room to wonder how the figure's reputation as the "Black Messiah" came to precede him. He captures Hampton's stirring presence as a public speaker, but also delivers quieter scenes as only this actor can; it's all held behind his sorrowful eyes. Better still are his moments of bashfulness, as seen in the chairman's lovely romance with Dominique Fishback's Deborah Johnson, who at the time of his death was left eight months pregnant with Hampton's child.
And you can now expect to be seeing a lot more of Fishback, who's already established herself as an impressive, born-to-perform talent thanks to her memorable turns on "The Deuce" and in "Project Power," among others. The gravitas she lends Johnson as an activist and young mother-to-be as Hampton skyrockets up the ranks of the Black Panther Party offers one of the most astounding—and heartbreaking—performances of the year. Martin Sheen as notorious FBI director J. Edgar Hoover and Jesse Plemons as cloying, calculating agent Roy Mitchell serve as authentic representatives of the corrupt powers that be.
With his highest profile feature film to date following 2013's indie "Newlyweeds," King impressively relates a timely story of America's racial inequity. And thanks to narrative insight from Fred Hampton Jr. and others, plus the efforts of this talented cast, the filmmaker manages to shed light on a historical perspective that has too long been silenced.
This story originally appeared in the Jan. 20 issue of Backstage Magazine. Subscribe here.
Want more? Stay in the loop with everything you need to know this awards season right here!