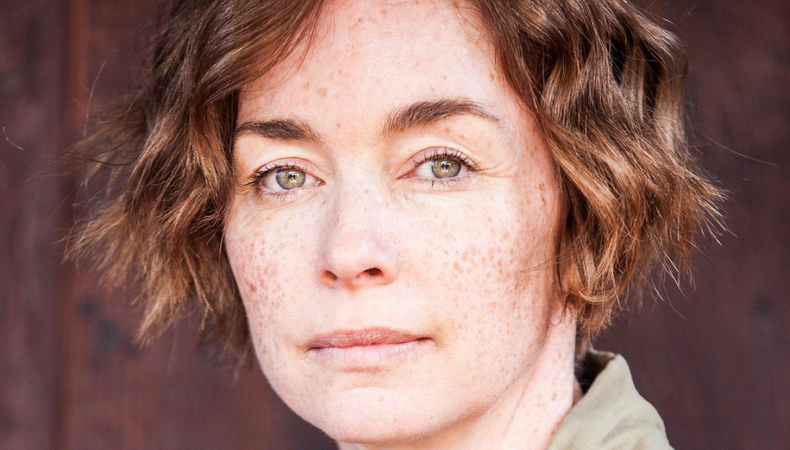 "In the Envelope: The Actor's Podcast" features in-depth conversations with today's most noteworthy actors and creators. Join host and Awards Editor Jack Smart for this guide on how to live the creative life from those who are doing it every day. This episode is brought to you by HBO.
Tricks of the acting trade, striking the balance between optimism and realism, horrific audition stories—Julianne Nicholson is the kind of actor who can speak to it all. Artists listening to the Emmy nominee's "In the Envelope" interview should be prepared to take notes.
A common theme through it all, as Nicholson says, is that "experience goes a long way. And life! Life gives you more things to draw from. And I expect that will keep happening as I go."
Thanks to both that growing experience and a magnetic on-camera charisma, Nicholson has been on an upward career trajectory since her Hollywood feature debut in "Curtain Call" ("I was so clearly out of my depth," she remembers of her first day on set), followed by "Ally McBeal," "Masters of Sex," "Boardwalk Empire," and a lead role on "Law & Order: Criminal Intent." She's starred in "Kinsey," "Tully," "Black Mass," "Novitiate," "I, Tonya," "Togo," and "August: Osage County," for which she earned awards recognition. And now she's nominated for her first Primetime Emmy Award, for her work on HBO's limited series "Mare of Easttown" from Brad Ingelsby and Kate Winslet.
"I had only received the first six [of seven] episodes before I agreed to do the job," says Nicholson, who plays Lori, friend of Winslet's titular Mare in the small Pennsylvania town murder-mystery. "[The creators] didn't give me details, but they gave me a lot of encouragement that there was a lot that happened in that last episode for Lori." Without spoiling details, the series' final installment features a gut-wrenching moment between Nicholson and Winslet filmed in a car, a scene filmed in four dramatically emotional takes.
"I think a scene partner is hugely important," says Nicholson. "For all scenes, but especially one like that, where you have to go so deeply, to feel like you're being met by someone who wants to go there with you, who will support you, who is present, who is listening." (If a scene partner is ever not listening, by the way, Nicholson says that frustration or inability to connect is still dramatic fuel. "Even if they're not giving you what you want, or what you think they should be doing, or even if they're not paying attention, that can serve you in another way.")
Asked how she experiences and conveys such heavy emotion on-camera, Nicholson's answer is simple: "You just kind of have to give into it."
The Massachusetts-born Nicholson spent her young adult years modeling and waitressing in New York City, committing to a life in the arts only after finding the right acting teacher. She advises early-career performers to enroll in classes that feel like a fit. "If the first one doesn't make sense to you, keep searching.... And if you can be in a class environment instead of just privates, then you're around other people who you can be inspired by."
Turn down artistic opportunities that similarly don't make sense for you, she adds. "In the beginning, in particular, do the work that you're excited about, whether it's the role, or the director, or scene partner, or the whole story. And if there's nothing that feels good to you in it, then say 'no,' and wait for the one that will feel good."
Did Nicholson know, early on, the odds of making a living as an actor? "It was still a dream when I started, I think," she says. "Because there's just so you read your whole life about the luck and the opportunities and the chance and the talent and all the things that it takes to actually be able to make a living on it. But I thought at least I had to give it a try.
"I couldn't have spent too long thinking about those things. I never would have gone through with it."
Tune in for more insightful, inspiring advice from Nicholson's unedited podcast interview at any of the platforms below.
Listen now on: