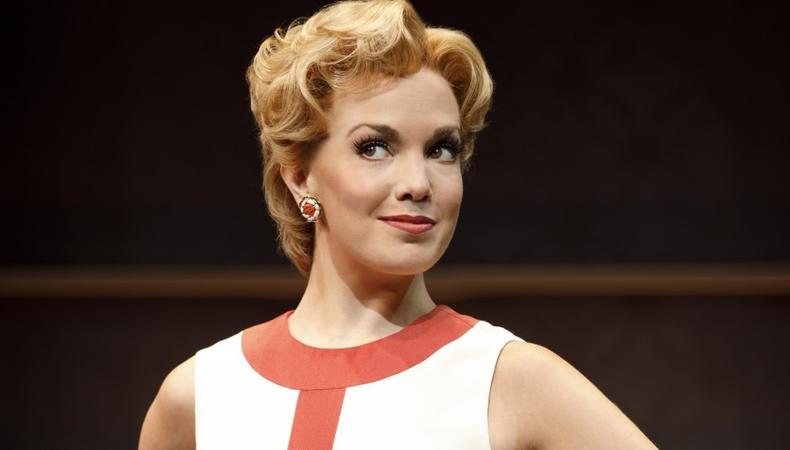 The following Career Dispatches essay was written by "Beautiful: The Carole King Musical" star Kara Lindsay, whose solo concert show "Pregnant AF" debuts at Feinstein's/54 Below Sept. 30.
Pregnancy and being a performer do not sound like they go together, right? I've always been under the impression that it's one or the other. I'm not sure where that idea came from or why. But this particular business can be difficult regardless of whether or not you're wanting to have a family, so perhaps it has always been my own fears. Yet, I've always dreamed of having a family one day and desperately wanted that for my husband and I.
I'm here to tell you that it is entirely possible.
I found out I was pregnant the morning of my first rehearsal back at "Beautiful: The Carole King Musical" on Broadway [having re-joined the cast in the role of Cynthia Weil after a hiatus]. My husband and I were over the moon! Then—absolute fear set in: How long before I start showing? (Cynthia's costumes are very tight!) Will they be able to take out my costumes to hide this growing belly? Will I still have a job when I get back from maternity leave? Is this the end of my career?
I'm not dramatic at all.
I spent the entire rehearsal panicking and thinking everyone knew my secret. I called my manager that evening after rehearsal while in Macy's buying Spanx, in an attempt to keep my belly down for as long as possible. Again, not dramatic at all. I asked her if she was sitting down, and then I told her my big news. (It was way too early to be telling anyone! Normally, you wait until you're three months pregnant so you're past that scary time of uncertainty.) She was was jumping for joy and squealing with excitement. It brought tears to my eyes hearing her genuine delight in our news and it was the first moment where I really felt like my husband and I could celebrate.
READ: Kelli O'Hara: A Reintroduction
When it came time to inform my employers, I was petrified. My fears were proven ridiculous when they came back with the most loving and supportive response. I felt silly for having built up this perception that women in this business would be looked down upon for taking the time to have a family, for being pregnant while performing, and so on. So much of show biz is about how we look and how we physically fit a character, so to allow your body to go through all the natural, beautiful changes that come with pregnancy with no fear of judgment is incredibly difficult.
However, watching fabulous Broadway mamas like Audra McDonald, Kelli O'Hara, Katie Rose Clarke, Caissie Levy, Laura Benanti, Jenn Gambatese, and so many others handle motherhood with such grace and confidence has been incredibly inspiring—and has ultimately proven that actor moms are badass. I want to be just like them!
Having those first flutters of feeling my baby while singing on a Broadway stage was indescribable! It was, without a doubt, the most magical experience of my life. This new chapter inspired me to share that feeling, and Feinstein's/54 Below presented me with an opportunity to do so. In my new show, I'm sharing the ups, the downs, the fears, the joys, the reality, the silliness, and all the things that have been my journey as a first-time mama, thus far and beyond. I will definitely be breathless with swollen ankles and eating food off of everyone in the audience's plates. Oh, and did I mention: I'll be exactly eight months pregnant on the day of the show so, truly, anything can happen.
See Kara debut "Pregnant AF" at Feinstein's/54 Below Sept. 30 at 9:30 p.m. Get tickets here.
What advice would you tell YOUR younger self? Get more Career Dispatches right here!