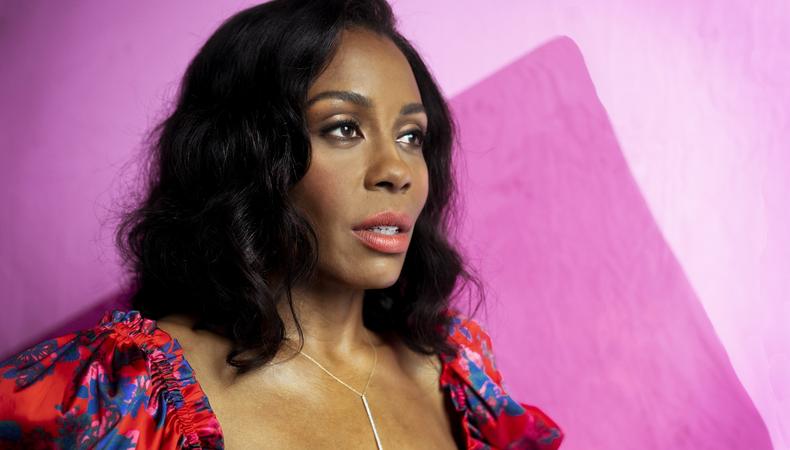 The following Backstage Live was compiled by Backstage readers just like you! Follow us on Twitter (@Backstage) and Instagram (@backstagecast) to stay in the loop on upcoming interviews and to submit questions live on camera.
Theater vet Karen Pittman is no stranger to the small screen. Fresh off of Netflix series "Luke Cage" and "Living With Yourself" and horror series like AMC's "NOS4A2" and CBS' "Evil," Pittman has stepped into the world of "The Morning Show" on Apple TV+. She plays Mia Jordan, producer to firecracker news anchor Bradley Jackson (Reese Witherspoon). Read on to hear how Skype helped Pittman land her biggest gig yet and more!
TV to Come: The Game-Changing Arrival of Apple TV+ and Disney+
A Skype session helped Pittman book "The Morning Show."
"I was one of those actors who made self-tapes. I'd send out thousands and thousands of self-tapes. This was one self-tape that ended up coming back. My callback [for 'The Morning Show'] was with [director and executive producer] Mimi Leder, [showrunner] Kerry Ehrin, [and executive producer] Michael Ellenberg, and it was a Skype callback. I'd never done that before. I was cast on this TV show without ever having sat in a room with the people who were creating and producing the show—but they knew my work. Michael knew me from 'Disgraced' [on Broadway]. He knows [playwright] Ayad Akhtar quite well. I certainly knew Mimi Leder from 'The Leftovers,' and I was very familiar with Kerry Ehrin from 'Bates Motel.' I felt super lucky and tried to bring my A-game on Skype, and that's how I got cast in the part."
Mia is representative of working women today.
"[My] character is specifically those ordinary, relatable women who are working in pressure-cooker, male-dominated companies. She presents a certain kind of persona, but what she's going through is really challenging. A lot of women, I think, can relate to that, as well as the experience of all of the other characters who are on-camera—including Jennifer Aniston and Reese Witherspoon. The show, really, is about shedding a light [on] and observing what a certain culture is like here in our country and what it's like in American corporations. What it's like for women and men who start to grapple with gender politics and identity politics, and what that looks like on a day-to-day basis."
Originality is part of what drew her to "The Morning Show."
"I'm lucky to have a body of work where I've done stuff that's original [and has] never been done before. I think 'The Morning Show' is an original. It's authentic. It's an honest, nuanced take on what the #MeToo Movement is reckoning with, what they're dealing with. The most challenging part about doing this show was allowing myself to be genuinely inspired without making judgments about what the world looked like, making judgments about my character arc, what the other character relationships look like, but really standing in this space of empathy and compassion for what my character and the other characters were going through. I think they really built the world of 'The Morning Show' in very specific ways."
Aniston and Witherspoon are just the latest A-list stars Pittman has worked with.
"When I worked here in New York City, I worked with Frances McDormand on a play called 'Good People.' I worked with Laurie Metcalf on a play called 'Domesticated' at Lincoln Center, and that was a great learning experience. I would say working with Jennifer Aniston and Reese Witherspoon was right on the top of that experience. [They are] really professional actresses who understand the nuance, bringing a different take to every single setup, every scene, being spontaneous in the moment in a way that makes sense for the character and the storytelling. They also happened to have on the hat of being executive producers. There were times when I came in the next day and Jennifer was like, 'Saw your dailies! Such great work.' Or Reese would text me and say, 'Oh, my gosh! Your work today was so great!' [They're] very thoughtful, caring women."
On her No. 1 piece of advice for television acting.
"The best advice I can give is to be really focused and concentrated on how you build character, how you build character arc, because from episode to episode, it shifts and changes, in a way, and it's a cumulative experience for the audience. And sometimes you're shooting out of order. I would shoot Episode 1, but then I'd skip to Episode 3 or Episode 4, then go back to Episode 2. So you really have to understand character arc. As far as breaking into TV is concerned, I would say: Say yes to every single opportunity. It doesn't matter if it's not the biggest guest star [role], the biggest recurring role. Take all the opportunities you can to figure out what it feels like to have the experience of being on set, because that really is part of the technique of working in television: being able to focus and concentrate with a bunch of things going on around you."
This story originally appeared in the Nov. 28 issue of Backstage Magazine. Subscribe here.