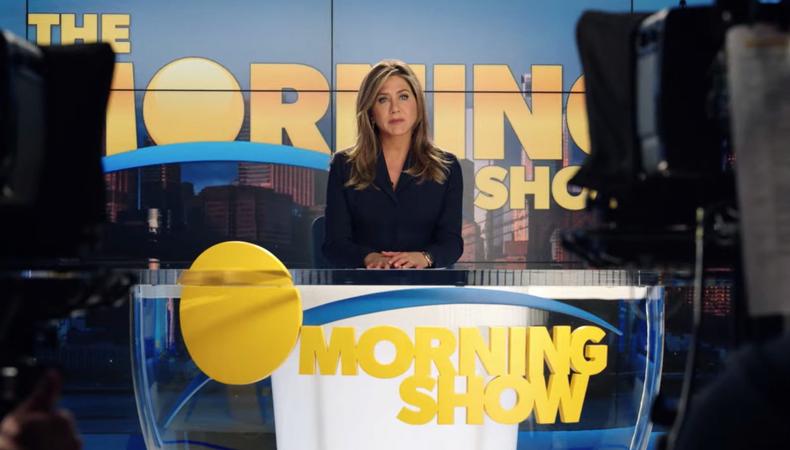 Television doesn't sleep. The sheer amount of content—over 450 scripted programs aired in the year 2017!—can prove overwhelming for even the most dedicated TV buffs. Television Academy voters make Emmy selections in August, and SAG-AFTRA members vote on SAG Awards in January, but their job requires tuning in all year long. Backstage is breaking down, month by month, the buzzy shows and performances that merit awards attention in the ever-growing landscape of the small screen. Mark your calendar and become a couch potato along with us!
Still catching up on your favorite shows' fall debuts? November offers up more TV to add to your slate just in time for colder, binge-watching weather.
But this month's main event comes from a new but familiar name in the TV world: Apple launches its newest streaming service on the first of the month. Apple TV+ debuts with star quality, reportedly paying upwards of $300 million for "The Morning Show" after a bidding war with more established providers. The drama stars awards regulars Jennifer Aniston, Reese Witherspoon, and Steve Carrell in a loose adaptation of Brian Stelter's book "Top of the Morning." They also offer up "Dickinson," starring Hailee Steinfeld in a modernized, comedic take on a 19th-century literary figure, with buzzy stars like Wiz Khalifa and John Mulaney slated to guest star.
It's not all about Apple TV+ this month; Disney is also launching their newest venture, a streaming service called Disney+ with the first-ever series adapted from the "Star Wars" Universe, starring Pedro Pascal, Carl Weathers, and celebrated filmmaker Werner Herzog. But don't count out premium cable and older streaming services either. HBO launches its adaptation of the beloved fantasy trilogy with "His Dark Materials," and Amazon returns with its fan favorite, "Tom Clancy's Jack Ryan." Showtime brings back "Shameless" and "Ray Donovan," while Netflix has new seasons of "Atypical" and "The Crown," which has replaced its cast to reflect the age of the characters. Check out this full rundown of November TV!
Apple TV+
The newest streaming service on the block, from tech giant Apple, kicks off this month with a bevy of new programming Nov. 1, including a comedy based on the life of Emily Dickinson. "Dickinson" stars Steinfeld alongside Jane Krakowski and Toby Huss. Next up is a new sci-fi series, "For All Mankind." The show, created by Ronald D. Moore of "Battlestar Galactica" and "Outlander" fame, takes place in an alternate history of the Cold War world, with a prolonged space race and a cast that features Joel Kinnaman, Michael Dorman, and Sarah Jones. That same day, "The Morning Show" premieres, boasting an A-list cast led by producer-stars Aniston and Witherspoon, plus Mark Duplass, Billy Crudup, Gugu Mbatha-Raw, Bel Powley, and Nestor Carbonell.
Another new show, "See," comes from "Peaky Blinders" creator Steven Knight and "Hunger Games" director Francis Lawrence. Jason Momoa and Alfre Woodard star in this sci-fi series set in a distant future where humans have lost their sight. And Nov. 28, M. Night Shyamalan produces the series "Servant," where a couple who have lost their baby replace it with a lifelike doll; the series stars Toby Kebbell, Lauren Ambrose, Rupert Grint, and Nell Tiger Free.
Amazon Prime Video
At the top of the month, John Krasinski reprises his titular role as Jack Ryan in Season 2 of "Jack Ryan." The fifth actor to play the role (after Alec Baldwin, Harrison Ford, Ben Affleck, and Chris Pine, who've all starred in film adaptations of the popular thriller novels), Krasinski has carved out a new audience for the character, and the show has already been greenlit for a third season. On the 15th, the fourth and final season of dystopian sci-fi drama "The Man in the High Castle" lands on the streaming service. The show takes place in an alternate history in which the Axis powers have won World War II.
LISTEN: Writer-Director-Superstar John Krasinski Bares It All
CBS All Access
"No Activity," the comedy series starring Patrick Brammall, Tim Meadows, Amy Sedaris, and Sunita Mani, returns on the 21st for its third season.
Disney+
Another new streaming service launching this month, Disney+ kicks off with a bang. Their premiere offer, "The Mandalorian," is the first live-action TV series to take place in the "Star Wars" cinematic galaxy. Jon Favreau created the show, which features a slate of top directors including Taika Waititi, Dave Filoni, Rick Famuyiwa, Deborah Chow, and Bryce Dallas Howard. Pascal stars as the titular character, alongside Nick Nolte, Gina Carano, Giancarlo Esposito, and more. It premieres Nov. 12, along with all the films and programming in Disney's vault.
Hulu
After Halloween, Hulu launches its newest iteration of "Into the Dark" with an aptly themed "Into the Dark: Pilgrim" episode Nov. 1. On the 15th, the newest offering from the streaming service features Kat Dennings trying to reconnect with female friends after a breakup in "Dollface." Another new series, "The Accident," debuts on the 22nd; the show takes place in Wales, and stars the great Sarah Lancashire and Sidse Babett Knudsen.
HBO
The highly anticipated small-screen adaptation of Philip Pullman's fantasy trilogy "His Dark Materials" debuts on the 4th. A co-production with the BBC poised to fill the hole left by the end of "Game of Thrones," this marks the second try at adapting the popular fantasy series after the 2007 feature "The Golden Compass." This ambitious adaptation has already been renewed for a second season, and features stars Dafne Keen, Ruth Wilson, James McAvoy, Lin-Manuel Miranda, and Clarke Peters.
Netflix
In a slow month for the streaming giant, only four scripted series debut this November. Coming-of-age dramedy "Atypical" returns for its third season on the first of the month, followed by the second season of British dark comedy "The End of the F***ing World" on the 5th. On the 17th, Netflix premieres the third season of Peter Morgan's "The Crown." This season covers the queen's reign from 1964 to 1977 and features Oscar winner Olivia Colman as Queen Elizabeth II, whose younger iteration was portrayed by Claire Foy. Tobias Menzies will take over the role of Prince Philip from Matt Smith, and Helena Bonham Carter will take over Princess Margaret from Vanessa Kirby. "Merry Happy Whatever" premieres on the 28th, in time for the holidays; Dennis Quaid stars in the Christmas-themed family comedy.
READ: We Rank the Busiest Film + TV Casting Directors of 2019
Showtime
Showtime offers three premieres this month. It welcomes back two veteran shows: "Shameless," now in its 10th season, premieres Nov. 10, and Liev Schreiber reprises his role as the titular "Ray Donovan," back for its seventh season on the 17th. The channel's newest series, "Back to Life," a black comedy co-written by Daisy Haggard arriving Nov. 10, centers around an ex-con as he settles into life on the outside.
Spectrum TV
Beloved '90s sitcom "Mad About You" gets a limited reboot on the 20th. Award-winning stars Paul Reiser and Helen Hunt return in their roles as the NYC-dwelling Buchmans in a much-anticipated 12-episode miniseries.
Starz
On Nov. 10, Starz launches "Dublin Murders," based on the book series by Tana French. This eight-episode first season adapts the first two books of the series, "In the Woods" and "The Likeness," and stars Killian Scott, Sarah Greene, Tom Vaughan-Lawlor, Moe Dunford, Sam Keeley, and Antonio Aakeel.