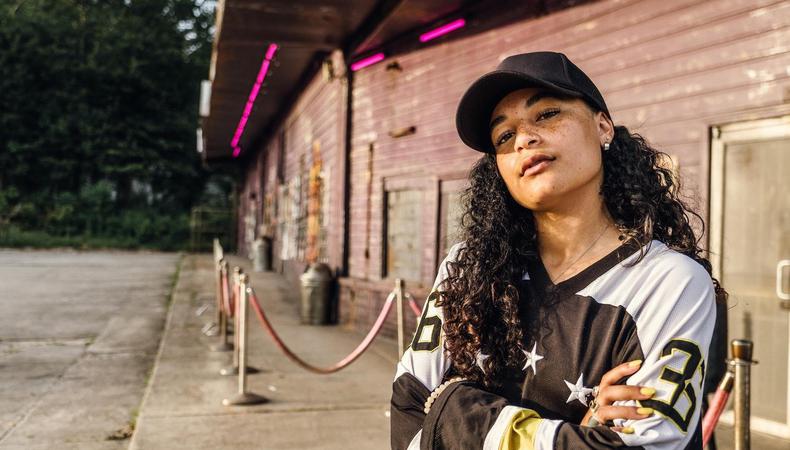 Karena Evans is a woman with a plan—but even she is surprised at how quickly and precisely her career has gone according to it.
"I got into music videos so that I could figure out the technical communication of the story, because I love stories so much and had more of an intuitive understanding of story, but I needed to understand the best way in which I could communicate that knowledge," says the director. "I can be honest with you: I did not expect it, the rate at which I have been able to transition to film and TV, but I'm very grateful for it."
READ: How to Pitch Yourself for a Pilot Directing Job
Evans had already made a name for herself helming a number of music videos for Coldplay and Drake. But that she'd be able to jump right to directing the pilot episode of Starz's new series "P-Valley" was a straight shot from intent to outcome that is generally unheard of in showbiz. Oh, another thing: Evans is 24.
"My philosophy as a director is to hire actors who are good at their job, and then let them do their job."
"I do feel, in a way, it was a bit of manifesting that I receive the script," she says of the drama about a small-town strip club, which is adapted by Katori Hall from her play "Pussy Valley"; it premiered July 12. "And as soon as I read it, I just fell in love with this world and these characters. I had been in search of stories [to which] I could offer my inherent feminist perspective. I had a personal goal to, if I could in some way, change the way in which women and Black women and people of color are represented."
Though she had her music video experience and has subsequently added an episode of "Snowfall" to her directing résumé, "P-Valley" was Evans' first experience in television—and that's to say nothing of the feat that is directing the pilot of a brand-new series, a league of its own considering that you're defining the tone of every episode to come.
Evans handled that with cool-headed preparedness, too. "It was a blessing to be able to have that sort of control as a pilot director, to envision what the world looks like and create that sandbox for the directors who follow to play within," she says. "I think it would have been a different sort of challenge for me, in my first time in television, to come in as an episodic director and understand that dynamic."
And though there was tons of learning on the job, there was ample learning before it, too. In Evans' case, that means her experience as an actor, which she credits wholly for teaching her how to collaborate. "I learned how to direct through acting, and by that I mean the communication with actors," she explains. "My philosophy as a director is to hire actors who are good at their job and then let them do their job. I know how difficult a craft it is, and I want to push the actors I work with to exercise autonomy over their characters and their choices, because I feel they intrinsically know them better than I do as the director."
Obviously, at the start of what's already poised to be a prolific career, Evans will continue to learn and grow and improve. But it's still important—for her and for any creative finding their way through uncharted territory—to remember: You don't know what you don't know, and that's just fine.
"Coming from music videos, where you really do have control from beginning to end, I had to adapt to the world of TV and understand the bigger players that I serve," she says. "I asked a lot of questions and was very lucky to have mentors who allowed for me to do some shadowing and examine and talk about mistakes I've made. It's a director's job to win the trust of his or her crew and collaborators and producers and actors and so on. I just remind myself to admit when I don't know something—and then ask the questions."
Looking for remote work? Backstage has got you covered! Click here for auditions you can do from home!