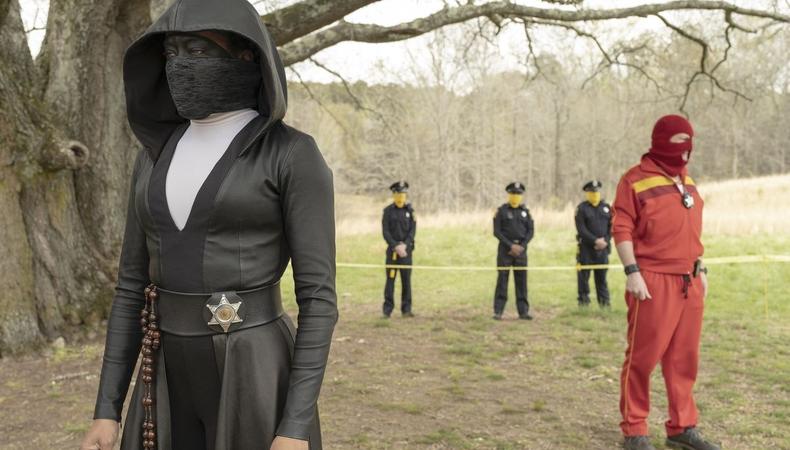 "Watchmen," HBO's noir miniseries based on the DC Comics graphic novel by Alan Moore and Dave Gibbons, is comprised of all the convoluted twists, turns, and easter eggs of that storied (and studied) superhero world. It may come as a surprise, then, that prior to directing the pilot, television veteran Nicole Kassell "knew nothing about 'Watchmen,' " by her own account. Still, Kassell wanted in for one reason: "Honestly, it was Damon Lindelof," she says of the acclaimed creator and showrunner.
Kassell had worked with Lindelof on his previous HBO outing, supernatural tear-jearker "The Leftovers," but still, their professional history didn't mean her hiring was a done deal—she still had to pitch. And needless to say, the gig was a coveted one.
"I've worked with a lot of writers, and many great ones, but Damon's writing is just off the charts," she says. "I bought the book when I heard he was going to do it and then still didn't read it until it got to the point where I knew he'd been looking for a pilot director. I sent him a note saying, 'I would really love to be considered,' and he was psyched…. I pitched for it. I wasn't the only one going for it, but I showed him my vision and what he inspired, and he loved it."
Kassell was hired onto the series, which stars Emmy and Oscar winner Regina King and which airs its finale Dec. 15, but the rest was hardly history; the intricate nine episodes—set in an alternate reality wherein superheroes must carry out their duties as outlawed vigilantes—still had to be fabricated from scratch, despite its source material. Also in the series, diverging further from the comics, the villain is one we all know if not see: rampant racism, and more specifically, white supremacy in Tulsa, Oklahoma.
Regina King Says You Should Stop Being Scared
The look of the pilot, then, had to meld the terrors of reality with surreality, all the while setting the precedent for every subsequent episode. No pressure.
"It's like making a feature in that you're making a show from the ground up," says Kassell, who also directed the pilot for TNT's "Claws" and episodes of "Westworld," "The Killing," "The Americans," and others. "For both ["Watchmen" and "Claws"], when I read the script, I saw it a certain way and put those thoughts down in images for the producing team, putting into words the passion and the vision. And then, I like doing that next step of the visual look book, to really put it on paper. It's so abstract describing things in words, so then I go literally through the process of putting into words how I see it. There's many great directors and everybody would do a good job. That's where, ultimately, it's a very subjective choice."
Also subjective when creating a new series: casting, especially because, as Kassell points out, actors are as much a part of world-building as those handling the script or camera. "There's a lot of conversation to get to who this person is. It's kind of a circular process, and each actor approaches it a bit differently," she says of character development. "Some actors like to talk a lot. Others just kind of want to go in and see the costume first, and then thoughts come from that. It's being very open to an actor's process, as well."
The 1 Casting Rule Damon Lindelof Broke to Get Regina King on 'Watchmen'
Of course, that process starts long before the actor is ever cast and Kassell, for her part, expects to see ample work already intact when the actor walks into the audition room. "What you're really looking for is an actor who will take care of their character," she says. "There is so much going on, so I really appreciate when they come in with a little bit of a nod to the costume that the character would be wearing, or they take that extra step in the sense of acting is very physical, so working with props and coming in with whatever you need and being willing to play. I love that spirit of, 'Let's try this! Let's try that!' A note does not mean you did something wrong, it's figuring out: What's the range here?"
That range, the ability to continually peel back layers to unearth whatever lurks at the character's soggy center, is particularly crucial for television because it is inherently a long-haul. But for that same reason, Kassell explains, episodic storytelling is as much the actor's medium as it is the director's medium, the writer's medium, and ultimately, the audience's medium.
"It is beautiful in that it is the novel. It's the long format," she says. "You get to really spend time with characters and let them grow. Where a feature has to be very, very tight, episodic allows for things to breathe. I think the viewer loves it because you get a lot of time with the character—and then you get to fall in love with them."
Want to hear more from the best creators in film, TV, and theater? Get it right here!