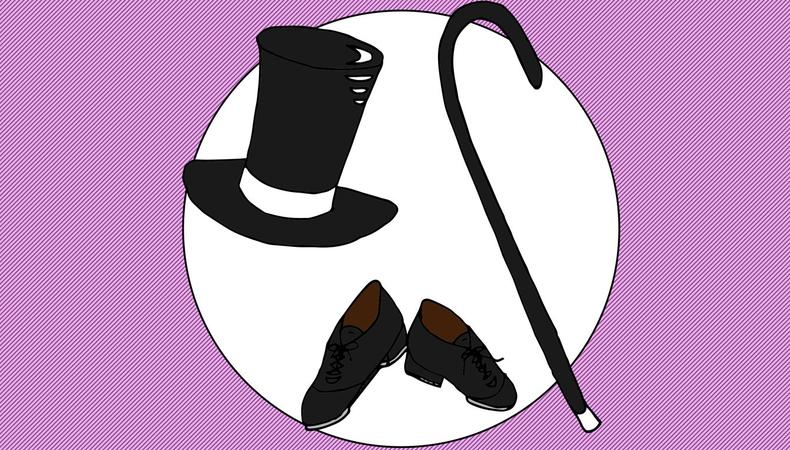 "Good Morning Baltimore," "Memory," "Girl in 14G," "All That Jazz"...These songs are essentially colossal red stop signs, according to college audition "do not sing" lists around the web. But even more difficult than choosing a college audition song can be choosing the colleges to audition for—and later attend—whether we're talking musical theater or dance. That's why we've put together some considerations for performing arts students preparing to take the college plunge, as well as our top 10 lists of the best schools for each major.
One of the first decisions students need to make pertains to their degree and whether to go the Bachelors of Arts (BA) or Bachelor of Fine Arts (BFA) route. BFA programs are an upfront commitment to a more defined curriculum outlined for students in advance, and the chosen major often makes up 75 percent of coursework, leaving only 25 for other liberal arts courses. "The BFA path is really only appropriate for someone who is 110 percent sure they want to major in that performing arts discipline," says Susan Taub, an independent college counselor with expertise in performing arts admissions.
In BA programs, a musical theater or dance major would be like any other major and comprise about one-third of a student's coursework. (Again, this can vary between schools.) It's also usually much easier to double major in BA programs. The most important thing to remember? "Both paths can lead to success in life and in a career in the arts," says Taub. In the end, it almost always comes down to talent rather than the type of degree on your diploma.
Next up: We have your three must-haves for program training and for the academic and college experience. Write them down, and use them to narrow down your college list! First, a student who wants immersive conservatory training will likely be applying to different schools than one who wants to minor in art history and prioritizes the other academic programs, so know what you're looking for right off the bat. Second, you should visit every school to which you've been accepted so you can get a feel for campus and classes. And third, have an honest conversation with your family about what you can and cannot afford.
"Let's face it: As a performing artist, you're going to have long periods of unemployment, and it doesn't make sense to take on a whole lot of debt," says Mary Anna Dennard, owner and founder of College Audition Coach. Also, check in with yourself about your strengths and weaknesses in your performing arts field, then use them to help you decide on a school. "The bravest thing to do would be to go to a school that's going to challenge you most in the areas you are the weakest," says Dennard.
Soon-to-be musical theater students working on choosing a program should consider the school's audition requirements, which acting techniques are taught, the liberal arts percentage of the curriculum, and how many student-run productions are available for participation. It's also a good idea to think about whether or not there's a showcase before graduation, how many recent graduates are working in the industry, and alumni networking opportunities. Location might be important to you when it comes to networking and performance opportunities; you should also do some digging to find out if the school teaches "the business" and helps with job placement in addition to fine-tuning your musical skill set.
We used some of these criteria and various interviews with experts to determine our the following list of 10 musical theater college programs we think you should know about. But the most important thing to remember is that the best college is the one that fits and reflects what you want. On that note, in alphabetical order, here are our picks for musical theater schools to keep on your radar.
Penn State University
Syracuse University
BALDWIN-WALLACE UNIVERSITY

Skill-building: The program trains students in classical acting techniques like Stanislavski, Meisner, and Alexander, additionally focusing on diction and dialects, heightened verse, acting for the camera, and contemporary scene study. In dance, students learn classical ballet, jazz, tap, modern, and hip-hop. And in voice, they study classical, Golden Age musical theater styles, pop/rock, and audition technique. Students can also create one-on-one specialized courses with professors.
Performance opportunities: Baldwin-Wallace produces three musicals per year, and students of any class can audition for musicals, plays, and operas on campus. The school also partners in training with Great Lakes Theater, and since all seniors appear or understudy in their fall musical, every student graduates with either their AEA card or EMC membership.
Post-college prep: Each audition and rehearsal is run with AEA rules to prepare students for the industry standard. The school also offers a master class series that allows students to be seen by 10 different professionals (agents, managers, or casting directors) offering critiques and advice beginning their sophomore year. To cap off their undergraduate experience, each student's senior year culminates in two days of showcases at New World Stages.
Notable alumni: Jill Paice, Kate Rockwell, Caitlin Houlahan
BOSTON CONSERVATORY AT BERKLEE
Skill-building: Faculty at Boston Conservatory are Broadway veterans and/or theater professionals, and they—along with guest artists—train students in acting, dance, and voice. The first two years consist of foundational courses, including musical theater repertoire and ear training. A student's junior and senior years are dedicated to refining those skills, developing leadership skills, and honing audition techniques.
Performance opportunities: Every year, Boston Conservatory puts on five main stage productions, six faculty-directed studio productions, 12 studio productions for MFA graduates, 12–14 studio shows directed by seniors, a freshman revue, a fully staged and costumed drag show, two experimental performance lab productions, a summer touring production, cabaret outreach shows, and dozens of musical theater repertoire and voice studio recitals. There's also a mini-season of plays by Earthstone, a student-created resident theater company, as well as many opportunities to work with local Boston repertory and mid-sized theater companies.
Post-college prep: The school underlines the importance of building a professional network from day one and also puts on a "webcase"—an online version of the traditional in-person showcase—to maximize its students' industry exposure to casting agents and other professionals.
Notable alumni: Shoba Narayan, Victoria Livengood, Nick Adams
CARNEGIE MELLON UNIVERSITY
Skill-building: Carnegie Mellon's conservatory-style program trains musical theater students in acting, voice and speech, and movement, as well as advanced singing, various dance techniques, and musical theater styles and skills. The school also offers a senior study abroad experience at international conservatory programs like the Moscow Art Theater or Sydney's NIDA.
Performance opportunities: Students have the opportunity to perform for the public during their junior and senior years, and Carnegie Mellon also partners with the American Society of Composers and Publishers and Pittsburgh Civic Light Opera to give students the chance to work with industry professionals to create and present a new musical work.
Post-college prep: In the showcase program, graduating seniors have the opportunity to perform monologues and songs for casting directors, agents and managers, and the showcases are held in New York, Los Angeles, and Pittsburgh. "Most of our students leave Showcase with representation, and sometimes are even immediately cast," says Erin Keane Scott, director of marketing and communications at the school of drama.
Notable alumni: Renée Elise Goldsberry, Josh Groban, Leslie Odom, Jr.
COLLEGE-CONSERVATORY OF MUSIC (CCM) AT UNIVERSITY OF CINCINNATI
Skill-building: CCM's musical theater program is the oldest in the country. The school focuses on training "triple threats," as they are "preparing students for an inordinately difficult and heart-breaking profession," says Aubrey Berg, professor and musical theater department chair. Vocal training incorporates both private technique classes and musical theater vocal coaching. Graduating students are well-versed in the methods of Michael Chekov and Sanford Meisner, and dance training includes the genres of ballet, jazz, tap, modern, and Pilates.
Performance opportunities: The school offers four musicals per season, one workshop production with Broadway producer Kevin McCollum and concerts with the Cincinnati Pops Orchestra. Seasons include works from the "Golden Age," as well as contemporary productions and rock musicals, and students from any year may be cast.
Post-college prep: CCM's freshman showcase is a chance for incoming first-years to debut their talents, and the senior showcase allows graduating students to perform for agents and casting directors in New York. There are also regular master classes taught by Broadway professionals, and cast members of national touring companies visit campus to speak about their experiences in the business.
Notable alumni: Faith Prince, Kirsten Wyatt, Kevin McCollum
ELON UNIVERSITY
Skill-building: Students are required to complete courses in every discipline, like contemporary vocal techniques, music theory, musical theater literature, scene study, acting for the camera, ballet, jazz, modern, tap, commedia, and Fosse. They can choose how far they progress in different disciplines based on interest, and master classes are taught on campus by guest artists. Another perk? Students receive private voice lessons all four years of the program.
Performance opportunities: Each season is comprised of two mainstage musical theater productions and one black box production, plus two annual musical revues and three plays. Beyond the official university season, students have the opportunity to audition for visiting performer workshops, musical revues, dance performances, student-run productions, and an annual senior thesis production.
Post-college prep: Senior students take a two-semester senior seminar class focusing on the "business of show" followed by a three- to six-week series where students are seen on campus by agents and casting directors.
Notable alumni: Daniel J. Watts, Grant Gustin, Kiira Schmidt
ITHACA COLLEGE
Skill-building: Musical theater students at Ithaca College dive right into over 20 hours of training per week in dance, acting, and music, including private voice lessons and classes in scene study, voice and movement for the stage, audition techniques, jazz, ballet, and modern dance. Regular faculty evaluations point out strengths and areas to work on, and the college prides itself on training the "whole performer." Students also have the opportunity to study British drama for a semester at Ithaca College's London Center.
Performance opportunities: The school produces a six-show mainstage season, consisting of two musicals, two plays, an opera and a dance concert. There are also four to six studio shows per year, as well as audition opportunities for student-run productions and Ithaca-based professional theater venues.
Post-college prep: Workshops and master classes in areas like audition techniques are offered to seniors to help them transition into the industry, as well as the opportunity to join a one-week field studies trip to New York City to network with working alumni. There, students experience master classes and audition workshops, culminating in a senior showcase that takes place the following week.
Notable alumni: Jeremy Jordan, Aaron Tveit, Q. Smith
UNIVERSITY OF MICHIGAN
Skill-building: Students are expected to be "competitive at the highest level of profession" in two out of the three musical theater disciplines (dancing, singing, and acting), says Vincent Cardinal, department head of dramatic arts. They're also trained extensively in both music theory and musical theater history, and each student also receives one-on-one voice lessons with professors.
Performance opportunities: The university offers four main stage productions per year, plus performances with student-run theater organizations like the Rude Mechanicals, MOSAIC, Basement Arts, and MUSKET. There are also opportunities with community organizations like Encore Musical Theater and Ann Arbor in Concert, and various summer stock companies hold on-campus auditions for students from January to March for their summer shows.
Post-college prep: The curriculum is taught by working professionals and guest artists, and casting directors, agents, directors, and professional alumni offer guidance to students preparing for the annual senior showcase.
Notable alumni: Gavin Creel, Benj Pasek, Justin Paul, Darren Criss
PACE UNIVERSITY
Skill-building: Master classes, faculty members currently working in the industry, and an artist-in-residence (former years included the likes of Jeanine Tesori) are all part of musical theater training at Pace University. Students are enrolled in courses like acting for musical theater, acting for television and film, scene study, musical theater history and repertoire, script and score analysis, individual voice lessons, fundamentals of music, ballet, jazz, tap, and theater dance.
Performance opportunities: The school produces four mainstage musicals per year, including Pace New Musicals, a selection of new works performed over winter break. Freshmen perform in a showcase called Hatched, and seniors show off their skills in a showcase before graduating. Pace's New York City location is also vital to students' experience, as the college will do its best to accommodate them if they land a Broadway show or television/commercial gig.
Post-college prep: The senior showcase is well-publicized by the college, and students also take a "business of acting" class taught by a top New York City casting director.
Notable alumni: Bradley Cooper, Paul Dano, Jordan Scott Gilbert
PENN STATE UNIVERSITY
Skill-building: Students are trained in acting, voice, and dance, including a course called musical theater styles (on Broadway dance and choreographers from 1930 to now). Penn State also invites guest artists to teach on campus through a master class series, and students take an annual trip to New York City.
Performance opportunities: The musical theater department produces three musicals a year, and there are also audition opportunities for plays, operas, cabarets, shows, and dance concerts. The school also hosts a new works initiative where a writing team visits each junior class to meet and discuss issues, then writes a new musical inspired by the young artists. The following fall, the team returns with a draft and develops the show with the senior class.
Post-college prep: Students are offered website, headshot, and résumé assistance, and the school's "Business of the Business" course equips students with information on casting directors, agents, and budgeting. Perks for seniors include the chance to perform their material in a three-camera video shoot for website and YouTube use, a New York City industry showcase, and a financial endowment (for second-semester seniors) to explore next-step opportunities.
Notable alumni: Nathan Lucrezio, Laurie Veldheer, Matthew Hydzik
SYRACUSE UNIVERSITY
Skill-building: The Syracuse musical theater program offers conservatory-style training with a curriculum in acting, singing and dancing, and it partners with professional theater company Syracuse Stage to offer students the opportunity to network with working performers. The school also offers musical theater majors the opportunity to join the Tepper Semester in New York City (named for its founder Arielle Tepper Madover, who is both an alumna and Tony Award-winning producer). There are also master classes with performers, agents, casting directors, and directors to offer insight on transitioning into the industry.
Performance opportunities: Drama students are offered a chance to audition for and perform in an annual Syracuse Stage season production as part of the ensemble or featured ensemble (occasionally leading roles). Another perk? Cast students can earn points toward Equity membership candidacy. The school also offers a five-production mainstage season (including two musicals), as well as a few smaller studio projects per year.
Post-college prep: The school provides audition technique classes and mock auditions with guest artists, as well as networking opportunities with working theater professionals via the Tepper Semester and Syracuse Stage.
Notable alumni: Jessie Mueller, Taye Diggs, Vanessa Williams
HONORABLE MENTION: TEXAS STATE UNIVERSITY
Skill-building: Texas State students are offered extensive one-on-one training, including weekly voice lessons, individual musical director coaching sessions, and private work sessions in all acting and musical theater performance classes. They are trained in on-camera acting, directing, speech/dialects, score/libretto analysis, musical theater history, ballet, jazz, and tap.
Performance opportunities: The school produces two musicals and 9–12 plays a year, and other performance opportunities include the Black and Latino Playwrights Conference, New Work Series and Undergraduate Directing Festival. Texas State also has strong relationships with summer stock theaters across the country.
Post-college prep: "Since 2012, out of 69 graduates, 61 are currently working professionally in the industry," says head of musical theater Kaitlin Hopkins. The school's "Business of the Business" lab series covers everything from how to do taxes on tour, types of contracts and how to negotiate them (Equity, non-union, film, television), mock agent meetings and how-tos for press interviews on shows. The annual senior showcase, produced by a casting director at Telsey Casting, takes place in New York City. The school also works with and supports students for at least the first two years after graduation.
Notable alumni: Thomas Carter, Jesse Heiman, Chelcie Ross
*This post was originally published on Oct. 9, 2017. It has since been updated.
Check out Backstage's musicals audition listings!