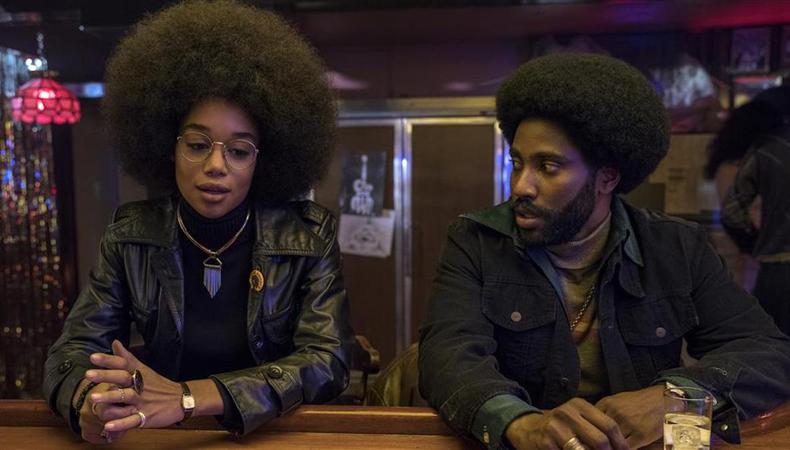 Key Hairstylist Job Description: What Does a Key Hairstylist Do?
The key hairstylist is in charge of creating and styling every character's hair on set. During pre-production, they analyze the script to create and test designs, cuts, and color. Once principal photography begins, the key hairstylist supervisors a team of hairstylists, delegates design responsibilities, and styles the hair of a few principal actors. They may also be responsible for any wigs needed. (On a larger set, this duty typically falls to the hairdresser assigned to the actor wearing the wig.)
"We provide the look for the film, as far as the hair goes," says LaWanda Pierre, key hairstylist on "Uncut Gems" and "BlacKkKlansman." This involves design and execution, including hiring a team to cover every single actor on set, extras included: "Everyone has to look like they're not in a Halloween costume but like real people, and we can't have one person's appearance mess it up."
On set, the key hairstylist is present during shooting to maintain the actors' hair between takes, and also keeps photos of all hair and wigs for continuity in the event reshoots are necessary.
Department
Hair + Makeup
Alternate Titles for Key Hairstylist
Chief hairdresser, hair department head
Crew Hierarchy
The key hairstylist artist is the head of the hair team within the Hair + Makeup department. (Technically, hair and makeup are two different departments, but are often referred to as one.) They hire and lead a team of hairstylists and hair assistants, and primarily collaborate with the key makeup artist while reporting to the production designer (and sometimes the art director and director).
Key Hairstylist Salary
Movie hairstylists earn an average salary of $67,000.
That said, hairstylists are represented by IATSE Local 706, also known as the Makeup Artists and Hairstylists Guild, which means if you're a union member, there are mandatory minimums for payment. On a network show, the hourly minimum is around $50/hour. Since days can be long, it's not uncommon for an experienced key hairstylist to earn around $600 per day. (Information on joining Local 706 can be found here.)
How to Become a Key Hairstylist
Most key hairstylists start their careers working in salons before transitioning to production or theatrical work. From there, they often begin as hair assistants or PAs who work within hair and makeup before becoming hairstylists.
In some instances, key hairstylists are brought onto productions by actors who are their private clients. Pierre, for example, got work on her first film—Spike Lee's "Red Hook Summer"—because one of her salon clients was a cast member. "Spike had a hairstylist who wasn't available every day of the 18 days to shoot. So I came to do my particular actor's hair and then ended up doing everyone because she wasn't available to finish the job," she says. "From then, he really liked me and he liked my work so he asked me to do "Sweet Blood of Jesus" right after that."
Key Hairstylist Required Experience + Skills
While no formal training or education is required for work as a key hairstylist, cosmetology school will provide a solid foundation for the job (especially since there is little opportunity to work with wigs and bald caps outside of a school setting). Whether or not you attend cosmetology school, student films and photoshoots are an excellent way to practice and gain the necessary experience for getting work on a larger production. A background as a salon hairstylist is also incredibly useful in honing skills and gaining experience, and can also serve as a steady stream of income between shoots.
Another crucial skill? Speed. "You can't have a stylist holding up [shooting] because it's taking them over an hour to do an actor's hair. That's unacceptable," says Kerry Mendenhall, an Emmy-winning key hair stylist ("Nashville," "Dead to Me"). Most actors "want to get through [hair] quickly and have it look fabulous. That combination of skill and speed takes years of practice."
For more on how to get work on a film crew, visit Backstage's crew hub!