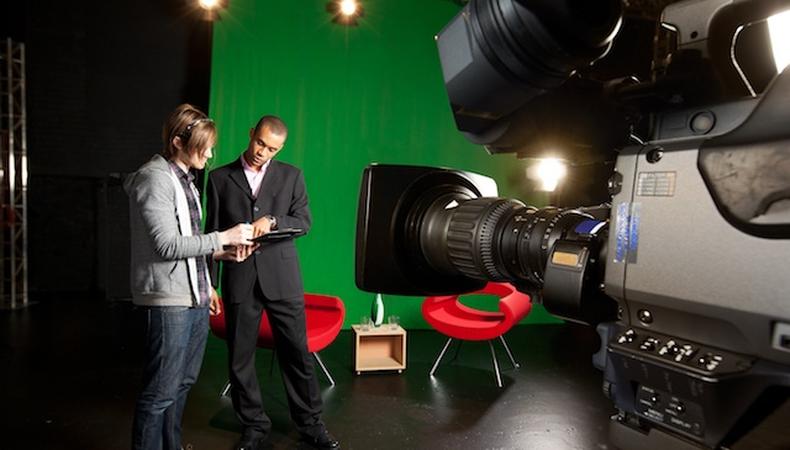 Are you an auditioning actor looking for a great survival job? Look no further! While it may not be "the dream," having a job to pay the bills and make the lifestyle of an early-career actor possible is practically a universal truth in the acting world. The very best option for a survival job is one that will allow you either flex your skills as an actor (historical tour guide), one that has a flexible schedule (Uber or Lyft driver)—or one that is within the theater, film, or TV industry.
That's where this entry-level crew position comes into play. Being a production assistant for a film or TV shoot gives you direct access to actors and creators working in the industry and provides you with invaluable insight on what goes on behind the camera.
Landing a production assistant job, however, isn't as easy as 1, 2, 3. These positions are in high demand by everyone from fresh college grads to retirees who are interested in filmmaking. Want your in? A PA workshop or boot camp is a great way to whip you into shape and put you ahead of the pack of other film rookies. Backstage spoke with three production assistant training programs from major film and TV markets—one in New York City, one in Los Angeles, and one in Atlanta—about how to get registered for training and, eventually, employed!
PA Boot Camp (L.A.)
If you're an actor based in L.A. and looking for another route onto the film set, then PA Boot Camp, founded by Leigh Paonessa and Chuck Canzoneri, is your best bet.
"We are a work training program—emphasis on work," says veteran TV producer and PA Boot Camp's executive director Jody Brockway. "We're not a training program that says, 'Here's how the industry works and here's how the set works and now you can think about whether or not you want to do it.' Our goal and our absolute intention is to train people to go to work immediately. When we finish with our two days, we want to be able to recommend you and feel that you'll show up and know what you're doing."
Sessions are held on a monthly basis in Los Angeles between a Saturday and a Sunday, 9 a.m.–5 p.m. The next session, in fact, is coming up Sept. 17–18, and they will be making a weekend stop in Atlanta in October on the 15–16. Cost is $230 in L.A. ($150 for students) and $200 in Atlanta. A $50 deposit is required to reserve a space.
READ: 14 Survival Jobs for NYC Actors
The first day of the boot camp begins with a simulated production meeting "so [participants] can understand and get familiar with what each department is responsible for." That's followed by a rundown of paperwork that every PA should be familiar with: call sheets, shooting schedule, and more. Then the day rounds out with group games and competitions in film set terminology, and spend the rest of the time simulating a real first day on set. The second day is highlighted by a radio drill to familiarize participants with walkie-talkies, mics, and other pieces of PA equipment.
"We imagine this is their first day on set, and the AD is asking them for this, this, and this," Brockway explains. "[We try] to prevent them from asking stupid questions that show that they're green."
"Made in NY" PA Training Program (NYC)
New York City's "Made in NY" PA Training Program, on the other hand, is a little different. The free training and work placement program was founded 10 years ago in conjunction with Brooklyn Workforce Innovations and the Mayor's Office of Media and Entertainment to provide low income and unemployed residents of the five boroughs entry-level work into the city's film and TV market.
"The program itself offers four weeks of job training in-classroom," says Venus Anderson, the program's administrator. Those first four weeks run Monday–Friday 7 a.m.–6 p.m. "We teach them set etiquette, how to work as a freelancer in New York City, how to save money, [and] the general duties of a production assistant."
After those four weeks, students are placed in an internship for one week to put their studies to the test. And after five weeks, "Made in NY" offers up to two years' job placement assistance.
Diversity is a major component of the program; its graduates are 51 percent women. Open Houses are held every Monday at 1 p.m. at the Brooklyn Navy Yard in Building 92 for interested applicants. Due to the nature of the program, there are limited spots available for each five-week curriculum; 80 students are accepted each year from a pool of about 1,000 applicants.
Open Rivers Pictures Film Academy Workshops (Atlanta)
Thanks to its film academy workshops and production assistant workshops, Open Rivers Pictures has cranked out industry-ready professionals that have gone on to work with Atlanta area features like "Guardians of the Galaxy," "Sully," and "Billy Lynn's Long Halftime Walk."
"We have a lot of different classes that we do, but they're all mostly on that entry-level to get you started, learn the process, learn how you do it. All of our instructors are industry people who are working in the business right now," explains Open Rivers Pictures' founder Tammy Williams.
The Georgia-based film and TV production company first started its professional workshops to internally train and hire crew members for their own productions. But when Georgia film and TV began booming, they opened classes up to the public in 2014, "and they've been going steady ever since," Williams says. The last two years have seen participants coming in from all over the American South, from the D.C. area, and even Chicago.
Like the workshops and boot camps detailed above, Open Rivers Pictures teaches passionate students all the necessary basics for success at the entry level. Job placement efforts are also made (but not guaranteed). The program's members-only Facebook page also keeps an updated list of hiring productions and contact information. They also offer an office production assistant workshop for those who are not interested in working on a film set.
"We try and create a very friendly environment here," Williams says. "We don't do the boot camp style."
The next two-day, monthly workshop is meeting Sept. 24–25, and early registration rates are available until Sept. 16. The session costs $135 for early registration and $150 thereafter.
Ready to land your next film role? Check out our film audition listings!