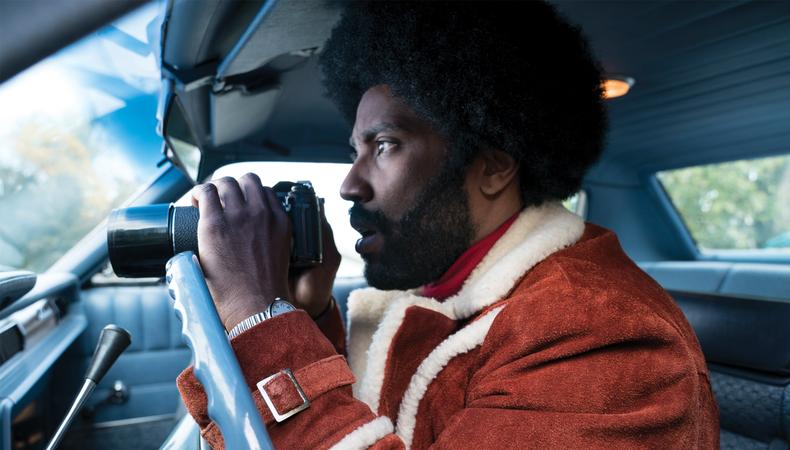 LaWanda Pierre is now Spike Lee's go-to gal when it comes to heading up the hair department on his film and television joints, including this year's rapturously received, '70s-set "BlacKkKlansman." Pierre spoke with Backstage about the Cinderella moment that landed her on the set of one of Lee's films—her first entertainment gig ever—and how she collaborates with actors to ensure they are heard.
What does the head of the hair department on a film do?
We provide the look for the film, as far as the hair goes. After getting the script and learning what the story is about, [especially if] it's a true story, there's a level of authenticity that has to be met. So on one end, it has to be true to the time, and there's also a design aspect, and then there's the aspect of executing the looks, along with my team. There's hiring my team to work with, and then there's hiring a team for background, because no one can go unseen in the period pieces. Everyone has to look like they're not in a Halloween costume but like real people, and we can't have one person's appearance mess it up.
How did you come to be involved with 'BlacKkKlansman'?
I had worked with Spike on a few projects before, and he called me a few weeks before I even knew about the project, asking if I could make some afro wigs for a male lead. And when I would ask him, "What is this for?" he would say, "Not yet," and hang up. Finally, I had to meet with these actors, [so I learned] what the project was, and that it was a true story. I was going to work on it anyway because I love working with Spike, but once I found out what the story was, I was very excited to be involved and start researching.
How was it that you came to be involved with hair for on-camera projects?
I'm a hairstylist. I was working in a hair salon. I've been doing hair for about 10 years now, but I've only been in the film and television industry for about 6 years. I met Spike on "Red Hook Summer," a film he did a few years ago. It was a small film shot in 18 days, and I had a client who would come to me and get her hair done. She happened to be an actress, and she was in this film. What happened was, Spike had a hair stylist who wasn't available every day of the 18 days to shoot. So I came to do my particular actor's hair and then ended up doing everyone because she wasn't available to finish the job. From then, he really liked me and he liked my work so he asked me to do "Sweet Blood of Jesus" right after that. He called me personally and asked me to do it, and of course I was honored and floored.
READ: How to Become a Makeup Artist
What is your relationship like with actors?
I'm respectful to everyone, I treat everyone the same. I treat everyone as if they're special and important because everyone is special and important—and I'm talking about the actors down to the people at craft services. I have a very pleasant personality, so it's always a nice and fun atmosphere in the trailer. It's so helpful to everyone involved, including the actors, because they can just focus on doing their job and not focus on attitudes or even on how they look.
Do you like when actors have input on their hair looks?
Once we do our research, we include the actors in the input because they have to be comfortable with the look so that they can be comfortable onscreen and do their jobs. They shouldn't have to think about whether or not they look the part; they have to be comfortable. If you treat people with respect, usually you get respect. Sometimes there are disagreements, but you have to keep it authentic. There's no arguing with what the director wants. Usually, the actors having an issue will come to agree once you explain the research.
Do you have any advice for someone who wants to do hair for television or film?
Just be good at what you do. Always continue to learn and educate yourself on trends, whether that is wig-making or grooming, and always educate yourself on how to do new things. First and foremost is the skill, and then you try to make your way into the union. I get this question a lot, because the way I fell into it was a little different, and I've been blessed along the way to work with Spike because working in his world is like working with family. But if you have to find your own way, I would say do a lot of independent films first in order to get your days and do student films and learn. Get your days up so that you can join the union and then you can do more union work.