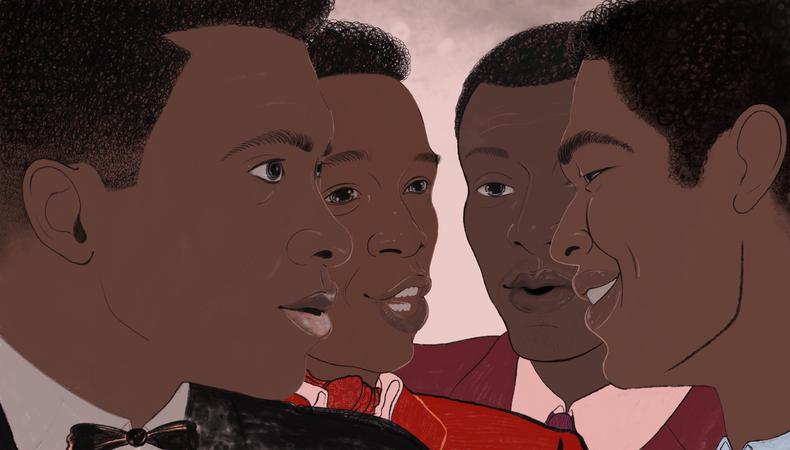 After directing episodes of "Insecure," "Scandal," "This Is Us," and more, it's little surprise that Regina King would channel her Oscar-winning acting chops into a feature film directorial debut. "One Night in Miami" is a fictionalized account of the night in 1964 when Cassius Clay, before he became Muhammad Ali, celebrated a title win with Malcolm X, Jim Brown, and Sam Cooke. The production tapped casting director Kimberly Hardin, whom King met at the beginning of her career, to find actors to play these young icons. To assemble the cast, which includes Kingsley Ben-Adir, Aldis Hodge, Leslie Odom Jr., and Eli Goree, Hardin searched for months and held several rounds of auditions to ensure the chemistry was strong enough to sustain the story's premise. And it worked—the film was selected for premieres at the Venice International Film Festival and the Toronto International Film Festival this month. Speaking with Backstage, Hardin shares the challenges of populating a biopic.
What was the casting process for "One Night in Miami"?
Like with most biopics, it's more challenging, because you're looking for good actors but also someone to bring to life the real person they're portraying. You're trying to encompass a lot of elements within the character. It took a while. I literally looked all over the world. I really wanted to try to find the perfect combination of these gentlemen.
"Sometimes it takes a minute for somebody to be discovered, but you've got to love the business enough to hang in there for that ride."
What were auditions like?
Every actor auditioned and read several times individually and in a chemistry read. This story takes place mostly within one set, just those four gentlemen, so they're extremely important. Each gentleman had a very strong voice and placement in the world. It was helping each actor feel comfortable in that time period, what was happening at the moment, and helping them perfect the way each character talked. Jim spoke a whole other way; Cassius had a certain physicality because he's a boxer. It's not just about good actors. Are you physically alike? Can you do the dialect? Do you have the same mannerisms? It's a list of things I had to go down to get the right contenders.
What made casting this film different for you?
Matching the real people. When you're watching a biopic, you're going to be expecting to see those real people come to life. Again, it started with the look, but I love the camaraderie, too. All of the characters worked and helped and supported each other, which is what they wanted to do in real life. I think, on every single level, they really tried to mimic the aspect of what was happening in that time period on that night. The chunk of the story is the four men and how they bounce off of each other's energy, staying in character and learning what each actor had to do to help support the other ones to stay in those moments. I know all those things were important to Regina with the cast that we put together. We needed the actors to be supportive of each other.
What makes actors memorable in an audition?
Most casting directors will say it's about being prepared. Know your character, know your scene, [do] your homework, because it tells us that you're taking this seriously. You're not wasting our time and yours. Only a really serious actor can come in and play. They're going to be professional and will have at least reviewed the material enough [that] they'll know where to pop, what lines work. Someone who's not as trained and just winging it, they're trying to figure it out in a room with you, and that definitely won't work.
What was it like working with such an accomplished actor directing her first feature film?
There's definitely a difference between directors who are actors and directors who aren't. I think it's in the way they explain the essence of what it is I'm looking for in an actor. Both can work, but there is something to be said about how an actor feels emotionally giving notes and directions to a fellow actor. A director may be able to explain what they're looking for, too, but it may not be the same way.
"Maybe you're not getting a bunch of auditions, but you can do something that fulfills you, uses the muscle. You've got to be willing to just do the work to be an actor."
Where do you look for talent outside of agent submissions?
When I started out in casting, when we had to do a search, I would travel city to city and conduct these huge open calls. I may have to see 800–1,000 people that day and then comb through that and then keep combing through the callbacks. Now, we don't have to do that. We have social media and the entertainment business has grown so much. That's what social media has done. They have made the regular person feel as though they could be an influencer or a star. A lot of those people from social media have gotten a movie or TV series and all their stuff. There's no lack of talent. We also look through all of the educational institutions, the acting schools and universities that have showcases. Me and my crew literally go under every rock when I'm doing the search. I look at as many places as possible. It's really a part of the enjoyment of the job, that hunt, to look for that uniqueness. That's the exciting part.
What advice do you have for actors?
I think sometimes what makes or breaks a lot of talent is if they're going to survive the game. Sometimes it takes a minute for somebody to be discovered, but you've got to love the business enough to hang in there for that ride. It may get to that point, and you've got to enjoy the aspects of the artistry through that process if it's what you really love and you're really passionate about. Maybe you're not getting a bunch of auditions, but you can do something that fulfills you, uses the muscle. You've got to be willing to just do the work to be an actor. You'll be comfortable when the opportunity comes, you're not getting cold feet and feeling nervous. You're naturally going to be nervous, but you'll be a little bit more prepared and comfortable in the process. I always tell them, "I understand that you're coming in for the purpose of trying to win this job, but if this is our first time meeting, it's about winning the room—making an impression so that I can remember you, even if you don't get this."
This story originally appeared in the Sept. 3 issue of Backstage Magazine. Subscribe here.
Looking for remote work? Backstage has got you covered! Click here for auditions you can do from home!