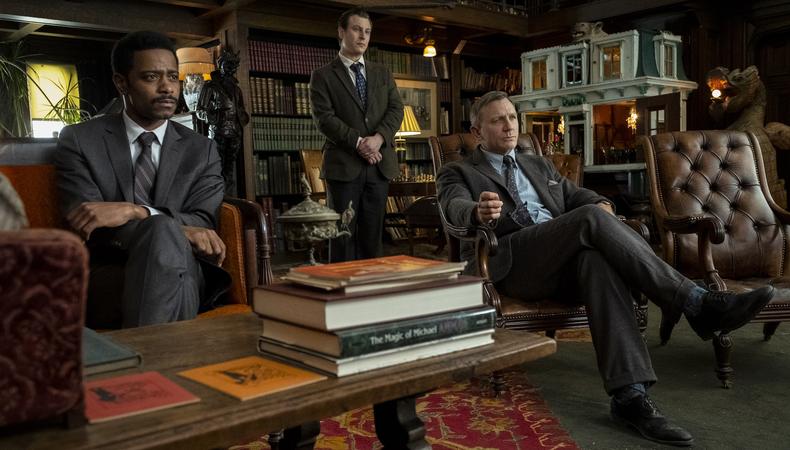 With this Year in Review, we at Backstage have picked through the weeds and found 2019's true gems of the best big- and small-screen ensemble work. And don't worry: We've got you covered with everything else you need to know this awards season right here.
Distributed by: Lionsgate
Directed by: Rian Johnson
Written by: Rian Johnson
Casting by: Mary Vernieu
Cast: Ana de Armas, K Callan, Toni Collette, Daniel Craig, Jamie Lee Curtis, Chris Evans, Don Johnson, Katherine Langford, Riki Lindhome, Jaeden Martell, Frank Oz, Edi Patterson, Christopher Plummer, Noah Segan, Michael Shannon, LaKeith Stanfield, M. Emmet Walsh
What happens when a superhero, an international spy, a Netflix teen star, and multiple members of Hollywood royalty walk onto a movie set? According to filmmaker Rian Johnson: "Knives Out." It's impossible to look anywhere on the screen during the murder mystery-drama-comedy without seeing stars. And yet, because of Johnson's brilliant writing and direction, no frame of the film feels crowded.
READ: Daniel Craig + Chris Evans Among Star-Studded Suspects in 'Knives Out'
Johnson and casting director Mary Vernieu collected a heavy-hitting cast to tell the tale of the investigation into the apparent suicide of Thrombey family patriarch Harlan (Christopher Plummer). Someone close to the events anonymously hires a private detective, Benoit Blanc (Daniel Craig), to look into what really happened, and Harlan's nurse, Marta Cabrera (Ana de Armas), is dragged into the center of the narrative. Blanc wants to use Cabrera as his assistant because she's physically incapable of lying (she'll vomit on the spot), she was often in proximity to the deceased, and she was a confidante and witness to the family's many feuds.
Someone in the family has to be at fault—after all, before his death, the wealthy Harlan had planned to financially cut off his children, Linda (Jamie Lee Curtis) and Walt (Michael Shannon), along with his daughter-in-law, Joni (Toni Collette). He informed each one just before his birthday celebration on the night he appeared to die by suicide.
Cinematically quirky filmmaking, dysfunctional family dialogue, and world-establishing production design make "Knives Out" pure enjoyment. Johnson has given actors well-known from bigger franchises (including Chris Evans as grandson Ransom Drysdale) new, lighter, but no less substantial material. It's an ensemble cast of colorful personalities, none of them quite like the others. Other supporters include the uptight Donna Thrombey (Riki Lindhome) and the cheating Richard Drysdale (Don Johnson), plus Meg Thrombey (Katherine Langford), who needs her grandfather's money to finish college, and white supremacist Jacob Thrombey (Jaeden Martell). It's a true whodunnit; up until the delicious moments where viewers learn the truth, anyone is a plausible culprit.
The first twist comes when the will is read: Harlan has left everything to Marta, who goes from innocent pawn to scheming gold digger in the family's eyes. Although Harlan had told them they were being cut off, they didn't know he had made it official. To watch the desperation and manipulation that follows is to revel in the characters revealing the worst of themselves, which is where the actors shine; Collette masks Joni's manic materialism under the guise of earth mother, while Evans' can't-be-bothered trust fund kid sees the humanity in Marta and lends a helping hand (or does he?).
The "Knives Out" cast list is so long, it's easy to overlook more minor but just as compelling performances, including Edi Patterson as Fran the housekeeper who discovers Harlan's body, blood spattering the walls of his attic room. And LaKeith Stanfield as police officer Lt. Elliot and Frank Oz as the family's lawyer, Alan Stevens, are both testaments to the actors' ability to develop characters with only a handful of scenes. In this "Arrested Development"-meets-"Sherlock Holmes" genre bender, it's those kinds of skillful performances that make a winding, knotted narrative possible and keep you guessing until the very last reveal.
This story originally appeared in the Nov. 13 issue of Backstage Magazine. Subscribe here.
Want more? Stay in the loop with everything you need to know this awards season right here!