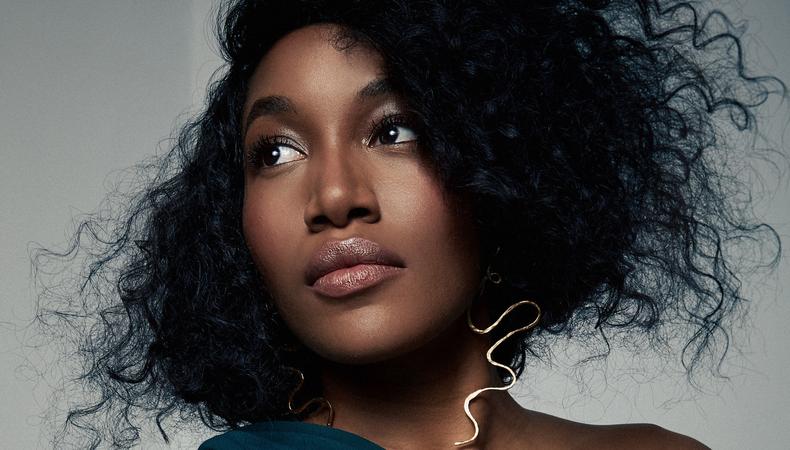 The below Career Dispatches essay was written by Lauren E. Banks, a student athlete-turned-Yale School of Drama graduate who can currently be seeing co-starring on Showtime's "City on a Hill."
The summer before my junior year at Hillside High School in Durham, North Carolina, my Dad sat me down at the dinner table and told me I had "too much on my plate." I was captain of our undefeated basketball team and the newly appointed president of the drama club, and he suggested that I needed to focus on one or the other. My heart sank into the pit of stomach and tears escaped my eyes at the thought of choosing between the two. I was given some time to think about it, but before the new school year began, I'd have to let my parents, my coach, and my director know my decision.
I chose the theater. Deep in my heart, it was clear that my passion for acting, writing, and directing had outgrown my love for basketball. I continued to compete in track and field for the duration of my high school experience, but by the time college came along, I said goodbye to organized sports all together.
At Howard University, I enjoyed everything about being a Bison and theater major, but I missed being an athlete. At the time, I believed that part of myself was gone. I went from the athlete who did theater, to the theater nerd who surprisingly played sports. What I didn't realize until recently, however, is that being an athlete made me a better actor; I had unconsciously taken all of my energy and habits from being on the court and threw them into my pursuit of working and performing on the stage.
The NCAA used to run a TV ad about student athletes and how most of them "go pro" in something other than athletics. It's a fact. Outside of knowing that excelling as a professional athlete requires a high level of acquired skill and divine talent, there's a lot to be said about having participated in a ritual full of rigor, teamwork, critique, and discipline that translates well for being successful in other professions.
Since graduating from the Yale School of Drama, I've worked on an independent film and have had a couple guest-star roles that were integral to building my confidence on professional sets, but being a series regular on "City on a Hill" was an absolute first. It was the first pilot I'd ever shot and the first time I'd completed a season of anything that wasn't a sport. The learning curve was steep, but I realize there have been strong correlations all along between my success in acting and my background as an athlete. Here are three principles I live by:
READ: How to Find Your Type as an Actor
The Body is the Source.
How I treat my body directly impacts my acting—not to mention the longevity of my life and career. If I have a stiff instrument, I will more often than not make limited and contrived choices; a flexible instrument, on the other hand, will give way for fluidity and spontaneity. If I'm not breathing, inspiration doesn't exist. If I lack sleep, hydration or nourishment, I'm challenged by critical thinking and my body does not perform at the height of its potential for a scene, much less a 12-hour day.
From day one of "City on a Hill," I drank a gallon of water per day, stretched for an hour every other day, utilized yoga as a part of my daily vocal warm-up in my dressing room, and was mindful to eat a balance of fruits, carbs, proteins, and alkaline vegetables. This regimen is not dissimilar to how I once prepared my body to run four events in one track meet, or to play a full four quarters of basketball. Whether we are employed or seeking out the next gig, we are always actors, and so maintaining a healthy instrument cannot be conditional, it must be a way of life.
Process the Process.
In sports, one's natural ability will only take them so far. After a certain point, they must hone a consistent regimented process to achieve success on a high level. The same is true of acting. I've spent the last six years, between the end of undergrad and the duration of my graduate training, consciously cultivating and strengthening my process for acting, making adjustments as I go.
After season one of "City on a Hill," I believe that shooting a TV series is like running a marathon-sprint! I had to adjust my process to endure a long run (our show filmed for five months total) where the performance would be captured in fast-paced intervals (sometimes only two takes).
Kevin Bacon pointed out to me during one of our first days of filming that, contrary to popular belief, we don't spend the majority of our day acting; we're only actually acting in the small moments framed by the words "action" and "cut." We actually spend the majority of our time in process. It also means a high level of accuracy and precision must happen in that limited time frame.
Our shoot days for "City on a Hill" often began at 4:15 a.m. and consisted of many late nights. Without a process, a consistent pattern to support the preparation, endurance and agility required of the job, actors run the risk of inconsistency in our work. There is absolutely nothing pedestrian about our show's writing, or acting in general. The stakes are to be life and death for a reason.
Run My Race.
And lastly, the best lesson running track taught me was to always, always, run my race. My dad was first to tell me this when he trained me to run my first 5K at 10 years old; however, the lesson really hit home when I competed in AAU USA Track and Field.
In my first international meet running the 800-meter event, my mind was blown. I entered the race with personal bests, but for some reason I found myself terribly intimidated by the other runners. When the gun sounded, I ran at the speed of the fastest runner in the pack, which was much faster than my normal pace. She sprinted and so did I. I was ahead, until inevitably, I burned out. Not only did I not place and ran a horrible time, but I noticed that she burned out, too. As it turns out, she was a "rabbit," a ploy, where track coaches will insert a sprinter into a distance race to bait the competition's best runners and throw them off, and it worked. Had I run my own race I could have been a real contender, but instead, I abandoned my process completely, letting my team and myself down. It was a hard lesson, but an important one.
In this profession, it's become incredibly important that I run my race moving at my own pace and knowing when I need to pick it up or slow it down; I need to trust in my process on a micro and macro level, and never compare my success, failure, or the trajectory of my career to another's. It's been integral to my focus, but more importantly my happiness and generosity.
Today, it comes as no surprise that I feel the most joy within the work when it's facilitated like the team sport that it is. Storytelling on TV or in theater and film are collaborative pursuits, and when they're successful, it's because a team of dedicated individual professionals have galvanized around a common goal. It's inspiring and a constant reminder that our greatest victories are accomplished together.
What advice would you tell YOUR younger self? Get more Career Dispatches right here!