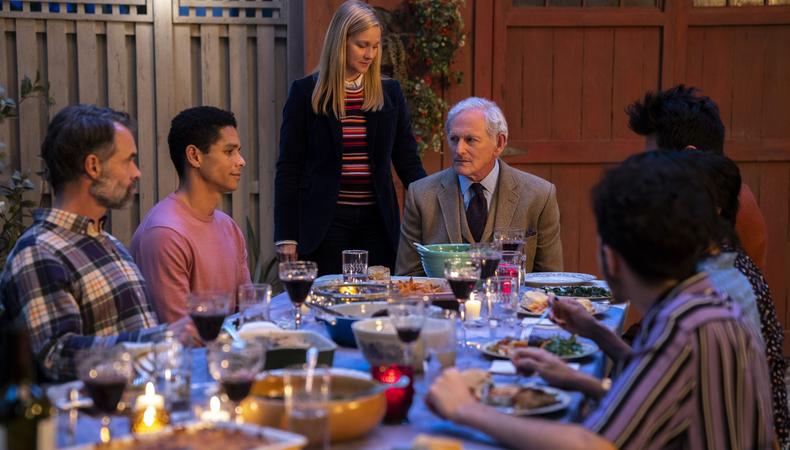 Tackling a beloved queer property like Armistead Maupin's "Tales of the City" is no easy feat. Set in San Francisco, California, Maupin's novels span decades, and their very first small-screen adaptation (a miniseries in 1993) was followed up with two sequels. They starred Laura Linney as the fresh-faced Mary Ann Singleton and Olympia Dukakis as her motherly landlady Anna Madrigal. The fictional Barbary Lane was also home to Michael "Mouse" Tolliver, a gay character at the center of the series' then-groundbreaking stories about the LGBTQ community. For Lauren Morelli (a former writer on "Orange is the New Black"), the new Netflix series is a chance to make Maupin's tales feel fresh to contemporary audiences.
"When you sit down to adapt 'Tales' in 2019 and you think about all the ways in which the queer community has expanded in terms of how we define ourselves, in terms of how we talk about our sexual identities and our gender identities, it felt like we really needed to push in that direction so that we continued to hopefully portray queer lives in a really authentic way," Morelli says.
READ: Laura Linney's Secret to Creating a Character
Key to that was anchoring this latest iteration of "Tales" (which brings back Linney, Dukakis, and Paul Gross as Brian Hawkins) with a new figure. Enter: Ellen Page's self-assured bisexual bartender Shawna, Mary Ann and Brian's adoptive daughter whom the former left behind when leaving San Francisco 20 years prior. "We worked really hard to have a lot of authentic casting on the show," Morelli says. "To have a young queer woman who in many ways has become such an incredible voice within the activism of this younger generation was very meaningful."
The new residents of Barbary Lane (and the actors portraying them) are a welcome and eclectic mix that mirrors contemporary San Francisco. There's Jake (played by non-binary actor Garcia), a young trans man in a relationship with Margot (May Hong); there's social media twinfluencers-in-the-making Raven and Ani (Christopher Larkin and Ashley Park). Even Dukakis' casting as a trans woman is here counterbalanced by Jen Richards, a trans actor and activist who plays Anna Madrigal in flashbacks.
Morelli says that the process of finding this talented group of young actors was more joyful than she could have imagined. Having found herself for the first time making casting decisions, she was heartened by seeing Linney, who also serves as a producer on the show, and others around her (including casting directors Adam Caldwell and Bernie Telsey) really make sure actors coming to read felt welcome. "How can you expect someone to do their best work when they're starting from a baseline of fear?" Morelli posits, citing how her actor friends have often described the audition process.
Instead, the room for "Tales" aimed to model the very openness they were hoping to find in their cast. "I think because we were standing up and greeting everyone and shaking their hands and introducing ourselves and fostering an environment in which people felt more comfortable to be themselves, we were able to get a sense of whether someone was able to open up pretty quickly." She points to Murray Bartlett, who joins the cast as Mouse, as someone whose sensibility made him a great fit for the show: "I think he exudes warmth and kindness when you meet him, and it's almost impossible for that warmth to not then translate through the character."
That extended beyond the cast, the writers room, and even the roster of directors hired for the show, too. Morelli notes the production's efforts to hire LGBTQ creatives behind the scenes to further foster the messaging and camaraderie being emphasized onscreen.
"As a creative team, we all wanted to make sure that the people making the show reflected the stories we were telling as much as possible, because that only makes the stories better. It serves the entire show when you know you have an electrician on set who identifies as gender nonbinary. That makes a difference."
Want to hear more from the best creators in film, TV, and theater? Get it right here!