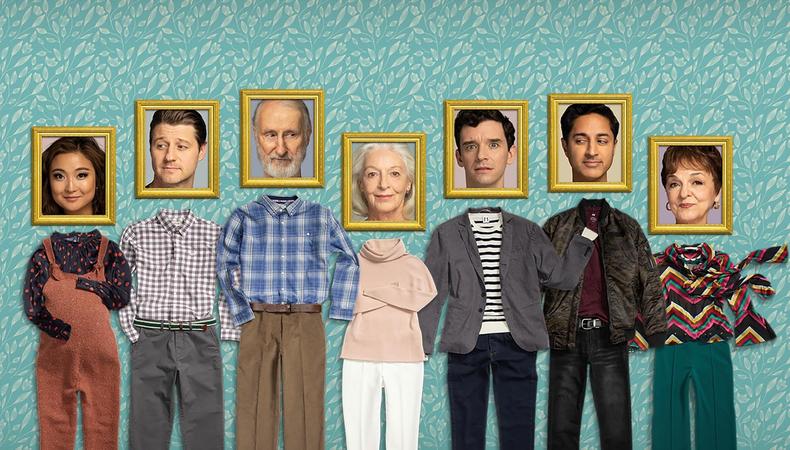 "Grand Horizons," Bess Wohl's new Broadway play, is rooted in naturalism—which means so is its lighting, thanks to lighting designer Jen Schriever. Schriever, who reunites with director Leigh Silverman for this run at the Helen Hayes Theater (opening Jan. 23), has more than two dozen Main Stem credits to her name. As such, she has strong feelings about what it actually means for actors to "find their light," and why collaboration on new works is just "so fucking fun."
Save 40% on "Grand Horizons" tickets!
How would you describe what a lighting designer for theater does?
A lighting designer's main job is to illuminate in so many ways, which means setting the mood, focusing the eye of the audience to look at the right place, at the right things. Often, the full stage picture is not necessarily what we're supposed to be looking at all the time. So we focus the audience's eye and create a composition, a visual composition, using the set and the actors as a guide to compose a beautiful image—or an ugly image, depending on what your intentions are. It's to transport us from moment to moment without the set changing at all. The lights sometimes do a lot of the heavy lifting, depending on a thousand factors, to take us from place to place onstage.
How much of making that happen is a collaboration with your director?
One hundred percent of it. It's getting better, but I would say half the time, the set already exists when the lighting designer is hired. It used to be a much higher percentage; now, lighting designers are invited into the room a little bit earlier, so we all get to talk about what the plan is before we create what we're creating. But between the set designers, the director, and the choreographer if it's a musical, we're deciding what is transporting us from moment to moment. Is it a scene change, and obviously then a light change? Or are the lights just going to magically take us to the next place? Is it instantaneous, or do we have to morph through some sort of transitional space? Plays these days are written so filmically that the job of the lights is often the ability to take off quickly, faster than a scenery can get onstage.
How does what you do with lighting affect the actors onstage?
In a play like "Grand Horizons," which is pretty naturalistic, they're in a very real room with very real circumstances—they're living in a real space, they're touching real objects, they're making real tea on a real stove. One of my favorite compliments from an actor is "I feel like it's real." Not that I'm lighting for them—it's obviously for the audience—but it is really nice when they can see all of what I'm doing and it helps them, tightens them, and makes them feel more real in the space they're in. We will spend endless hours in tech practicing turning light switches on and off, and they'll help me figure out the composition in the scene based on what is important to their character for storytelling. In a really naturalistic set, they will have tons of opinions, and I'm excited for them, because they've spent a lot of time with the script in the rehearsal room. And I love to hang and talk with the actors. As a lighting designer, I'm usually the last person to talk to them, so it's nice to be in communication with them in that way. That's why I'm into a new play with a naturalistic vibe: because we get to all collaborate in a way, because it's all very real and it's their world.
Speaking further to "Grand Horizons," what has been unique about lighting this play?
This play has a traditional structure, which is, I feel like, becoming atypical. It has a scene, and it shifts, and it's been really fun to embrace a linear path of storytelling. It's been really nice to lean into the naturalism and the beauty of a sunlit room. It's a pretty real space for most of the play, which is something that doesn't always happen. What I find connects us all in the room working is, of course the actors have opinions on what lights are on, what the space we're creating together is. It becomes a bigger collaboration for lighting, because we're working with the humans that are acting onstage in a way that feels really fun. It's not like I'm saying, "Stand here, you have to hit this." It's a more open collaboration amongst all of us; creating a new play, being in the room and being curious about choices in a way that you don't get the luxury of when it's some dusty playwright. We know this is going to be the first version that's documented in the books. This is the one that's going to be written down in the script that's going to be published. The main difference is, really, it's a bigger and more living collaboration, which is so fucking fun to create together.
READ: How to Act With—NOT AGAINST—Your Lighting Design
We hear the phrase "find your light" a lot; is that a skill actors should actually be honing?
Oh, God, I'm so torn about that. This is just maybe my neurosis, but I don't ever want to take an actor out of their head to think about where the light is, although I appreciate actors who are naturally interested in that. I keep my mouth shut as long as possible to try to figure out other ways or clues to get an actor in their light, if they have trouble finding it for a specific moment. It depends how important it is. I've done plays where an actor has a teeny tiny pinpoint of light on their face, and they must find their spot. In a play like this, it's more about setting up the world, creating the room, and maybe there are pockets of shadows that are the sunlight—that's OK in a play like this. We'll make sure they're lit, and I'd rather they not worry about it. They have so much to worry about up there; I'd rather they don't have to worry about anything from me.
Have you ever seen a play or musical that you did not work on but the lighting was such that it made you wish you had been the one to design it?
I think that all the time. I saw Will Arbery's "Heroes of the Fourth Turning," and Isabella Byrd's lighting made me angry. Like, it was so good! For the director and playwright to have the lights so dark, which, as a lighting designer, I can tell you for a fact is a rarity—most directors, playwrights, general managers, and artistic directors don't want their shows that dark—I was thrilled by it. I was just seething with pride and jealousy. I texted Isabella right after and was like, "You!"
Do you have any advice for someone who wants to be a lighting designer?
My advice is a little annoying: If you want to be a lighting designer, you have to be a designer. You have to find ways to do it. That might mean accepting gigs that are very low-paying or non-paying to get started. It might mean you're working with clip lights and Home Depot dimmers. You must be practicing design. I think being in the room as an assistant is helpful and you learn so much, and being an electrician is good for a paycheck, but I think unless you're actually finding yourself in the position of designer—you must make that happen. You have to start yourself in the room as a designer and figure out how to keep making that happen while you survive another way.
This story originally appeared in the Jan. 16 issue of Backstage Magazine. Subscribe here.
Disclosure: This post is brought to you by the Backstage team. If you purchase tickets through these links, we get a small share of the revenue from the sale from our commerce partner but that does not influence our decision to highlight a production.