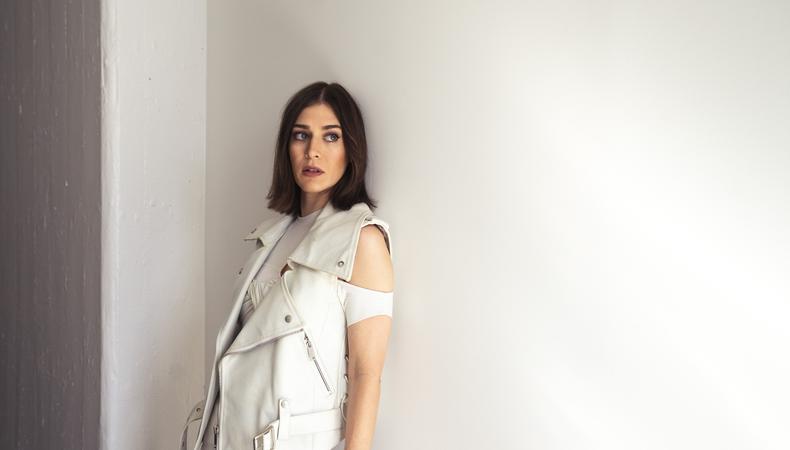 The following Backstage Live was compiled by Backstage readers just like you! Follow us on Twitter (@Backstage) and Instagram (@backstagecast) to stay in the loop on upcoming interviews and to submit questions live on camera.
Lizzy Caplan has always impressed with her roles in film and on television—but her most impressive yet may be "Castle Rock" Season 2, in which she carries the torch from Kathy Bates' Oscar-winning turn as Annie Wilkes. The horrific Hulu series from creators Sam Shaw and Dustin Thomason combines characters and settings from Stephen King's novels to tell a thrilling story all its own. Caplan recently sat with Backstage to discuss how she got into the role and advice she has for all aspiring actors.
READ: Bill Skarsgård Knows How to See, Hear + Speak Evil
Caplan brought her own ideas to Annie Wilkes while still honoring Kathy Bates.
"The film 'Misery' really is what people think when they think of Annie Wilkes, even more so than the book. And what [Bates] did and how she portrayed Annie Wilkes, it just fit perfectly with Stephen King's writing. Like, her folksy way of speaking, it just matched up perfectly with what Kathy Bates did. I was listening to the book on audiotape recently, and even that actress was kind of falling into what Kathy Bates did, like her cadences. So I don't know if in my mind they are one and the same and I can't separate the two, but I knew I didn't want to throw away everything I had seen just to create something from scratch. I wanted our Annie to believably be able to become that Annie in the future. It's like a steppingstone."
She relished the opportunity to give a vanity-free performance.
"Annie Wilkes doesn't bleed with sensuality or her feminine wiles; she is very physically understated; she's not a glamorous woman. So it's a vanity-free performance, which is always amazing. To not have to wear uncomfortable clothes or high heels, like I'm wearing right now. Basically, I got to wear pajamas and nurses' scrubs and then act absolutely batshit crazy. It's really kind of liberating to get to be big in a performance. What I love about the character is that she isn't just this straight-up villain. She's got all of these layers, and I think what makes her so scary is that she's capable of also being very kind and very soft and showing these other sides. That's what makes her turn so jarring and terrifying."
The table read for "Castle Rock" made Caplan nervous to share her ideas.
"I was working on how I wanted to walk and how I wanted to move, the voice I wanted to use—but I didn't audition for this, [and] I didn't tell anybody any of these ideas before the table read, and [at] the table read you're sat down so none of the physicality is being used at all. Nobody knew I was doing it this way or planning to do it this way. So, after the table read I was positive I was getting fired…. I feel like actors, when you do a table read [it's] horrible. I hate doing them; I don't know anyone who likes doing them. And then you finish, and you want people to come up to you and be like, 'That was great! Great job.' And if they don't—they never do!—then you're like, Well this is it. I'm fired. And this felt like such a big swing, 'cause I just sort of sprung it on them. I was very sure that that was going to be the end for me. But here we are!"
READ: How to Shift Your Thinking About Audition Rejections
Acting can be quite vulnerable, but those feelings are necessary.
"It's always a lot better when you're looking back—like, things turned out OK. 'Cause when you're in it, you really don't know and it can be a very isolated thing to do this with your life. Because oftentimes, it's not like you and all your best friends become actors together, it's usually like your best friends go off to get real jobs and you go off to do this thing. So you feel very 'other than.' And being an actor became kind of a safe haven for me, because I always felt a little 'other than,' and then I was around a group of people who were the 'other thans' in their communities. So, just know that it's going to suck and you're going to be depressed and it's going to be really, really hard and soul-crushing; but I also think that the rejection portion of it, while brutal and awful, does get easier. You're going to be rejected for far more roles than you'll ever get—the percentages, if you break it down, will astound you. And yet, when I got a little older and I had friends with more normal jobs, they would go on a job interview and get rejected and be fully devastated for an extended period of time—'cause how many job interviews can you go on out in the real world? Like five big ones in your life, maybe? If you are an actor, you are getting rejected on a weekly basis, so it thickens your skin and you just get better at handling rejection. It makes you, just by the nature of what it is, more resilient of a human being."
She understands why acting is a parent's worst nightmare.
"The reason why it's every parents' nightmare is because it is a very tough life. You don't have any consistency when it comes to finances or knowing when your next paycheck is gonna be or if you're ever going to get a job—period. You're constantly on this shaky ground, or at least for the first many, many years. So I think that this industry has a way of testing you. It does everything possible to make you quit, and the people who stick it out are the people who then have the potential to go on to do something great. So you're gonna want to quit: Don't quit! That's my only advice."
This story originally appeared in the Nov. 14 issue of Backstage Magazine. Subscribe here.