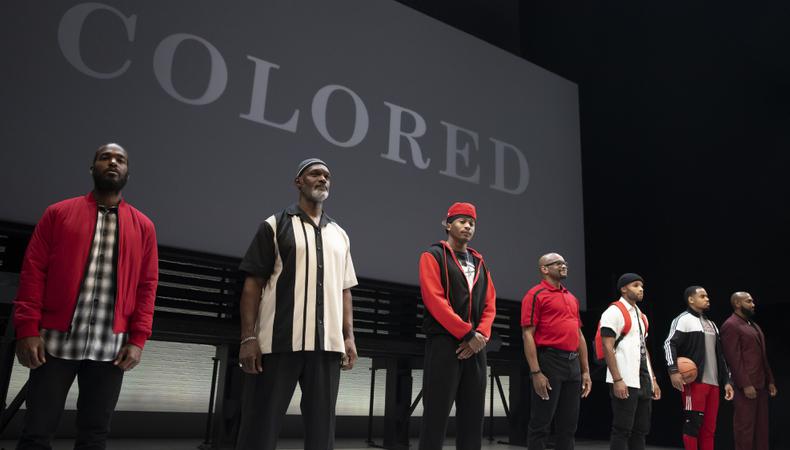 Luke James is currently making his theatrical debut, and no one is more excited about that than Luke James. Having appeared on "The Chi," not to mention his Grammy-nominated career as an R&B singer, Broadway was the only logical next step for the performer. And starring in playwright Keenan Scott II's "Thoughts of a Colored Man" has already changed his life; he thinks the play has the power to change audiences' lives, too. He shared these thoughts and more in a recent Instagram Live interview.
"Thoughts of a Colored Man" is true to the Black male experience.
"Seven Black men, written by a Black playwright, directed by a Black director; the producers, four male, Black lead producers. In that sense, you get the understanding that we get to stay true to our stories and really dive into the ideas of Black men living in the world. At first, I would [have said] in America, but we've been in previews for the last week, and it's really interesting to talk to a lot of different people from all over the world who have seen it, and their experience and how they connect to it."
Actors should honor their inner child.
"You can be a master of many things, and if you allow yourself to [experience] freedom as you did when you were a child, [you should] hold on to that playful energy. That will keep you through your journey. Always be imaginative. Especially in film and television and theater, you have to have an imagination, you have to keep that thing alive. For those who are not even in this business, I think that's important, too, to keep the inner child, to always explore what is out there for you. Especially [for] us as artists, we're so many things. As artists, we see the world and feel everything, so it's important to allow yourself to stumble and fall and fail at everything—but at least you tried."
Every path has peaks and valleys.
"I've gone through those ups and downs: being a signed artist and trying to ride that wave where I'm making music to be loved, to make money. But then I found myself, after trials and tribulations [and] in order to save myself, I have to get to what it is that really fuses me, that wakes me up in the morning, that makes me truly happy… [This show] would not have come to me, had I not taken a stand for myself, for the child in myself, to be free."
The play has changed his life—it could change audiences' lives, too.
"It's not about us anymore, now it's about being a vessel to heal our world. I'm thankful that Broadway could allow such a play to exist, where people can see it on a higher level, and have this experience that hopefully they walk away [from] with a deeper empathy. I've already received everything that I need from this experience alone from rehearsals, from just hanging out with the guys, from learning, from my castmates. I'm just taking everything, every nook, everything they have because this experience has been so beautiful. I'm so grateful that this is the bridge, my bridge, to this community. I'm so grateful to everyone I've met."
Looking for remote work? Backstage has got you covered! Click here for auditions you can do from home!