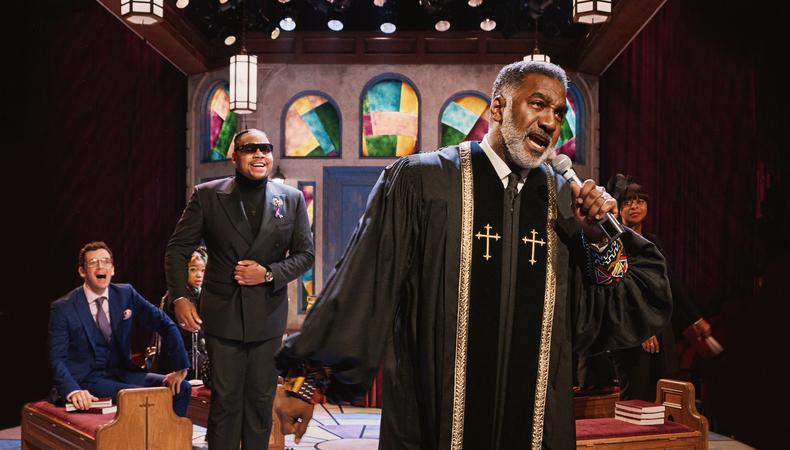 It took Lynn Nottage 22 years, sold-out productions around the country, and two Pulitzer Prizes to get to Broadway. When she finally did in 2017 with her play "Sweat," she was one of two Black playwrights produced that season. (The other was August Wilson.)
In the coming months, Nottage will be on Broadway for a second and third time with two works: a comedic play, "Clyde's," and "MJ: The Musical," based on the life of Michael Jackson. And this time around, she's in better company; the 2021–22 season will see a record-breaking eight Black playwrights produced on Broadway.
"That is a triumph," Nottage says. "[These writers] have fought hard, they've produced beautiful writing, and they belong on these big stages. I feel so blessed to still be able to do this, and I feel immensely excited, even though I will have to double-mask and [wear a face] shield."
Nottage attributes the relative bounty of Black stories to conversations the theater industry has been having in the last year about diversity; these were sparked by the Black Lives Matter protests in 2020 and propelled by the We See You, White American Theater campaign and the work of numerous advocacy organizations.
"It's this cultural reckoning that we've been through; it's really forced everyone in theater to interrogate their practices, including the theater owners, including the unions, including the producers," says Nottage, who was one of the original signatories of the We See You, W.A.T. letter. "And the fact that you have [eight] shows scripted by African American writers opening Broadway speaks to this shift."
"Pass Over" by Antoinette Chinonye Nwandu was the first play to reopen Broadway following the pandemic shutdown. Others that have followed or are upcoming are shows by Nottage, Ruben Santiago-Hudson, Douglas Lyons, Alice Childress, Dominique Morisseau, Keenan Scott II, and Jeremy O. Harris (whose "Slave Play" will receive a return engagement).
"Some of our most beloved musical theater writers—[like] Jason Robert Brown and Stephen Sondheim—are not box office hits. And people don't talk about that."
This moment has been a long time coming, and it's the byproduct of behind-the-scenes work by many. Recently, Black Theatre United—founded by a group of Black actors, playwrights, designers, directors, and producers—released its New Deal for Broadway. The document was signed by Broadway's biggest power brokers, including the Broadway League, Jujamcyn and other theater owners, Actors' Equity Association, and theater companies such as Lincoln Center.
As part of the New Deal, the signatories have committed to a number of provisions: making creative teams diverse, standardizing diversity and sensitivity training across all Broadway productions, and diversifying the Tony Awards voting body.
According to theater producer Carole Rothman, who signed the New Deal, the document is a commitment to "do better." She adds: "It is a call for me to be more responsive and to be more thoughtful about the kind of work that we do and the people that are in it—not just writers, but directors, stage managers, designers, everybody that works on the material that we do."
READ: Where Audra McDonald Is Focusing
Her Advocacy Right Now
Director-actor Schele Williams, a founder of BTU, says the New Deal came out of "honest and robust" conversations, not just among Black artists, but with white people as well, who make up the overwhelming majority of Broadway decision-makers.
Broadway is not so much a theatrical genre as it is real estate. There are 41 theaters in New York City classified as Broadway. Historically, those theaters have been mainly accessible to those with a proven track record of producing hits, such as Scott Rudin or Cameron Mackintosh. But that's not the case this season, as a number of incoming shows are from newer producing teams.
"There [are] many Black producers who [before] were like, I'm just going to Hollywood, because I know exactly where I can get the work done I want to do," says Williams. "I think we will be able to attract Black money to Broadway to produce commercial theater. We already have this season, and I believe it will continue."
Of course, that's also assuming that the current momentum for change continues. The overwhelming response from Black theater artists we spoke to for this story has been a cautious optimism. There is also a degree of fear. The Black playwrights currently being produced face a unique challenge, as theirs are some of the first shows to open since the pandemic shutdown, in a time when audiences are still hesitant to sit in enclosed spaces with strangers.
And that doesn't take precedent into account: Nottage admits that, historically, audiences are more willing to see musicals than plays, which is why she's not as worried about the potential box office returns of "MJ" as she is about "Clyde's." "I hope people come and see all of these shows," she says. "We really need all of them to succeed, because if they do, everything will change. In some ways, we're at the frontline of change right now."
Lyons makes his Broadway debut this season with his comedy "Chicken & Biscuits." When asked if he's worried about box office grosses, the actor-turned-playwright bristles.
"Some of our most beloved musical theater writers, [like] Jason Robert Brown and Stephen Sondheim, are not box office hits. And people don't talk about that. It feels like we have the pressure at this moment to be a huge success. Don't put that pressure on me," Lyons says emphatically. "What the industry wants to do is place this moment on our backs, as if we've been here all along."
Williams agrees that the expectations placed upon these plays to turn a profit are misguided. Black artists should not be pressured to succeed; true equity means they are given as much space to fail as their white counterparts.
"It's this cultural reckoning that we've been through. It's really forced everyone in theater to interrogate their practices, including the theater owners, including the unions, including the producers."
"Making theater is always a gamble," she says. And while white producers have obviously been behind a number of hits over the years, those same producers have also flopped on Broadway and lost money. Around 80% of shows produced on Broadway fail to break even. According to Williams, white artists have "had the opportunity to both succeed and fail," and the same grace has not been extended to artists of color. "Without giving any person of color the opportunity to do that, we're now stunting the [industry's] ability to grow," she insists.
Actor Britton Smith, president of the Broadway Advocacy Coalition, also cautions against a profitability and competition mentality. He instead wants producers and marketers to embrace this moment as a collective victory—something they have so far mostly failed to do.
"I hope that if these shows don't do well, that is not an excuse to not allow other Black stories to be told in this way," he says. "I wish that there would have been a collective [effort] of: Go see all of these shows, because they're all different. And in this moment where people are trying to understand more about culture and more about the Black experience, it was a real opportunity for the industry to make it a point to tell them all together, instead of pitting them against each other—because that's a tale as old as history, man."
READ: Resources for the Black Lives
Matter Movement
So, what's next? Eight Black playwrights simultaneously having work on Broadway is indicative of some sort of change, but is it lasting change? After all, a majority of the winners at the recent Tony Awards were white. And Harris' "Slave Play," which was nominated for a record 12 Tonys, didn't win any of them.
Meanwhile, the Broadway Advocacy Coalition won a Tony Award for its efforts to call out racism in the theater industry. And Tony-winning director Kenny Leon, while accepting the best revival of a play Tony for "A Soldier's Play," gave a speech that included the following: "No diss to Shakespeare, no diss to Ibsen, to Chekhov, to Shaw—they're all at the table. But the table's got to be bigger."
The theater industry is aware that change is needed, and is stumbling, however imperfectly, toward it. That's why Smith emphasizes the importance of accountability. The Broadway Advocacy Coalition has begun working with individual Broadway shows, such as "The Lion King" and "Tina—The Tina Turner Musical," to help those companies foster equitable and safe work environments. It has built in regular check-ins in order to make sure the values that have been written down are actually put into practice.
Likewise, regular meetings and check-ins are part of the work BTU is doing with the signatories of the New Deal. "If Broadway wants to say Black Lives Matter, that they want to be inclusive and that they care, then there's a set of things they have to do to deserve that statement that we're helping and challenging them to do," says Smith.
For her part, Williams is optimistic that change will happen and it will be lasting. "We know there are going to be mistakes in this," she admits. "But we also know that we are an industry in which we rehearse and rehearse and rehearse until we get it right. If there is ever an industry that can get this, it's ours. If the industry has chosen and is committed to doing so, we will do it."
As Audra McDonald, another founder of BTU, said at the recent Tony Awards, "Broadway is back, and it must—and it will—be better." Time will tell if that proves true, but, to paraphrase one oft-cited production: History has its eyes on Broadway.
This story originally appeared in the Oct. 14 issue of Backstage Magazine. Subscribe here.
Looking for remote work? Backstage has got you covered! Click here for auditions you can do from home!