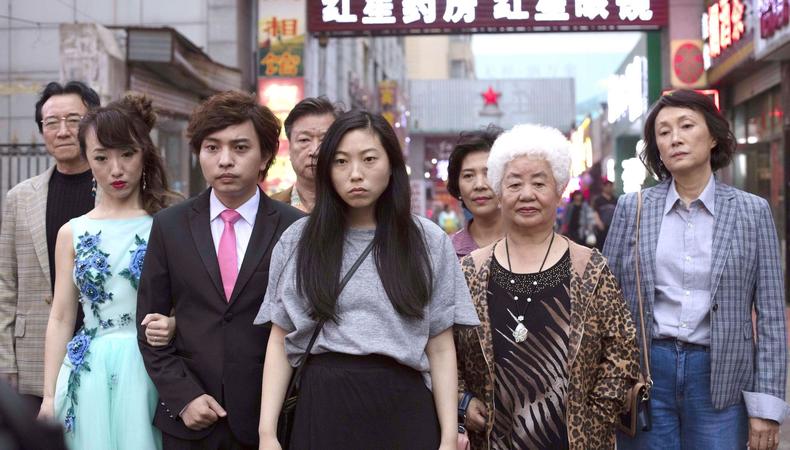 Lulu Wang is forthright about what inspired her latest feature, "The Farewell": A title card informs audiences that it's "based on an actual lie." While she was living in Berlin editing her first feature, Wang learned her grandmother had been diagnosed with stage four cancer. She had, per her doctors, three months to live. Rather than worry the matriarch with the news, Wang's family decided to orchestrate a wedding to allow everyone the chance to say goodbye. The decision didn't sit well with Wang, but she went along with it nevertheless. It's the kind of premise that screwball comedies are made of, which was what initially led the Chinese-American director to think this improbable situation could make a touching and very funny movie.
"I've always loved screwball," she tells Backstage. "And then I thought, Well, this is why: My life is a freaking screwball [comedy]! Like, I don't know whether I'm supposed to laugh or cry over this situation and how ridiculous it all was. So that gave me the seed of an idea to explore this as a film, to try to capture the way that grief brings about not just terrible sadness, but also tremendous joy—and humor!"
Making a film about her family came with its own set of challenges, especially when it came to the casting process. "I learned pretty early on that I had to let go of finding somebody to actually play me or somebody to play my family. It was more about what was serving the story." She had to distill what the film was about: the different ways that people deal with grief. The questions that followed—defining the characters and the information we need to know about their personalities in order to understand their actions—became her guiding lights as she began casting.
READ: Be the New Triple Threat: Actor-Writer-Producer
The most obvious example was casting Billi, her onscreen avatar, who is played by "Crazy Rich Asians" breakout Awkwafina. "I was looking for somebody who is very strong in their normal day-to-day life. Very independent and very funny," Wang says. "What was great about Awkwafina is that because people know her as that funny, kind of extroverted person, when you see her in a role like this, there's an element of surprise. I think her being a comedian actually really helped; when she does have an emotional breakdown, it's that much more poignant and surprising."
But Awkwafina also offered Wang an added texture that was crucial to this Chinese family drama: She is "very, very American." The film, after all, is a fish-out-of-water story. Much of the humor and disconnect at its heart stems from cultural as well as linguistic differences.
"Akwafina's language in the film is worse than mine," Wang noted, "but it serves its purpose in that she speaks [Mandarin] a little bit but she doesn't speak it entirely. So there are so many things that she misses—about the culture and the nuances of the culture—because her language is limited."
That keen sense of authenticity, even at the level of the film's bilingual sensibility, was further enhanced by one key cast member that came from Wang's own family. For the role of Nai Nai, the grandmother at the center of this loving farce, Wang recruited her great-aunt Shuzhen Zhao. It was she who started the original lie, and to whom "The Farewell" owes a premise that the director always thought was so uniquely tied to her family. In fact, she's been taken aback by how much it has resonated with audiences so far.
"What's surprising is how people who are not Chinese and not even Asian will say, 'This is so universal!' and 'That's just like my grandma!' and 'We did something similar,' " Wang says. "It just proves that universality happens through specificity. I think that's a really surprising but beautiful thing to discover."