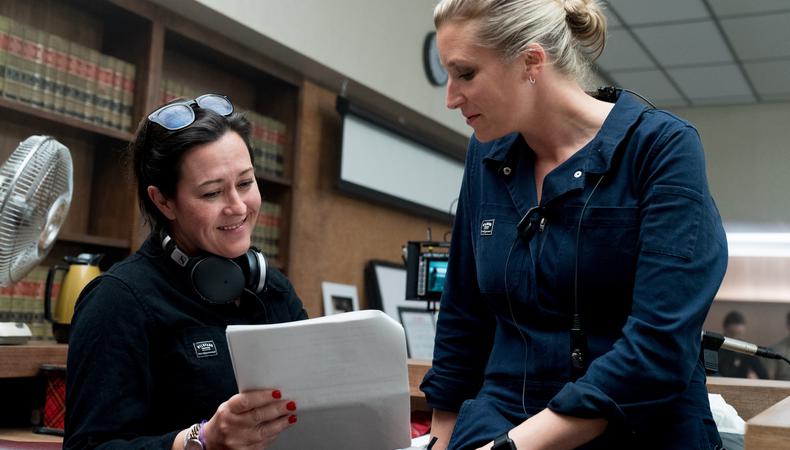 Director Maggie Kiley's slate of recent TV projects include "The Brides," a female-centered contemporary retelling of Dracula; "Chilling Adventures of Sabrina" on Netflix; and the CW's "Riverdale" and its spin-off "Katy Keene." Kiley, who was hand-selected as the first recipient of Ryan Murphy's Half Initiative, has also helmed an episode of "American Horror Story."
"I love the genre stuff," she says emphatically. Her next project to hit the air did not find its source material in a gothic horror novel or a comic book, but from the headlines. Kiley is the co-executive producer of USA Network's second season of "Dirty John," "Dirty John: The Betty Broderick Story," and she directs four of the eight episodes, including Season 2's premiere, due to air June 2, and its finale later this summer.
"Dirty John: The Betty Broderick Story" follows the 1989 double murder of Dan Broderick and his second wife, Linda, in San Diego. Betty Broderick, Dan's vengeful ex-wife, was charged with second-degree murder and is currently serving 32-years-to-life in prison. While the Golden Globe–nominated first season of this series starred Connie Britton and Eric Bana while charting the story of con artist John Meehan, we're all new this year with Amanda Peet as Betty and Christian Slater as Dan.
"It's incredibly ambitious to start from the ground up on a show where you're introducing all new characters and new sets," says Kiley. "You have to really hit the ground running and have an incredible team of people who are ready to build this world. I was really given free rein in terms of bringing a new look to the show this season."
Kiley worked closely with showrunner Alex Cunningham to carry the show into its second outing and to provide a new vantage point on the notorious murder. The timeline, which jumps between the Brodericks' college meet cute and their well-heeled life in San Diego, gives the audience both Betty and Dan's viewpoint. "That helped us in terms of how we thought about managing the show, framing the show, and also a lot about how we use color, which is really different from last season," says Kiley. "We gave it a really different look and feel to help understand that we were not in present day California."
To help tell this story, Kiley looked beyond the splashy headlines and retraced the steps of the Brodericks' storybook romance to that fateful November morning of the murders. She read Bella Stumbo's book "Until the Twelfth of Never" about the murder trials and, most importantly, researched the 1980s and what it would've been like to experience divorce at that time. "It was more the environment around them that I dug into than the actual events," Kiley explains.
When Peet first revealed her look as Betty as part of a camera test—with '80s-inspired blue frosted eyelids, towering shoulder pads, and a cinched waist—it took Kiley's breath away. "It was important for us that we weren't doing look-alikes," concedes Kiley. "We never were trying to recreate the exact people, it was more about leading these actors to find their way inside of these characters. It was a process and an incredible journey."
Kiley starts every journey with actors by having a conversation about how they work best and talking about how they'd like to receive notes. "The actor is the person on set that I'm the most comfortable with," she says, noting that she started her career as an actor with the Atlantic Theatre Company in New York City. "I didn't always feel very tended to by a director, and I didn't feel like my performance was being paid attention to or nurtured in the best possible way," she concedes. "So I feel very in the trenches with my actors, and I can also be respectful of giving them the space that they need."
She first went behind the camera when a theater colleague asked if she would direct a short film in Los Angeles. "I realized that I had a skillset, a desire, a visual style, and an understanding of visual storytelling that I didn't realize I had," she says. Her next step was to participate in the AFI Directing Workshop for Women. "Then I was off to the races."
Last year, Kiley inked an overall deal with Warner Bros TV to provide executive producer and directing services, as well as develop new TV projects for the studio. And while she has this opportunity to create, production is, of course, on pause because of the ongoing coronavirus pandemic. "This has been a time for a lot of reading and meetings over Zoom, which seems crazy, but it's actually busy on the development side of things," she says. "People are taking the opportunity to find work, find new projects to nurture, and think about what's next."
It's also a pertinent time for viewers to dive into the Brodericks' story. "It's interesting to see how people are moving through this time with a partner or without a partner, and the show is about how we can make a choice that's a positive one that nurtures your relationship, or how you can make a choice that does the opposite of that."
It's an apt time for career choices, too. Her advice to emerging directors during this moment of halted production is not to give into the pressure to create big projects. "Use the time to nurture your creative voice and be really conscious about what you want to build to next. It really is like a pause, and the benefit of a pause is taking a deep breath, rolling up your sleeves, resetting your focus, and starting out again."
Looking for remote work? Backstage has got you covered! Click here for auditions you can do from home!