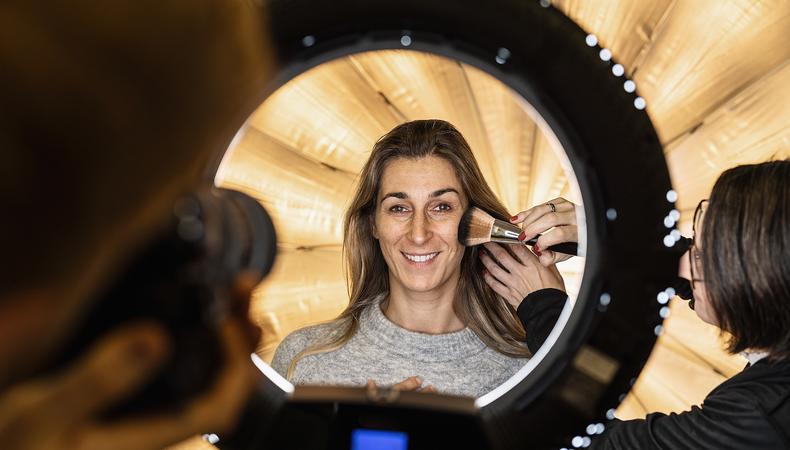 Unlike social media pics, strong headshots and self-taped auditions don't rely on the convenience of filters—so knowing how to apply makeup that puts your best face forward can make or break a burgeoning career. To achieve your greatest look, strive for appropriate makeup that highlights your natural beauty without standing out or looking excessive.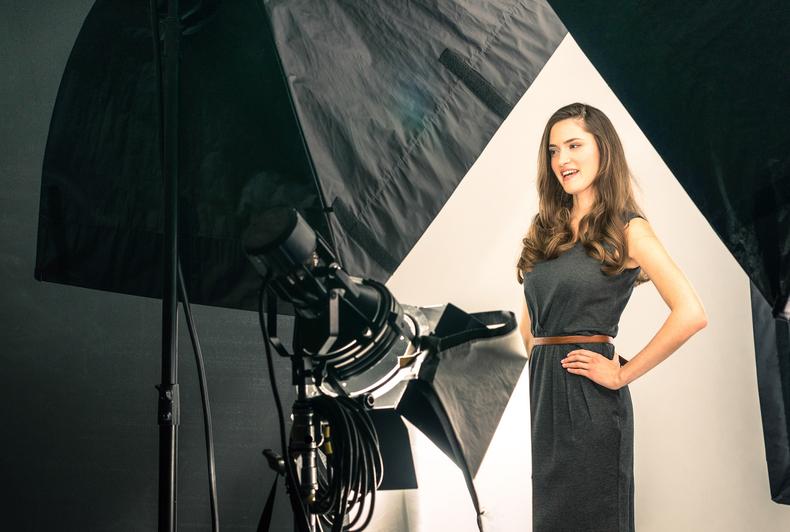 View Apart/Shutterstock
Makeup for headshots should be natural, neutral, and make you look like a more polished version of yourself. "Basically, headshots and self-tapes should be pretty natural," says makeup artist Bridie Coughlan. "You want to look like yourself.... You really don't want to see [the makeup], you want to see yourself."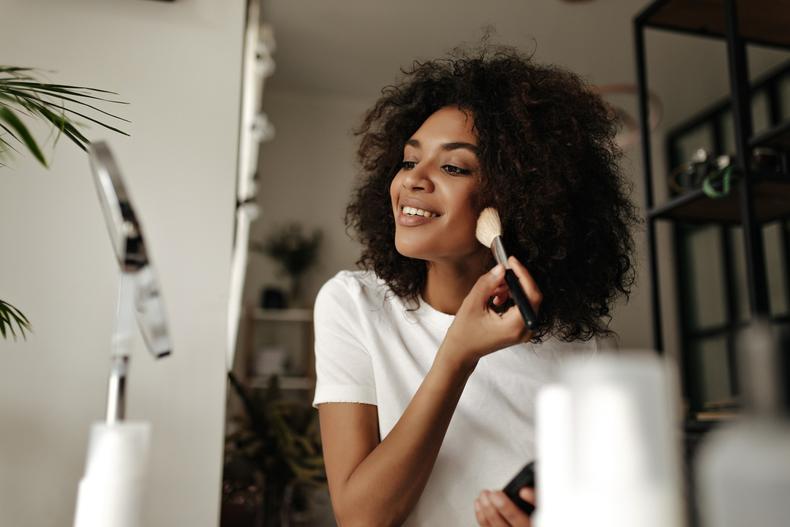 Look Studio/Shutterstock
If you want to do your own makeup for acting headshots, follow these tips for each part of the face.
Face
Good coverage evens out skin tone and provides—you guessed it—a strong foundation for the rest of your look.
Match face and neck color: "You really want to make sure that [foundation] matches your neck—that's something that we can forget about," Coughlan says. "Most of the time, our face is darker than our neck because it's exposed to the sun more. So if you're feeling like it's hard to get that balance, get a little bronzer and put it on your neck. But when you're testing foundations, the best place to do it is on the side of the face, on the cheek kind of going down, so you can see how it blends into your neck as well as different areas of your face."
Use the right foundation for your skin type: If you have oily skin, a powder foundation is likely going to put you in the best light. If your skin is dry, try a liquid or stick foundation.
Make yourself blush: Apply blush more robustly than your daily look and blend thoroughly. While a plum-colored blush might look beautiful in real life, cooler colors don't always translate on camera. Instead, try using "a really warm kind of peachy color," Coughlan suggests.
Contour as needed: If contouring, put "a darker color in the part of your face that you want to go in or back and a lighter color where you want to go up or out," Coughlan explains.
Glow up, but don't glow: Although dewy foundations, blushes, and highlighter may give you an ethereal glow for Instagram pics, in professional photos and videos they risk making you look like you're sweating the small stuff. Use matte products and let your personality—not your face—shine. Powder your face before going before the camera for extra mattifying.
Eyebrows
Your eyebrows should frame your facial features but not overwhelm them (no matter how tempting a Cara Delevingne power brow may be).
Clean up in advance: Since you don't want the telltale (or tell-tail) blotchy signs of recent tweezing or waxing in your headshot, shape your brows a week ahead of time.
Aim for natural: Use a pencil, powder, or gel the same color as your natural brows, or up to one shade darker, and follow your natural brow shape starting at the inner brow and moving outwards toward the tails. If you struggle finding your natural brow shape, eyebrow stencils can help.
Avoid harsh lines: Once you've filled in any gaps and sparse areas, use a clean spoolie to blend.
Eyes
If the eyes are the windows to the soul, then they can certainly be the key to landing gigs.
Keep it light: Eye makeup should emphasize your eyes, not draw attention to itself. If applying liner and shadow, use neutral shades on the top lid. "When you're auditioning, when you're acting, your eyes are so important," Coughlan says. "You really just don't want anything too heavy on them to take away from the expression and what you're trying to communicate."
Don't go overboard: Use a light coat or two of mascara to darken your natural lashes. It's best to avoid falsies altogether, but if you can't resist the urge, look for the most natural strips or extensions.
Lips
Lip makeup should draw attention to your smile but not the cosmetic craft itself.
Keep it simple, sweetie: The acronym KISS applies, appropriately enough. Use a neutral lip color and avoid the gloss. Lip tint or balm is always a safe bet.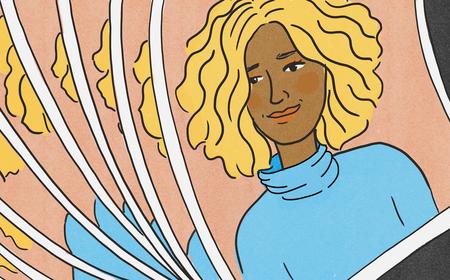 Actor Headshots: a Guide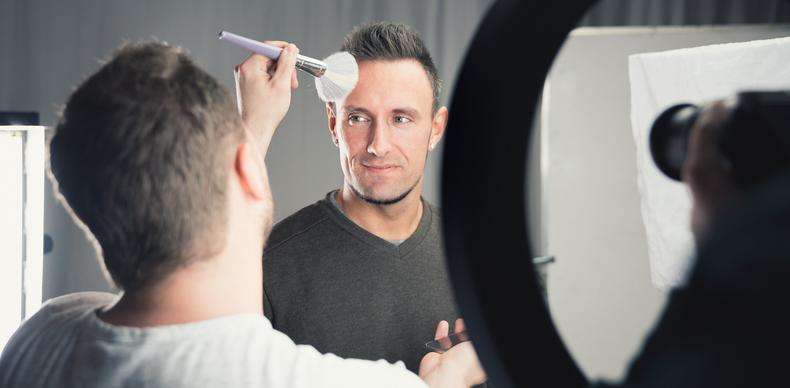 Audio und werbung/Shutterstock
If these tips feel too complex, it never hurts to hire a professional makeup artist for headshots—but it isn't absolutely necessary.
Photographer Marc Cartwright says that the choice depends on a variety of factors, including gender and age. Women are often expected to wear makeup, while men can skate by only using it for blemishes (thanks, gender norms in the beauty industry!). Children and younger teens don't require a professional makeup artist, he explains, but most female actors 15 and older should use a hairstylist and a makeup artist.
When in doubt, hire a professional. "You may be amazing at making yourself look like a supermodel on a day-to-day basis, however, day-to-day makeup doesn't always transfer well to the still image," Cartwright says. "Some makeup will give you a nice shimmer to the naked eye but will make your skin appear oily in a photograph. Some makeup shifts color in pictures and suddenly your beautiful, natural day-to-day makeup looks like you are about to run out of your photo session and join the circus." He adds: "Most headshot makeup artists also do hair. You really do want someone there to monitor your fly-aways and strays while the photographer is working on directing the best performance out of you."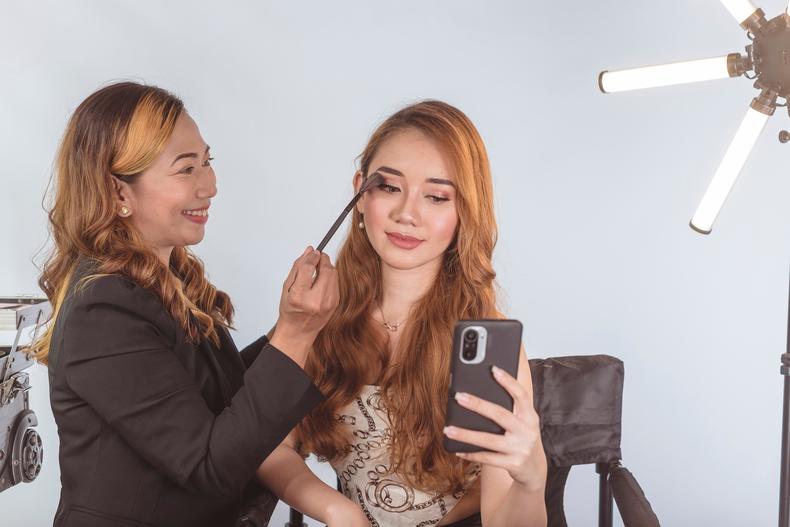 MDV Edwards/Shutterstock
Ask to see the makeup artist's website. Are there people who look like you on there? Your complexion? Your face shape? Your age?
Look for a makeup artist who can do clean, natural makeup well. Headshot makeup is not fashion and glamour makeup. Even if you are doing a "hot girl" look, you should look like a real person. You are looking for a makeup artist who has range.
The photos on your makeup artist's website shouldn't look overly retouched. This is a red flag that the retoucher had to correct a poor makeup job.
Bring in a photo of yourself, showing how you typically do your makeup. The makeup artist and photographer need to see how you normally like to do your makeup. We can give you some suggestions and tips, but at the end of the day we want your headshot to look like the best, most authentic version of yourself once you leave the photo studio.
Show up to the shoot with a clean face and clean hair. Sometimes your products might not go well with the makeup artist's products, tools, or technique.
Don't overdo your makeup. For example, just because you have beautiful light eyes, it doesn't mean you should cake on the black eyeliner to make them stand out. There are ways to showcase your eyes without making you look like a raccoon.
Most importantly, speak up at your shoot. This is your photo shoot and you are spending a lot of money to get these very important images. If you don't like the makeup, let the photographer know immediately. Do not be afraid to tell your photographer if your makeup isn't representing you well. Don't wait until after the shoot. Collaborate with your makeup artist and photographer. It is much easier to correct a problem during a photo shoot than it is to reschedule a session because you weren't honest. Trust me, you're not hurting anyone's feelings. However, poor communication does lead to unhappiness, resentment, and wasted time.
The entertainment business is a high-stakes business. As an actor, you are competing with performers who are hungry to get into that audition room. They make certain that every element of their marketing packages are strong. They understand that succeeding in this business is about professionalism. If you don't look like you know what you're doing in your headshot, casting will see it as a direct reflection of what you bring to the set.
Looking for remote work? Backstage has got you covered! Click here for auditions you can do from home!