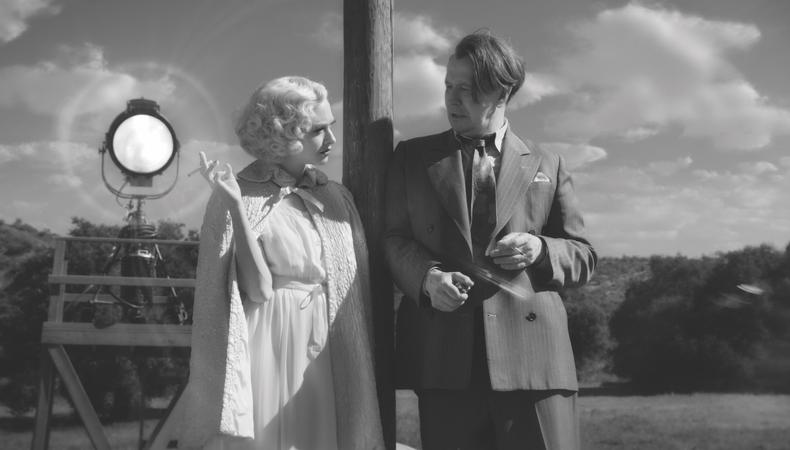 As we look back at 2020, we at Backstage have pinpointed the year's best big- and small-screen ensemble work for your SAG Awards consideration and beyond. For more voting guides and roundups, we've got you covered here.
Main Cast: Tom Burke, Lily Collins, Charles Dance, Arliss Howard, Tuppence Middleton, Gary Oldman, Tom Pelphrey, Amanda Seyfried
Casting by: Laray Mayfield
Directed by: David Fincher
Written by: Jack Fincher
Distributed by: Netflix
"Mank," David Fincher's film about old Hollywood film legends, features a cast that does these icons justice. Shot in sumptuous black and white that pays homage to the era, the film is centered on "Citizen Kane" co-scribe Herman J. Mankiewicz. The movie tracks his descent into alcoholism and the relationships he strains along the way as he works on the screenplay of Orson Welles' legendary film.
It may seem like one Oscar- and SAG Award–winning, appearance-altering performance would be enough for an actor like Gary Oldman. But in "Mank," he steps into the shoes (and prosthetics) of Mankiewicz, disappearing into the infamous screenwriter's bedclothes and memories. The film flashes back and forth between the ornery, intoxicated Mank in the desert cottage where he's drafting "Citizen Kane" and the debauched Los Angeles life that got him there. Along the way, the British character actor reminds us of why he earned so many awards for "Darkest Hour"—and makes the case for earning more.
While Oldman is undoubtedly the star of the film, Amanda Seyfried offers up a scene-stealing performance as starlet Marion Davies. It's hard to look anywhere else when she's onscreen in all her gorgeous 1930s glamour, inviting the audience in with her massive eyes and infectious charm while maintaining an air of mystery. It can be tricky to act in a movie within a movie, but Seyfried convincingly personifies what being a Hollywood icon meant during that early filmmaking era both on and off set.
Two other women also weather Mank's ups and downs. As Rita Alexander, Lily Collins starts out as an obedient secretary-cum-assistant; but she ends up a foil to Mank, meeting his mischief with authority and creating comedy during a dark period in his life. Tuppence Middleton plays "Poor" Sara Mankiewicz, revealing the character's hidden depths as her husband's drinking and delusions spiral out of control. In Middleton's hands, what could have been a straightforward portrayal of a faithful wife in a strained marriage becomes much more complex.
As large-looming businessman William Randolph Hearst, Charles Dance is a deliciously rendered antagonist. The authority and stillness audiences have come to expect from Dance is ever-present in scenes in which he has few lines; he communicates effectively with only withering glances, needing no words to react when Mank brings his chaotic energy to Hearst Castle.
And, of course, it wouldn't be a story about the making of "Citizen Kane" without that film's director, star, and co-writer. Tom Burke brings Welles vividly to life in his down-to-earth portrayal, embodying the ambitious visionary of Hollywood's golden age with memorable skill. While the action may follow the other writer of Welles' best-known work, Burke's performance provides crucial context to the looming legend.
Also in the sprawling cast are Tom Pelphrey as Mank's brother Joe, Arliss Howard as Louis B. Mayer, Ferdinand Kingsley as Irving Thalberg, Jamie McShane as Shelly Metcalf, Jack Romano as Sid Perelman, and more. Using these modern-day stars, Fincher and casting director Laray Mayfield reconstruct and enhance an era in Hollywood history, warts and all. It's a major achievement in ensemble casting to both populate a piece of showbiz lore and make it feel fresh.
This story originally appeared in the Jan. 20 issue of Backstage Magazine. Subscribe here.
Want more? Stay in the loop with everything you need to know this awards season right here!