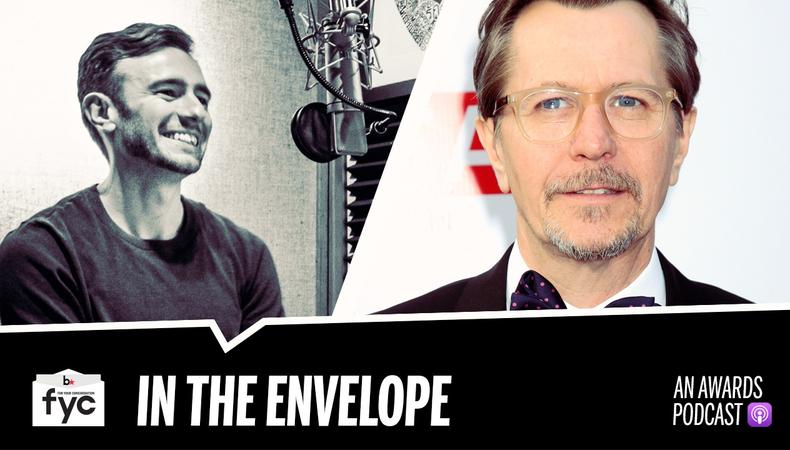 "In the Envelope: An Awards Podcast" features interviews with award-winning actors and other creatives. Join host and Awards Editor Jack Smart for a front row seat to the industry's biggest awards races!
Although you are likely aware of Gary Oldman, you may not appreciate his astonishing range as an actor. That's because he disappears so thoroughly into his onscreen roles, each so wildly different from the next, that it's only by comparing one to the other that you realize the extent of such talent.
It may explain, in fact, why this year marked his very first Golden Globe nomination—and win—for Focus Features' "Darkest Hour," which finds Oldman embodying one of history's most iconic leaders: U.K. Prime Minister Winston Churchill. No one who has seen director Joe Wright's WWII thriller is surprised that Oldman, unrecognizable under makeup designer Kazuhiro Tsuji's prosthetic jowls, is considered to be this awards season's leading man frontrunner. Opposite Lily James, Kristin Scott Thomas, and Ben Mendelsohn, he formidably captures Churchill's every peculiar mannerism and earth-shaking speech.
WATCH: Gary Oldman Is Winston Churchill in Pounding 'Darkest Hour' Trailer
Although Oldman is no stranger to the awards circuit—Academy Award-nominated for "Tinker Tailor Soldier Spy," Emmy-nominated for "Friends," five-time BAFTA-nominated including for his written-and-directed "Nil by Mouth"—it seems his days as a respected but niche character actor are over. Beloved for the "Harry Potter" and "Dark Knight" film franchises, plus villainous turns in "Léon: The Professional," "The Fifth Element," "Bram Stoker's Dracula," and many more, Oldman brings an intense commitment and intangible charisma to his every performance.
Listen in for a glimpse of how he achieves his actorly transformations—plus advice on how to incorporate accent work into your training.
Listen now on: